Grow lights are the best companion for both gardeners and farmers as they allow you to start planting at any time as wanted.
The only requirement is you must choose the right type for your plants' needs.
If you're searching for the highest yielding LED grow lights, congrats (!), you're landing in the right place. Below are the 3 top picks by our experts!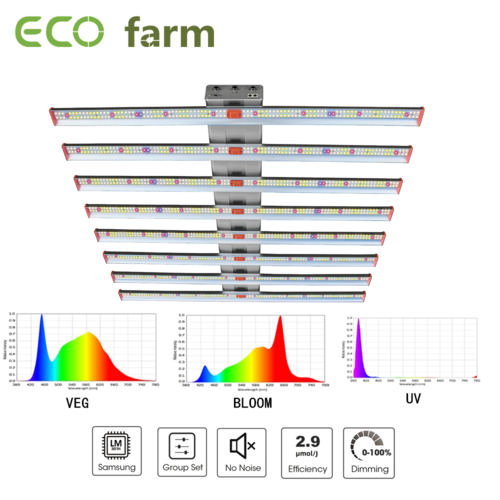 Description:
ECO Farm ECOZ 250W/510W/700W/1000W series light with top-bin Samsung LM301H chips (5000K+3000K)+Osram (660nm+730nm)+Refond (395nm), offering all the necessary light effiency to your medicinal plants in whole growth stages - from VEG to Flower
Adjustable full spectrum 3 channels dimming way, each channel can be controllable separately.
UV IR seperately control
Passive cooling, no noise operation.
Higher yields and lower cost: ECO Farm ECOZ series delivers powerful light output and uniform canopy penetration to resulting maximum higher yields.
'Plug & play' fast installation design makes your grow way easier with lowest maintenance cost and easy installation, specially big saves on shipping.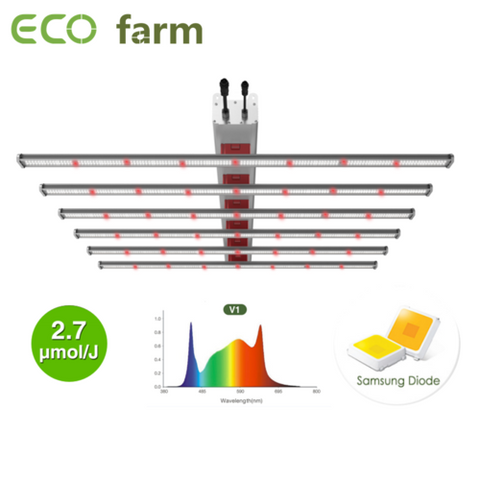 Description:
ECO Farm MS 660W/760W/900W full spectrum LED grow light strips with enhanced red for full-cycle grows. Using Samsung LM301B high bin LEDs, efficacy is up to 2.7μmol/J.
No wiring needed, it takes less than 30 seconds to install a fixture.
0-10v auto & manual dimmable control. 2 dimming solutions, manual and automatic dimming are optional.
Passive heat dissipation design (No need for internal cooling fans)
Uniform Light distribution. Each light bar is evenly distributed on the 2 ends of the power supply, and the PPFD value of each point is very uniform, giving your plants the most uniform growth environment.
Save 50% space for the same 660W/760W/900W grow light in the market, thus could save shipping and storage space.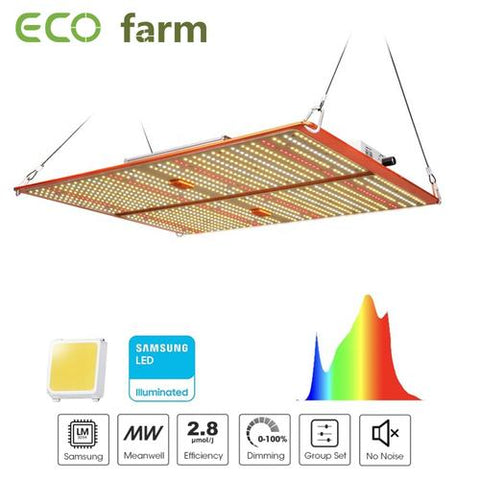 Description:
Reliable passive-cooled design;


High energy efficiency with 2.8 umol/J, make you get 30% higher yield compare OLD blurple led lights

High-efficiency top-bin Samsung LM301H 3000k & 5000k 660nm and IR 760nm & 395nm UV;
ECO Farm ECOT series quantum board offers increased canopy light penetration with diffused light than comparable grow lights and its dimmable power supply gives you more control over your lighting environment;
Upgraded ECOT quantum board grow lights have a manual dimming knob and light switch & Rj Port for group control. Can be adjusted the light intensity at liberty. Especially beneficial for a large area of indoor growing and commercial planting;
Quality components mean the light lasts longer, but they also save you money.
High performance MeanWell driver, update aluminum board is thick and sturdy, doesn't put out a tremendous amount of heat;
3-year manufacturer's warranty
Looking for more options and information? Welcome to visit our official website. Follow us could get the biggest discount. 
If you have any questions, please contact us and we will respond to you as soon as possible. 
Our emails address is: business@ecofarm.ca
Contact:
WhatsApp: +1 206 581 5521