A Buyer's Guide To Choosing The Right Rosin Press For You
Medicinal plants has been on one huge rollercoaster ride.
We all have witnessed Medicinal plants gradually position itself from a forbidden to medical status and now to a legally endorsed recreational herb.
It seems like what Medicinal plants activists highlighted back in the 1960s is finally making sense to the researchers.
Approximately 34-states in the United States have legalized the use of medicinal plants and recreational purposes.
Well, with the demand increasing, the Medicinal plants industry has experienced significant growth in trends. Analysts suggest the industry will grow by 181% in the next three years.
Nowadays, we can see a diversity of Medicinal plants consumption forms. Tinctures, capsules, vapes, and the list can go on forever.
However, recently, a new form has gripped the attention of both consumers and producers called Rosin.
But what is Rosin?
Rosin is a solvent-free concentrate that is a much more potent and effective option than others. It comprises terpenes and Medicinal plants present in the plant's Trichome glands.
Manufacturers force these elements out by exposing medicinal plants to heat and pressure.
Are you looking forward to making rosin at home too? Well, then you need a high-quality best Rosin Press!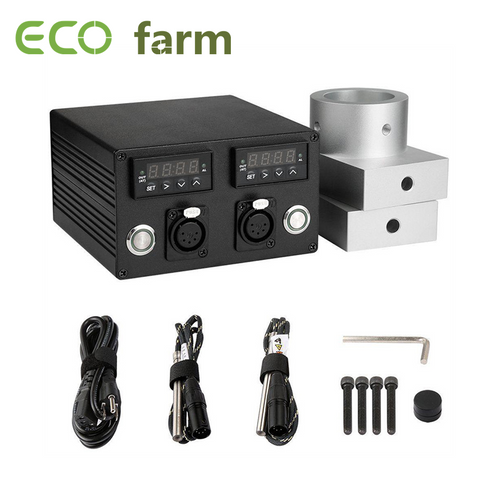 Description:
Plate Size: ECO Farm 3x5 Inch heat rosin press plates kit piston ram of hydraulic press you prepare: < 2.16" (55 mm) diameter.
High Quality Material: Food grade 6061 aluminum heat plates. Light, strong and owns excellent heat transferability.
Parameter: 3" x 5" Heat press plates; Voltage: 110V; Maximum hydraulic pressure up to 20 tons.
Accurate: Accurate temperature is detected using separated temp sensors and 4 heating rods (150W each).
Great Efficiency: More than 6,000 times' service of heating rods. Provides carefree usage.
Wide Application: Double-side heating rosin press used for DIY, household, or even traveling.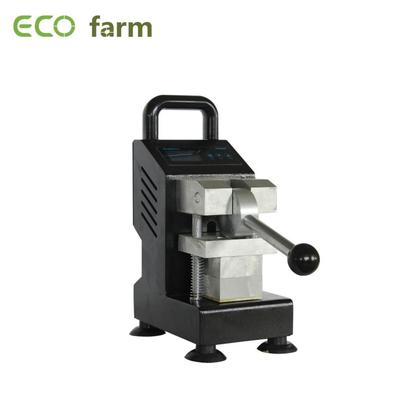 Description:
Maximize Your Yield: ECO Farm 400W power hydraulic double heating plates high pressure hot press is an efficient tool to extract rosin oil.
Sturdy and Durable: The environmental protection layer on the surface helps protect the machine. The heating plate material is made of wear-resistant die-cast aluminum.
Easy to Use: The ergonomic handle makes it easy to press and save effort. Equipped with a digital control panel, Timer control, and Fahrenheit/Celsius setting are included, it only takes a few simple operations to set the temperature and time.
Wide Application: Suitable for rosin pressing, nuts, dried flowers, and plants. With a convenient carrying handle and lightweight, it is perfect for personal desktop operating or pressing during travel.
Sale Price: $187.99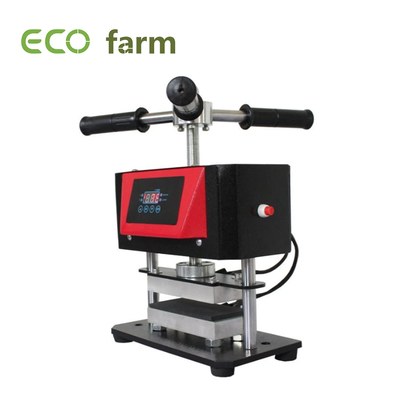 Solid Heat Plates: ECO Farm mini rotating rosin press has well-aligned duel 2.4" x 4.7" aluminum plates that come with heating insulation layers for even and quick heating.
Easy to Use: The mighty manual heat press with powerful pressing force up to 3000lb/1.5T; Just twist the crank clockwise and the pressure can be accumulated and hold there until you twist it counterclockwise after the pressing is done. No noise and oil-leaking at all.
Digital Control Panel: Precise two-channel temperature and timer controller is attached to the press or anywhere you like by four magnetic feet for easy access during pressing. No extra equipment is needed at all.
Great Innovation: A plant heat extraction technique derived from the same method used in making violin rosin. The idea is simple. You introduce heat and pressure to the plant so to extract the resinous essential oils from the plant material.
Sale Price: $185.99
How do you make rosin from the rosin press?
Extracting rosin from the rosin press is very simple. It does not require you to spend a fortune. There are many brands offering high-quality equipment to make rosin so you can easily get one under $500.
The production of rosin requires you to employ a reasonable rosin press, raw material i.e. Medicinal plants flower, filter extraction bag, and parchment paper. However, there are other factors too that play a major role in the extraction of rosin i.e. adequate heat, pressure, and time.
Which rosin press should you buy?
There are various factors that should be considered while deciding about the best rosin press to buy. These factors include the purpose, demand, space, convenience, and so on. However, determine the answer to the following questions to understand these factors in black and white.
What is the purpose of buying the rosin press? Are you going to use it personally or for commercial purposes?
How much oil do you want to extract?
Do you want compact and handy equipment or the hefty one?
Types of Rosin Presses
Rosin Presses are available in different types. Let's dive into some of the details. 
DIY Heat Plate Kits
DIY heat plate kits are suitable when you want to make your own rosin press. The Rosin press is a simple instrument so you can put it together yourself. What you really need to buy is the hydraulic shop press, heating plates, and a controller to adjust the temperature.
Manual Rosin Press
Manual Rosin press is very simple equipment that is equipped with a pull-down lever a requires you to put pressure in order to produce rosin. The hand-crank device is easy to use and produces good quality rosin without investing a fortune.
Hydraulic Presses 
Hydraulic presses are equipment that uses hydraulic pressure to extract rosin. The pressure is created with the help of a manual hand-crank pump. The hydraulic presses are affordable and simple. They are the best entry-level pressing equipment. The variable hydraulic presses are also available. These equipment employ hydraulic cylinders while externally they are operated by a foot pump. They are large and hefty, produce more pressure, and have the capacity to serve commercially.
Pneumatic Presses
Another efficient type of rosin press is the pneumatic press. This equipment is operated by the air compressor. They produce great pressure just by putting in a small effort. This equipment is sturdy and long-lasting. They serve commercially very well because of the accuracy and efficiency they offer. However, the air compressor makes a loud noise that feels irritating to some users.
Electric Presses
Electric Rosin presses are a modernized form of rosin presses. They are getting popular day by day due to the convenience they provide. These presses do not require an air compressor or external pumps but just an electricity outlet. The advantages of the electric press outweigh the downsides which are negligible.  They are compact and portable. You can easily take them anywhere with you. Moreover, they don't make a noise like the conventional heavy-duty units. So, they are the reliable choice for most commercial users. 
Nowadays, when the market is flooded with varying equipment, it is confusing to get the right equipment, so we brought to a list of best Rosin press from ECO Farm helping you to make the right decision. We hope you would like our collection and definitely add one to your cart.