Rosin extraction technology is increasingly becoming a popular choice for medicinal plants producers. Allowing the extraction of medicinal plants concentrate without the use of solvents or chemicals, rosin technology is often described as "solventless" extraction. Instead, extraction is achieved through a combination of heat and pressure on a rosin press. Rosin technology represents several benefits for medicinal plants processing facilities, from ease of use and improved safety to cost efficiency.
1. Rosin Technology Has a Low Learning Curve
One of the key benefits of rosin extraction technology is its simplicity. There are now a number of professional rosin presses which perform the rosin extraction process, using a combination of heat and pressure to extract oil from medcinal plants materials. Manual presses are small and portable and are powered by a straight-forward crank handle or twist knob. For higher output, businesses could also consider pneumatic, hydraulic, or electric presses which are automated, and use these various forms of power for greater efficiency.

Even when using industrial-grade rosin extraction technology, the system remains straightforward, and learning to use a rosin press is a relatively simple process.

Staff can be quickly trained in using this technology and businesses can start processing soon after acquiring a rosin press.
2. Improved Efficiency And Safety
Solvent-based extracts can be dangerous to produce, with potentially deadly explosions. Rosin extraction, on the other hand, does not involve volatile materials, making it much safer. This not only means rosin extraction technology offers greater protection to workers from possible injury and even death, but there is also less red tape. Because of the risks of explosions, solvent-based extraction requires a volatile substance permit in many states, and procuring this can be lengthy and complicated. Processing facilities do not need this permit for rosin extraction, meaning fewer holdups to get started.
3. There is Incredible Demand For Rosin Products
Recent years have seen a rapid rise in the popularity of rosin products. Consumers have welcomed solventless medicinal plants extracts, with commentators attributing this to the quality of the resin it produces, which also allows a more accurate dosage. This has been vital to the industry, as this accuracy has helped to inspire more confidence in the use of medical medicinal plants. This has led to the demand for rosin products skyrocketing. In Canada, for example, the sale of medicinal plants oil to health patients rose by 870% between 2016 and 2017. This trend has been reflected in the USA and elsewhere as more consumers seek out solventless extracts.
So I recommend some best rosin presses next.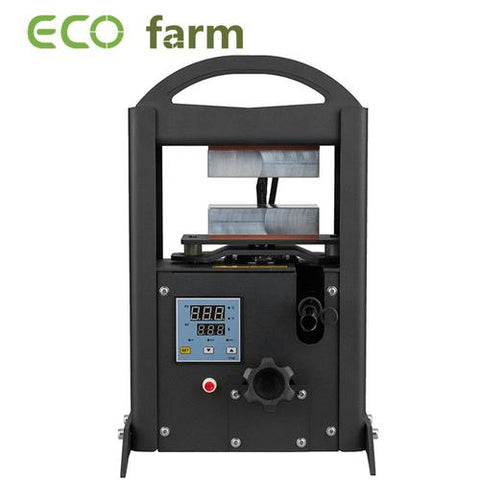 Description:
Aluminum Double Plate: ECO Farm hydraulic rosin press with 5" x 2.5" dual heating plates solid aluminum heating element support super high temperature heating evenly, pressing force can up to 8 Ton, the maximum temperature can up to 235°C (450°F).
Precise Digital Controller: This machine with an

 

automatic 

digital controller, you can automatically set time and temperature, the things heat efficiently evenly. This ribbon cable controller allows for a faster changeover. You can watch precise temperature control and read it out in the display when you use it.
UL Certification: The machine got UL certification. So the spare parts of the machine are keeping a stable working condition.
Ergonomic Handle Design: The heat press allows you to easily move the hydraulic heat press The machine is strong and stable, hold it on a bench or desk for its suction cups at the bottom grab machine when you use it.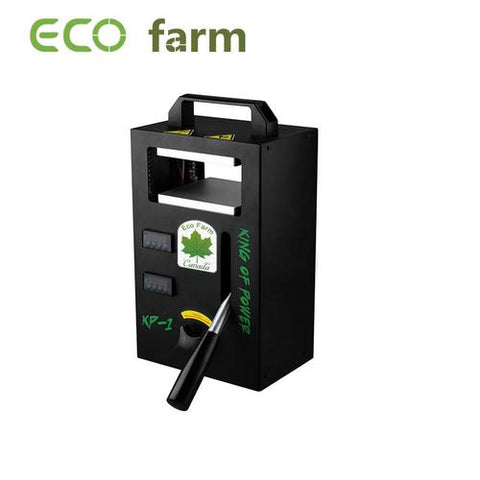 Description:
Double Heating: Double heating insulated solid aluminum plates, with the temperature control device and handle on the front of the rosin press, very user-friendly design, more convenient to use.
LCD Display: With intelligent temperature controller, with LCD screen and timer button. The upper and lower heating plates can evenly heat the objects.
Adjustable Pressure: The maximum pressure can reach 4 tons, which is easy to adjust and can be suppressed quickly.
Easy to Carry: Ergonomic design, easy to press and move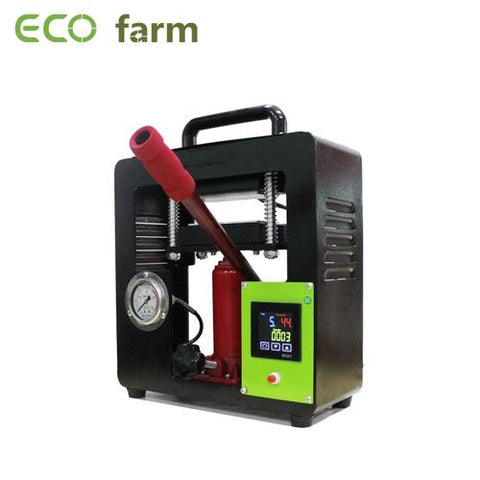 Description:
ECO Farm 8 Ton hydraulic device gives big enough pressure on the plate to get better heat press efficiency.

Intelligent temperature controller with screen and timing button. With upper and lower heating plates so that objects can be heated evenly.


The surface of the heating plate is coated with a high temperature resistant anti-sticking layer, which is easy to clean and anti-oxidation.

Ergonomic handle design for easy pressing and moving.
If you have any questions, please contact us and we will respond to you as soon as possible. 
Our emails address is: business@ecofarm.ca
Contact:
WhatsApp: +1 206 581 5521