I think we can all agree the ability to see clearly, regardless of environmental conditions, is an essential aspect of safety. Safety glasses with built-in LED (light-emitting diode) lights are a terrific option when working in dark or dimly lit environments. From electrical and plumbing work to car repair and hobbies, the continuous illumination provided by LED Safety Glasses can make your job safer and easier.
10 Benefits of Wearing LED Safety Glasses
Hands-free lighting that eliminates the need to juggle a flashlight.
Easier movement in tight, dark or dimly lit spaces.
A long battery life (50 hours) that makes LED lights both efficient and cost-effective.
Eliminating shadowing in well-lit areas. With lights mounted on each temple, direct lighting keeps a task well-lit regardless of the location of the room's light source.
Not having to search for a flashlight when the power goes out in the middle of a project.
Being able to eliminate large and uncomfortable headlamps.
Providing flexibility by not allowing the absence of natural light to be a factor. Reading and working in a dimly lit area or even outside in the dusk or darkness becomes much easier.
LED lights are permanently attached, so they are always available when needed.
Anti-fog technology, so glasses stay clear in any condition.
Impact-resistant lenses that allow for the ultimate in safety and visibility
Here are some perfect LED grow lights: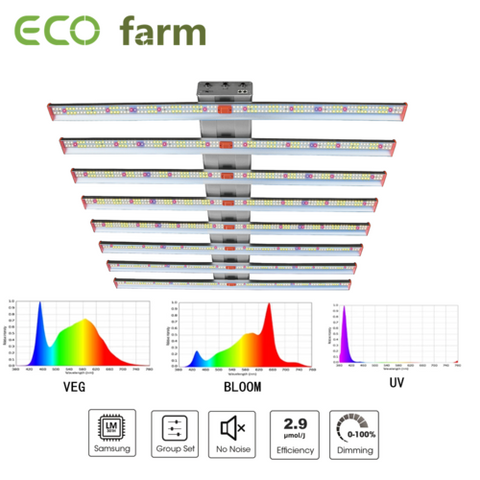 ECO Farm ECOZ 250W/510W/700W/1000W series light with top-bin Samsung LM301H chips (5000K+3000K)+Osram (660nm+730nm)+Refond (395nm), offering all the necessary light effiency to your medicinal plants in whole growth stages - from VEG to Flower
Adjustable full spectrum 3 channels dimming way, each channel can be controllable separately.
UV IR seperately control
Passive cooling, no noise operation.
Higher yields and lower cost: ECO Farm ECOZ series delivers powerful light output and uniform canopy penetration to resulting maximum higher yields.
'Plug & play' fast installation design makes your grow way easier with lowest maintenance cost and easy installation, specially big saves on shipping.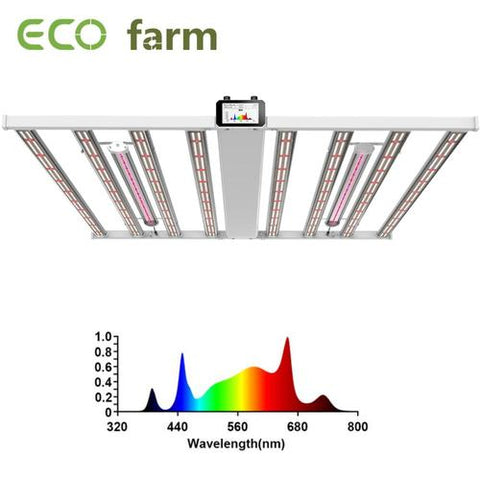 ECO Farm Master/Station version foldable LED fixture, with 8 bars, could evenly cover 4'X4' and 5X5' area.
Actual 880W light, provide powerful and quality light to the plant.
High-efficiency full spectrum light strips: 

The full-spectrum led grow light is optimized for rapid growth and complete plant development. Using Samsung white chips and Osram red chips, could up to 2.8 μmol/J, PPF up to 2184 μmol/s.

Master version light with built-in LCD color screen, showing the detailed status of the fixture and its group members. Such as dimming percentage, wattage, amps, PPF value, spectrum, timer status.
Highlight: Built-in a control system on Master, with a step-less dimmer and five-step timer. One Master can control up to 50pcs of Stations. In other words, any changes made in Master will sync across all the connected Stations.
Spectrum Tunable. There are four types of spectrum built-in this fixture, it provides a suitable spectrum for different stages of medicinal plant growth, such as V1 for VEG stage, F1 for the flowering stage, FS for the last two weeks of flowering.
UV/IR enhanced bars was easy to install/uninstall from the fixtures. Item was our most creative mechanism design that enables you the most time-saving and convenient way to install the fixture.
Note: Our lights contain UV IR by default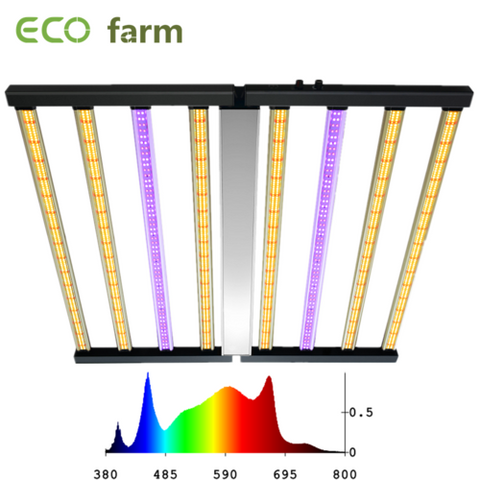 ECO Farm each LED light strip has an end-to-end connection, fully satisfy large area lighting demands.
Grow Any Indoor Plants Year-Round
Plants Grow Naturally in Winter, Similar to Sun, No Mess
Energy Efficient LED Grow Lights for Faster Growth
Sprouts in Days, Harvest in Weeks, Enjoy for Months
Looking for more options and information? Welcome to visit our official website. Follow us could get the biggest discount. 
If you have any questions, please contact us and we will respond to you as soon as possible. 
Our emails address is: business@ecofarm.ca
Contact:
WhatsApp: +1 206 581 5521