There are so many wet trimming and dry trimming machines available in the market for trimming medicinal plants buds. In this post, you will explore some of the best medicinal plants trimming machines in 2022.

Now after waiting for a long time, your medicinal plants is ready to be harvested. What Next?
Trimming buds IT IS!
Any bud trimming machine can save you a lot of trimming time rather than hand trimming. Trimmed buds can get you the perfect stash from your plant, but it's time-consuming. A bud trimming machine is a must-have accessory for your medicinal plants. Various best bud trimmers come in a variety of shapes, sizes, and usability, they include wet trimmers, dry trimmers, manual trimmer, mini leaf trimmer, magic trimmer, industrial trimmers, leaf bowl trimmer, automatic bud trimmer, Trimpro rotor leaf trimmer, iPower leaf bowl trimmer, and so on.

If you are a commercial large-scale grower then you would need a team of professional trimmers who would use hand trim technique by shears and other bud trimming machines.

But what if you have a couple of plants only? Would you prefer wet trimming or dry trimming?

Well, you don't have to worry about it anymore as this guide helps you get the best bud trimming machines for your dry buds and wet buds.

This is a Leaf Bowl trimmer, it will help you to trim the medicinal plangs buds with ease and precision. You can actually get a large automatic bud trimmer as well as a small handheld bud trimmer.

So, no matter the size of the job, you will have a choice.
Some of the advantages of using the Best Bud Trimmers are:
It will reduce the processing times a lot.
You will get a uniform size in buds.
You can get a large variety of high-quality trimmers and leaf collector tools out there, from small handheld ones to large industrial-size trimmers.
By removing the leaves, you will get a better THC gram-on-gram ratio.
Without leaves, the medicinal plants buds will be smoother when smoked.
Growers prefer trimmed buds as they look good!
Here are three top bud trimmers: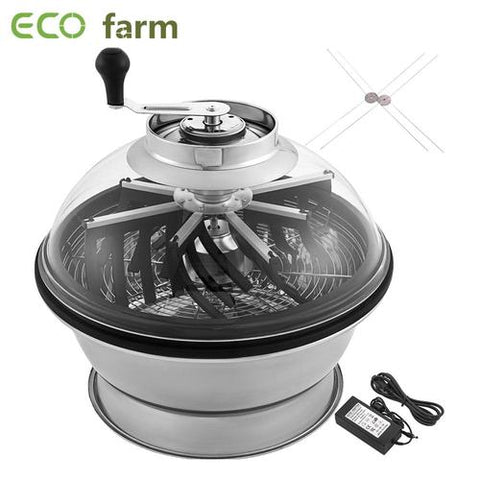 ECO Farm electric 16"/19"/24" leaf bowl trimmer is made of high-quality stainless steel, and all rubber pieces are made of safe food-grade rubber.
Powerful, efficient and quiet motor. It is easy for operating and saving time.
Easy to clean after use. A removable handle for convenient storage, and removable grille for easy service.
Clear plastic top for better visibility, you can see inside the bowl trimmer easily and clearly when operating.
ECO Farm 16"/19"/24" leaf bowl trimmer can be manual or electric, could be widely used
Great portable size and easy to operate
Fast and efficient cutting
Easy to use and carry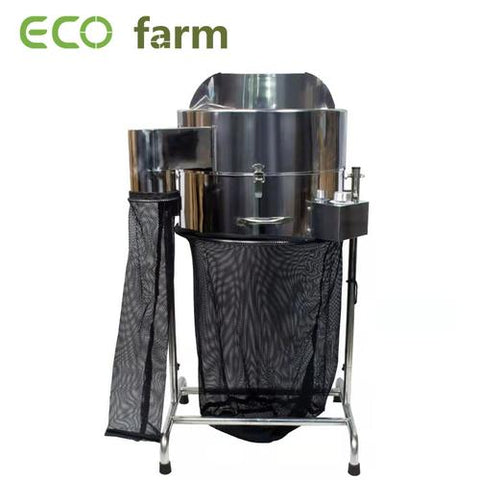 ECO Farm 18 inch leaf trimmer is equipped with a maintenance-free motor, sharp stainless steel (triple) blades, whichprovides unsurpassed trim quality and greater yields without the mess. Automatic output when finished; equipped with clean environmental handle bags, helping to reduce cleanup and any mess, leaves no trash around. Easy fold-out design for convenient transport or storage.
Been used for separating producing excess leaves and cutting twigs from a variety of plants and flowers. With just a few electric drives, small leaves will be blown into the gear box by inside fan for easy disposing.
Three different speeds to suit your different needs. The machine is tiltable to 180-degrees for easy clean up and the collecting hatch can be opened while the machine is running for non-stop use. The handled bags also help to catch and hold the leaves and petals.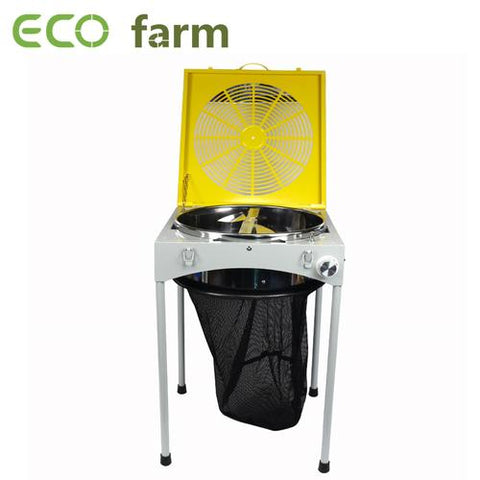 18" Table Hydroponic 3 Speed Electric Leaf Bud Trimmer
Adjustable with 2-Speed motor 60hz 110v
With a safety shroud to ensure workers' safety and product protection
Color may Vary
Extra sturdy leg design for stability
Separate excess leaves and twigs from a variety of plants and flowers
Easy to open grate for cleaning or replacing new blade
With a powerful, efficient and quiet motor
With ventilation and debris recovery systems
Dual Stainelss steel abjustable sharp cutter blades
Ok, that's all. Looking for more options and information? Welcome to visit our official website. Follow us could get the biggest discount. 
If you have any questions, please contact us and we will respond to you as soon as possible. 
Our emails address is: business@ecofarm.ca
Contact:
WhatsApp: +1 206 581 5521