Professional LED grow lights produce enough light for commercial and large-scale growers. They also work for both VEG and bloom.
Most professional growers prefer LED grow lights for medicinal plants, because, unlike traditional HID or HPS, they offer a wide band spectrum — while saving you big on energy.
Read on to discover the best professional LED grow lights in ECO Farm available right now.
ECO Farm ECOZ Series 250W/510W/700W/1000W Samsung LM301H Chips LED Grow Light Strips With Separately UV+IR Control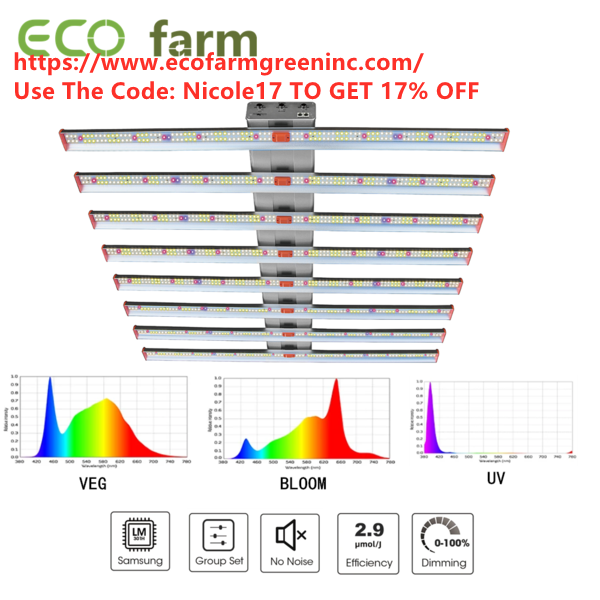 ECO Farm ECOZ 250W/510W/700W/1000W series light with top-bin Samsung LM301H chips(5000K+3000K)+Osram ssl80 (660nm+730nm)+Refond (395nm), offering all the necessary light effiency to your medicinal plants in whole growth stages - from VEG to Flower
Adjustable full spectrum 3 channels dimming way, each channel can be controllable separately.
Passive cooling, no noise operation.
Higher yields and lower cost: ECO Farm ECOZ series delivers powerful light output and uniform canopy penetration to resulting maximum higher yields.
'Plug & play' fast installation design makes your grow way easier with lowest maintenance cost and easy installation, specially big saves on shipping.
Save 100%-200% on lighting compared to other brands;
Make you get 30% Higher Yield compare the traditional lamps, Increases revenue with better quality flowers, and higher yield(maximize crop yield by growing vertical);
High yields and low consumption - 2.9 μmol/j ;
Reduce HVAC and electricity costs by 50-60%;
Reflector design with 120 Degree Wide Beam Angle;
Samsung 301H led grow light pre-assembled, easy to use, just plug and play to offer light your plants;
Quiet operation, without noise;
Unique optic lens modules guarantee your outstanding PAR output and strong penetrability;
3 Channel Dimmers Switches: VEG , Bloom , UV separately controlled, Freely adjust the lamps according to different growing stages; VEG dimmer to control white light 5000K, one Bloom dimmer to control white light +red light ( 3000K+660nm), and UV dimmer to control UV 395nm;
Plug & Play design, horticultural can be easier;
Perfect heat management, cool to touch.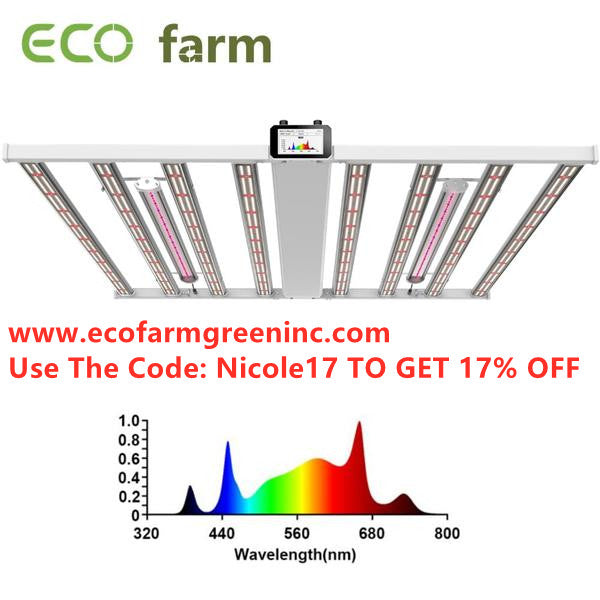 ECO Farm Master/Station version foldable LED fixture, with 8 bars, could evenly cover 4'X4' and 5X5' area.
Actual 880W light, provide powerful and quality light to the plant.
High-efficiency full spectrum light strips: The full-spectrum led grow light is optimized for rapid growth and complete plant development. Using Samsung white chips and Osram red chips, could up to 2.8 μmol/J, PPF up to 2184 μmol/s.
Master version light with built-in LCD color screen, showing the detailed status of the fixture and its group members. Such as dimming percentage, wattage, amps, PPF value, spectrum, timer status.
Highlight: Built-in a control system on Master, with a step-less dimmer and five-step timer. One Master can control up to 50pcs of Stations. In other words, any changes made in Master will sync across all the connected Stations.
Spectrum Tunable. There are four types of spectrum built-in this fixture, it provides a suitable spectrum for different stages of medicinal plant growth, such as V1 for VEG stage, F1 for the flowering stage, FS for the last two weeks of flowering.
UV/IR enhanced bars was easy to install/uninstall from the fixtures. Item was our most creative mechanism design that enables you the most time-saving and convenient way to install the fixture.
Note: Our lights contain UV IR by default
Looking for more options and information? Welcome to visit our official website. Follow us could get the biggest discount. Now using coupon code: Nicole11 to get 17% off when checkout.
If you have any questions, please contact us and we will respond to you as soon as possible. 
Our emails address is: business@ecofarm.ca
Contact:
WhatsApp: +1 206 581 5521