If you want your Monstera plant to grow and develop fenestrations, make sure that you give it enough light. When it doesn't receive enough natural sunlight or artificial light, it will stop growing and may eventually wilt.
Monstera thrives with 10 to 12 hours of bright, indirect lighting every day. When there is inadequate sunlight during winter or when the room is too dark, you should use grow lights to supply your Monstera plant with light.
Considerations when buying a grow light
When you are choosing grow lights for your Monstera plant, it's important to understand that there are several factors you will need to take into consideration:
1. Where do you place your Monstera plant?
The grow room where you plan to place your Monstera plant will determine which grow light you choose.
Grow lights are available in blue/red as well as full-spectrum white. The spectrum of light emitted by the grow lights will affect the color ambiance you see in your room.

The blue/red spectrum grow lights will make your room turn purple and unsuitable for when you need to work or do other activities. In this case, you will want to use the full-spectrum white.

However, if you have dedicated space for your plants, it is best to use blue and red spectrum grow lights. They will boost plant growth and promote darker, healthier colors in the leaves and stems of your Monstera.
2. Do you just own one or a collection of Monstera plants?
How many plants are you trying to grow under the light?

Grow lights can vary in size from a single bulb to those huge, meters-long fluorescent arrays suspended from the ceiling.

If you are just propagating a small Monstera cutting, perhaps you will only need a small incandescent growlights put into a regular desk lamp.

However, if you have a collection of Monstera or other plants growing in the same space, you might consider a larger High-Intensity Discharge (HID) growlights.
3. How long do you need to turn on the growlight?
If you have bright sunlight for a short period of time, you can turn your grow light on for just three to four hours per day.

But if the plant does not get enough light, it means that the grow lights should be on for at least 10 hours.

Most incandescent grow lights can overheat quickly if you have them on for too long. In this case, it would be best to buy LED lights, because they stay cool even after extended use.
4. Are you a busy person?
Suppose you've bought the most expensive grow light for your Monstera plant, but then you work outside throughout the day. This means that your Monstera is not getting the required amount of light.

In this case, you may want to consider getting a timer for your grow lights. With it, you will be able to schedule when your Monstera plant needs light and when it doesn't. Also, most LED grow lights now come with a timer as a standard feature.
5. What is your budget?
A $10 LED grow light is a good option when you want the cheapest possible option to get your Monstera plant off to a great start.

However, if you're interested in additional features (i.e., adjustable spectrum, dimmable light, and smartphone compatibility), we recommend the more expensive LED grow lights, which typically range from $200 to $500.
The Best Grow Lights for Your Monstera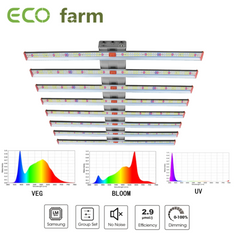 Description:
ECO Farm ECOZ 250W/510W/700W/1000W series light with top-bin Samsung LM301H chips (5000K+3000K)+Osram (660nm+730nm)+Refond (395nm), offering all the necessary light effiency to your medicinal plants in whole growth stages - from VEG to Flower
Adjustable full spectrum 3 channels dimming way, each channel can be controllable separately.
UV IR seperately control
Passive cooling, no noise operation.
Higher yields and lower cost: ECO Farm ECOZ series delivers powerful light output and uniform canopy penetration to resulting maximum higher yields.
'Plug & play' fast installation design makes your grow way easier with lowest maintenance cost and easy installation, specially big saves on shipping.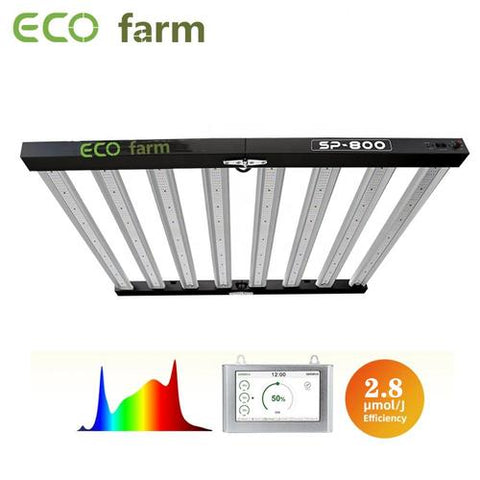 Description:
High-efficiency full spectrum grow light: ECO Farm SP series led grow light have Samsung LM281B LEDs(3000k+5000k) +RED 660nm+IR 730nm +UV 395nm, provides the plant with the full spectrum from seeding to flowering. Ideal for indoor plants all stages growing, rapid plant response from seed to flower, speeds up flowering time and boost yields
Market-leading efficiency

 

to 2.6 µmol/J and 2.5g yield per wattage with 30% higher average PPFD
Realize large-area harvest with LED lighting:

 

Easy to dimming and heat dissipation, waterproof power supply, aluminum housing, long power supply life, suitable for large rooms and commercial places, make your plants get more energy, and get maximum headroom without burning plants
Optional touch screen controller, an idea for commercial growing (max 100 lights) &timing and dimmable function.
All in one design, build-in driver, free assemble, save time and shipping fee
Low Noise & Low Heat:

 

No fans needed meaning low noise; Ambient heat is very low, so there is no need to worry about burns or damage to your plant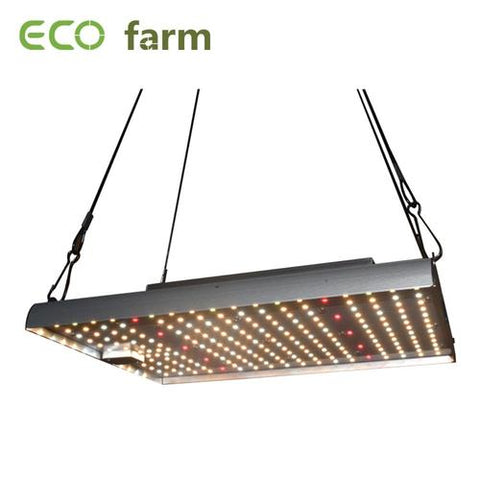 Description:
ECO Farm full spectrum 120W/240W LED grow light is suitable for all plant stages of growth. This light allows you to adjust the height of the grow lamp according to the growth stage of the plant, such as a seedling, vegetative, flowering and fruiting stage.
3500K color temperature + red light Full Spectrum for Flowering and full-cycle.
Passive heat sink (no fan)& large-area solid aluminum heat sink.
Adjustable high safety performance Mean Well driver.
Comes fully assembled plug and play.
conclusion:
I hope this article has helped you to choose the right grow light for your Monstera! 
If you have any questions, please contact us and we will respond to you as soon as possible. 
Our emails address is: business@ecofarm.ca
Contact:
WhatsApp: +1 206 581 5521