If you have a collection of medicinal plants that thrive in high humidity in your grow rooms, you might be wondering what the most effective way to increase the moisture levels in your air is. While there are a handful of ways to increase humidity, hands down, the most effective way to consistently maintain a higher level of humidity is with a humidifier.

As an added bonus, humidifiers aren't only good for your plants; they're good for you too.
Buying Guide
Besides grow room ventilation, your job as a hydroponic or indoor grower is to take care of the humiditity levels of your space. Depending on the types of plants grown, mostly, they require a humidity level of 60% or higher.

Humidifiers work to increase the moisture content of the air, which is a dream come true for medicinal plants and other humidity-loving plants which thrive in such environments. High humidity helps plants grow more vibrant leaves and encourages better plant health, resulting in more lush foliage and a better-growing plant.

While some plant owners increase humidity with pebble trays or misting their plants, these methods do not consistently increase humidity, and they require continual human participation. The easier option, which will result in a more measured level of humidity, is a humidifier. High humidity also results in warmer air, which will also benefit your medicinal plants. But not all humidifiers are created equal.
The following are three best humidifier for small grow room: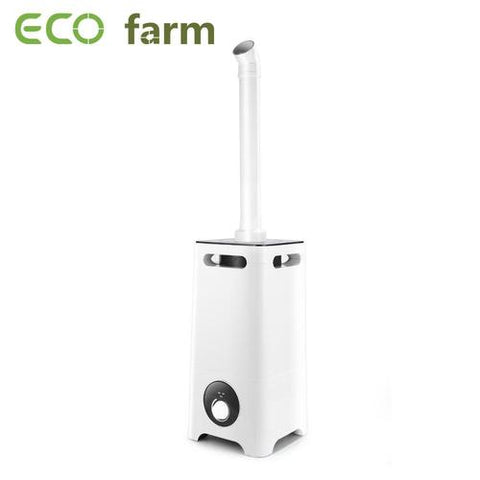 Large Capacity: ECO Farm ultrasonic humidifier with a 13 L huge water tank, atomization amount of 1000 ml/H, mist output can be adjustable.
Low Noise: a low noise ultrasonic humidifier, 38 to 58 dB of operating noise. which quietly humidifies, far from these annoying noises.
Guarantee of safety: When the machine is in a state of water shortage, the humidifier automatically switches off and does not burn the machine.
Application: 60-120㎡ of large area, suitable for large dry greenhouse, commercial plant cultivation, flower farms, fruit and vegetable supermarkets, and other large humidification areas.
Easy to Use & Clean: The humidifier uses a large diameter water inlet, which can help you quickly fill the water. In addition, you can also clean the water tank by the water inlet to keep it clean.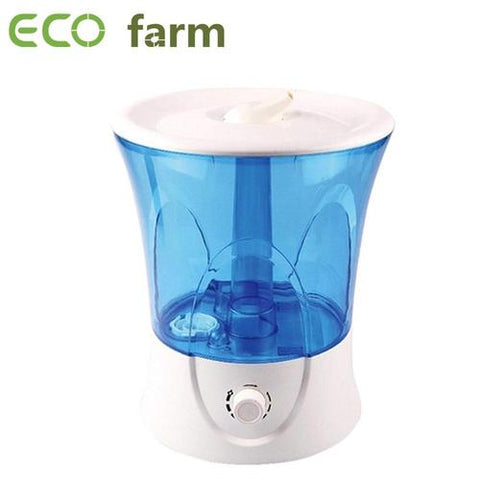 ECO Farm humidifier must be the one you're looking for. It pumps relief immediately and effectively! Increases humidity in dry grow room.
8L Extra Large Water Tank: ECO Farm humidifier is made with an impressive 8L super large water tank that keeps your grow room-humidifier right on chugging for over 28 hours on a single fill!
No Noisy: No humming, whistling or crackling as this durable Whole greenhouse humidifier steadily and efficiently dispenses the soothing cool mist you plant crave. Providing enough water to your plant.
Multiple Mist Settings + 360 Degree Rotating Nozzle– This Humidifier was designed with a super simple control dial and 360° rotating nozzle so that you can fully control and customize the mist output and mist flow direction.
Automatic Shut Off- Waterless automatic protection.No need to babysit this Humidifier.
It is made of plastic with an elegant design. It does not use any type of light when it is turned on, so plants are not stressed by any light source.
Waterless automatic protection
Mist-out mouth is rotatable at 360°C
Removable water tank with a wide mouth for easy filling
Low noise
Reduces static electricity and purifies the environment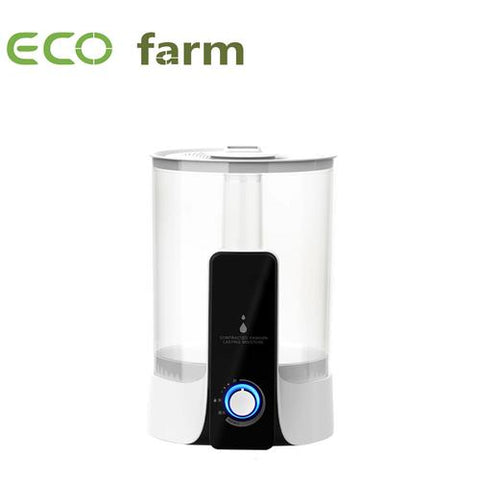 Continuous or intermitted fog.
Time setting: 1H/2H.
Power off when waterless.
LED lights/ warm light.

Application: grow tents, greenhouse, office, home, industry humidify use.
Looking for more options and information? Welcome to visit our official website. Follow us could get the biggest discount. 
If you have any questions, please contact us and we will respond to you as soon as possible. 
Our emails address is: business@ecofarm.ca
Contact:
WhatsApp: +1 206 581 5521