Learning how to hang your LED grow lights is an excellent start towards creating the most productive light environment for your horticulture business. Though many growers get it wrong.

When learning how to hang your grow lights the right way, you should:
Consider light uniformity before hanging your grow lights
Put together a grow light plan
Determine your grow light hang height
Ensure efficient grow light installation
This article will help you save time and money when hanging your grow lights, and hopefully provide peace of mind that you're on the right track.

Let's get started.
Consider Light Uniformity When Hanging Your Grow Lights
Getting an even amount of light to all of your plants simply means your plants will also grow evenly. Otherwise known as light uniformity, this even distribution of photons is a vital part of any growth strategy.
Why is Light Uniformity Beneficial For Your Business?
Uniform light distribution ensures:
Higher yields
More consistent crop quality
An easier time managing your grow environment
Put Together a Grow Light Plan
A grow light plan will give you an idea of how many grow light fixtures you need for your space and can help you calculate the best hanging strategy for your grow lights.

For commercial growers, it's essential that you get a professional light plan before you hang your lights. A professional light plan takes into consideration your crop canopy and target light intensity (also known as PPFD).
Grow Light Coverage Area Calculator
To calculate the coverage area per grow light fixture, you'll need to know the light output (PPF) for your light fixture, and your target light intensity at your crop canopy (PPFD).
How Far Should Grow Lights Be From Plants?
This is a common question when deciding how to hang your grow lights. Though, hang height is only a minor factor in planning lighting for commercial spaces.

Surprisingly, how close your grow lights are to your plants has little to no effect on the amount of light your crops receive in a large space because the light beams overlap.

Again, think about light as water pouring from your ceiling. The higher the source of water won't affect the amount of water that hits your plants.
The difficulty when thinking about how high to hang your lights comes when considering your walls and aisles.
Determine Your Grow Light Hang Height
Every environment has unique challenges that a good light plan can mitigate. For instance, low ceilings and small crop canopies can experience bad uniformity. This lack of uniformity results in what horticultural lighting experts call "hotspots."

High ceilings often have the opposite problem of losing too much light to the walls and aisles, called the "edge effect". Many growers are familiar with the edge effect because crops along the edge of the canopy often differ in quality and yield less compared to the rest of the canopy.

If you're working with a small canopy, the best recommendation we can give is to reduce your light spacing from the calculation above by 15%. This should be adequate for reducing any edge effect due to the higher ratio of walls and floor space to plant canopy.
Ensure efficient grow light installation
Most commercial cultivators hire electrical contractors to install their grow lights. This can be a significant added expense.

Our ECO Farm grow lights reduce this expense by coming standard with quick-connects to easily install or replace LED grow lights with minimal help from an electrician.

Also, it is crucial to give your professional grow light plan to your electrician so you can minimize labor and materials. Electricians can use your light plan to map out their installation beforehand, saving time that would be spent figuring it out on-site.
Enough said, let's get growing! Here are three best LED grow lights.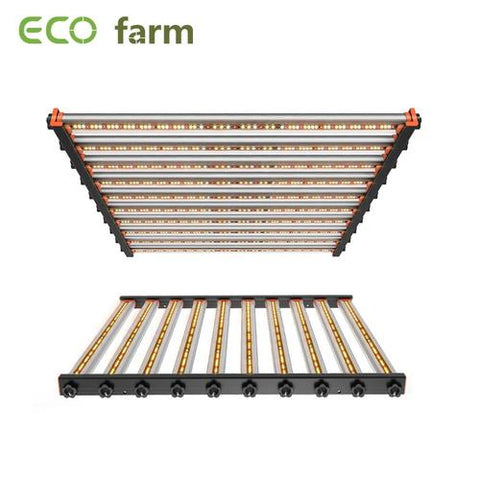 ECO Farm 650W LED grow light with Epistar diodes to get high-PPFD cultivation, achieving equal or better results than 1000w HPS equivalent. Removable 10 grow light bars can help growers achieve ideal growth performance more flexibly. Coverage area: 3*3 to 5*5 ft.
ECO Farm 650W grow light bars come with 10 independent power supply. Unplug some of the light bars easily to adapt planting needs. That makes it adaptable to different growing periods for your plant, the grow lights has high-quality driver, can adapt to the growth needs of plants in different periods, the germination, seedling, veg and bloom stages, the first choice for growers alike.
Wattage: 650 watts (65W/bar x 10 bars)
PPF 1755 umol/J
IP65 waterproof coating, great for humid environment.
Emitting color: 3500K warm white
Full-spectrum for all growth stages: Epistar 3030 3500K and 6500K + Epistar 660nm
Epistar chips promise high light efficacy and long lifespan
Aluminum material, high quality & excellent heat dissipation.
Each light bar has a small switch to control each light bar individually
Small & solid packing, save storage space and reduce shipping damage.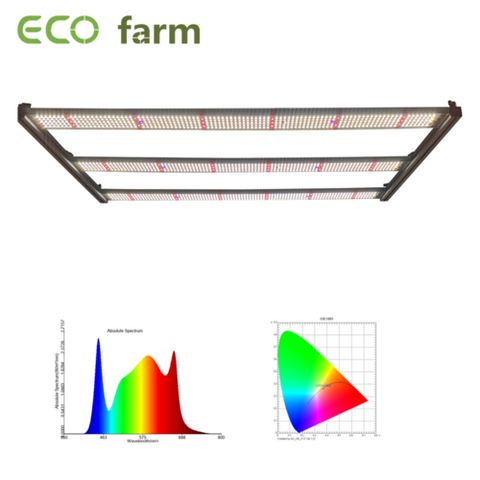 ECO Farm 480W LED Light Strips with Samsung 301B Chips +UV IR high efficiency light with inventronics driver can better heat disappear and stay cool while enabling even light spread. Save you a lot at ventilation and exhaust.

Simple structure, no fan, no noise.

ECO Farm 480W lights with dimming knob allows to control the light intensity or height and provide the right amount of light in every stage of plant growth, which can reduce energy loss.

UV IR high efficiency light with inventronics driver. Born for big buds, rapid plant response from seed to flower,speeds up flowering time and boost yields. Easy dimming design meets needs of indoor plants at different stage of growth.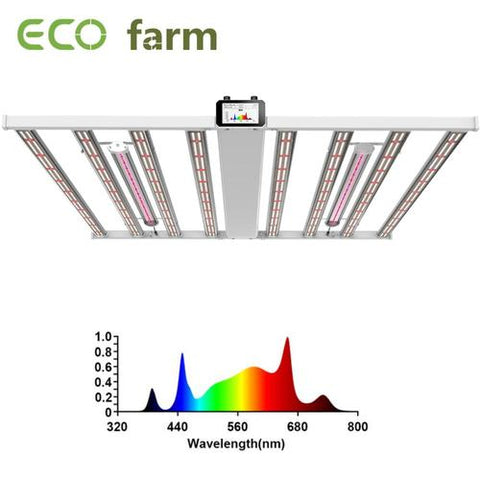 ECO Farm Master/Station version foldable LED fixture, with 8 bars, could evenly cover 4'X4' and 5X5' area.
Actual 880W light, provide powerful and quality light to the plant.
High-efficiency full spectrum light strips: 

The full-spectrum led grow light is optimized for rapid growth and complete plant development. Using Samsung white chips and Osram red chips, could up to 2.8 μmol/J, PPF up to 2184 μmol/s.

Master version light with built-in LCD color screen, showing the detailed status of the fixture and its group members. Such as dimming percentage, wattage, amps, PPF value, spectrum, timer status.
Highlight: Built-in a control system on Master, with a step-less dimmer and five-step timer. One Master can control up to 50pcs of Stations. In other words, any changes made in Master will sync across all the connected Stations.
Spectrum Tunable. There are four types of spectrum built-in this fixture, it provides a suitable spectrum for different stages of medicinal plant growth, such as V1 for VEG stage, F1 for the flowering stage, FS for the last two weeks of flowering.
UV/IR enhanced bars was easy to install/uninstall from the fixtures. Item was our most creative mechanism design that enables you the most time-saving and convenient way to install the fixture.
Note: Our lights contain UV IR by default
Looking for more options and information? Welcome to visit our official website. Follow us could get the biggest discount. 
If you have any questions, please contact us and we will respond to you as soon as possible. 
Our emails address is: business@ecofarm.ca
Contact:
WhatsApp: +1 206 581 5521