A good quality LEDs grow light is a must investment for a 4×4 tent. You have made a great effort to grow plants indoor with an efficient control system through a grow tent.
The 4×4 grow tent is a great size as it's not too big or small. The lights that can be used in a tent this size vary dramatically. You can use almost any fixture from traditional single-ended fixtures, LED lighting, or Ceramic Metal Halide. The only fixtures that might be avoided are double ended fixtures but that has more to do with height restrictions.
Since LED lights are usually preferred for grow tents, we will only discuss best LED grow lights in the market for your tent. For a 4×4 tent, you should have a grow light having an actual wattage range of 500-600 watts (assuming flowering plants which require a lot of light and are congregated in a single area. Vegetative growth for high-light plants need about half this wattage). Many growers are also using a combination of 4 LED grow lights of 300w or 2 lights of 600w for their 4×4 tent.
So here I'd like to introduce some best LED grow lights for 4*4ft grow tent under $600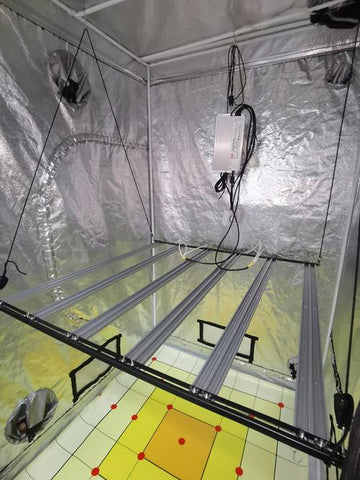 Description:
ECO Farm 600W LED light is a high-performance top-lighting solution for commercial horticulture cultivation. Designed for growers to push the envelope with high-PPFD cultivation practices.
The updated structure with an adjustable beam distribution rack and offers the possibility of adjusting the 600W LED grow light concentration along the rods, making application in different areas more flexible.
It also has an anti-sulfur coating unique to horticulture, which further increases the chip's durability.
Optimized full-spectrum, suitable for all growing stages from seed to harvest
In addition, Meanwell HLG 600H 54B driver with high voltage capacitors, ensuring LED chips lifetime of up to 50,000 hours.
The latest high-efficiency Samsung 301H 3500K chips + Epistar 660nm chips, with much better PAR efficiency results.
Certification: CE, EMC, FCC, LVD,
Warranty: 3-year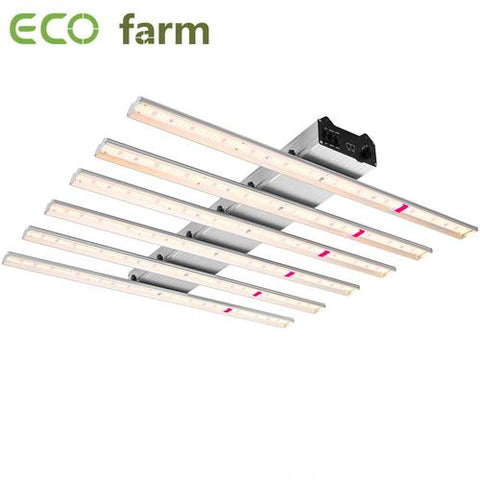 Description:
ECO Farm ECOX series dimmable three channel dimming light strip is more suitable for indoor plants whole grow stage. The dimmer knob to adjust according to the needs of the plants, in order to obtain perfect growth performance, which enhance high yields to obtain the ideal harvest.
Easy to install, high energy efficiency with 2.9umol/J
ECO Farm ECOX light uses full-spectrum white samsung 301B diodes, 660nm deep red diodes, 730nm IR diodes, 395nm UV diodes, which provides desired needs for plants seedling to harvest growth with full spectrum led grow lights and provides better light-spectrum coverage, maximum PAR output at various distances.
ECO Farm led grow light makes your home grow life quiet, and this growth lamp used reliable driver and high effective aluminum heat sink to ensure heat dissipation and long lifespan.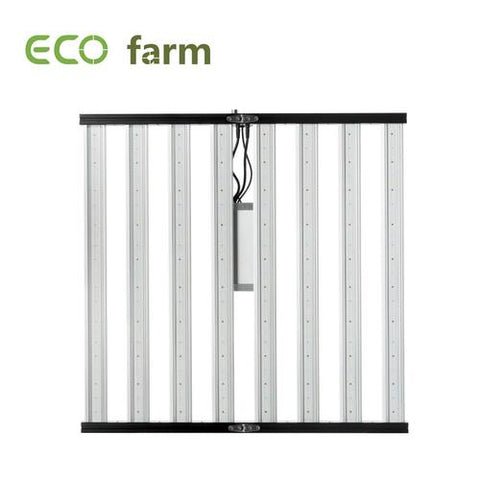 Description:
New upgraded light, it is been widely used in greenhouse and commercial grow room. ECO Farm 600W dimmable LED grow light could replace most of the light in today's market.
Fully equipped with the latest in high end LED technology from the best of Samsung 301H chips+ CREE chips +Meanwell driver.
Better canopy light penetration with diffused light.
This light bar is a massive fixture that delivers uniform light intensity.
Dimmable light could help you to adjust the light intensity during the plant's different stages, also could add the THC and the taste.
ECO Farm 600W LED grow light bar is a vertical tillage light, which integrates the blue chips and the red chips to make the light easier to absorb under high intensity and promote the best bud quality. And it is also use Samsung LM301H LEDs in high power LED grow light that flowers a 4x4 area or bigger, delivering an optimal PPFD value over a large footprint.
Grow Tip:
You need to be careful regarding the height at which you hang the light above the plants. As it can cause a burn or stunted growth in plants. It is recommended to keep the light at a distance of 30-32 inches in the start. Then you can closely monitor the plants over the time to avoid any burn and allow for a proper stretch (depending on your area size). If there is the stretch between the nodes or too much space between the sucker leaves, you can decrease the height of LED light and further adjust it unless an optimal height is achieved to maintain healthy plants' growth.
If you have any questions, please contact us and we will respond to you as soon as possible. 
Our emails address is: business@ecofarm.ca
Contact:
WhatsApp: +1 206 581 5521