There is no substitute for natural light. However, when it comes to growing medicinal plants, the farmers still will not deny that the gentle warmth of sunlight needed for their plant's growth is not always available.

To achieve optimal light for plants, the best option is LED grow lights. These are the most effective source of providing adequate light for growing indoor plants. They improve the deficiency of the sunlight, which passes through windows and on the plants.

The salient features of LED grow lights are adequate energy production, less energy consumption, and the spread of full-spectrum color light. They do not only provide light and energy to the plants, but they also provide ambiance. It is pertinent to clarify that they are entirely different from other High-Pressure Sodium lights, commonly known as HPS or CFLs, which are the compact fluorescent lamps.

LED grow lights are so common that almost everybody who has even a little know-how and experience about farming is well acquainted with their nature, function, and availability. Above all, they are the most effective artificial substitute for sunlight.
 However, Indoor gardening requires the right lighting option to create a quality environment for plants to thrive. In this article, I will discuss the Best LED Light For 4 Plants In A 100X100X200 Grow Tent reviews.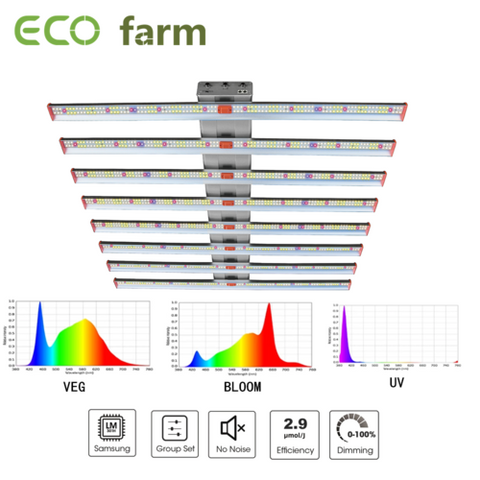 Description:
ECO Farm ECOZ 250W/510W/700W/1000W series light with top-bin Samsung LM301H chips (5000K+3000K)+Osram (660nm+730nm)+Refond (395nm), offering all the necessary light effiency to your medicinal plants in whole growth stages - from VEG to Flower
Adjustable full spectrum 3 channels dimming way, each channel can be controllable separately.
UV IR seperately control
Passive cooling, no noise operation.
Higher yields and lower cost: ECO Farm ECOZ series delivers powerful light output and uniform canopy penetration to resulting maximum higher yields.
'Plug & play' fast installation design makes your grow way easier with lowest maintenance cost and easy installation, specially big saves on shipping.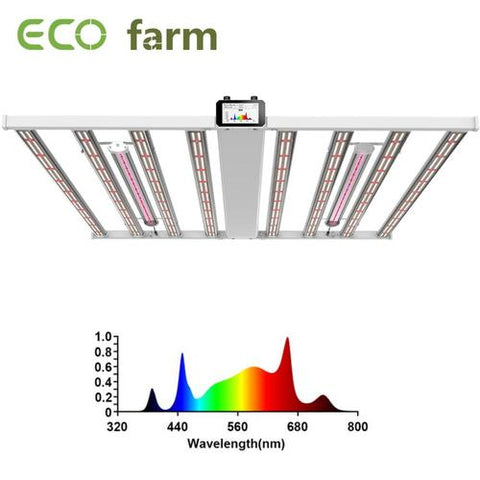 Description:
ECO Farm Master/Station version foldable LED fixture, with 8 bars, could evenly cover 4'X4' and 5X5' area.
Actual 880W light, provide powerful and quality light to the plant.
High-efficiency full spectrum light strips: 

The full-spectrum led grow light is optimized for rapid growth and complete plant development. Using Samsung white chips and Osram red chips, could up to 2.8 μmol/J, PPF up to 2184 μmol/s.

Master version light with built-in LCD color screen, showing the detailed status of the fixture and its group members. Such as dimming percentage, wattage, amps, PPF value, spectrum, timer status.
Highlight: Built-in a control system on Master, with a step-less dimmer and five-step timer. One Master can control up to 50pcs of Stations. In other words, any changes made in Master will sync across all the connected Stations.
Spectrum Tunable. There are four types of spectrum built-in this fixture, it provides a suitable spectrum for different stages of medicinal plant growth, such as V1 for VEG stage, F1 for the flowering stage, FS for the last two weeks of flowering.
UV/IR enhanced bars was easy to install/uninstall from the fixtures. Item was our most creative mechanism design that enables you the most time-saving and convenient way to install the fixture.
Note: Our lights contain UV IR by default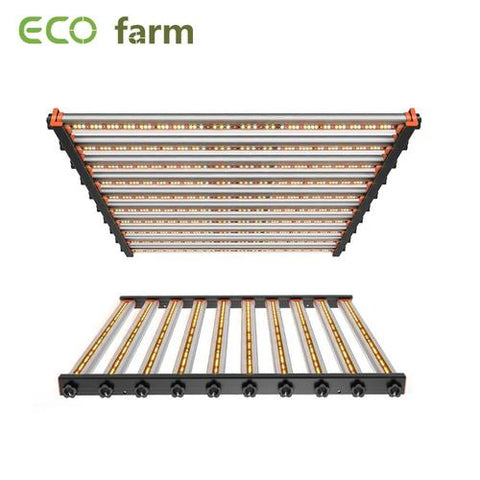 Description:
ECO Farm 650W LED grow light with Epistar diodes to get high-PPFD cultivation, achieving equal or better results than 1000w HPS equivalent. Removable 10 grow light bars can help growers achieve ideal growth performance more flexibly. Coverage area: 3*3 to 5*5 ft.
ECO Farm 650W grow light bars come with 10 independent power supply. Unplug some of the light bars easily to adapt planting needs. That makes it adaptable to different growing periods for your plant, the grow lights has high-quality driver, can adapt to the growth needs of plants in different periods, the germination, seedling, veg and bloom stages, the first choice for growers alike.
If you have any questions, please contact us and we will respond to you as soon as possible. 
Our emails address is: business@ecofarm.ca
Contact:
WhatsApp: +1 206 581 5521