With Rosin being the way to go for many medicinal plants consumers, being the safest way to extract it, perhaps the next best thing to do now is find a way to have a constant supply of it. And if you prefer rosin as your medium for consumption, you'd want to have a good supply, especially if you prefer a particular strain. That's why many turn to a rosin press and consider it a good investment.
With the advent of rosin, more companies are offering affordable solutions. Add to that the relaxed regulations in growing medicinal plants at home. So if you're a home grower, and want rosin whenever you want it, it makes sense to get your own rosin press.
And the good thing about
rosin presses
? There are many to choose from. This brings us to which rosin press to choose, especially if you're just starting out. There are a few things to consider when choosing a rosin press.
Do you have a lot of space to spare, or do you need something compact?
Do you need something more discreet, or is noise okay in your household?
How much material are you looking to extract each time?
Given these considerations, here are some recommendations to check out.
ECO Farm mini press uses a proprietary rosin press extraction methodology that using the proper surface area for a consistent extraction every time.
Hardware the fully adjustable temperature settings with the accurate digital temperature controller and the ease of use you will get started right out of the box.
You will enjoy the large 2.4" x 3.6" solid aluminum dual heat plates
Frame construction is solid aircraft-grade aluminum that is very sturdy and stable, can be well fixed to the desktop for easy use
This rosin press has a removable power cord and handles and a fast retract plate release and removable manual pump arm makes our mini press the extractors travel choice.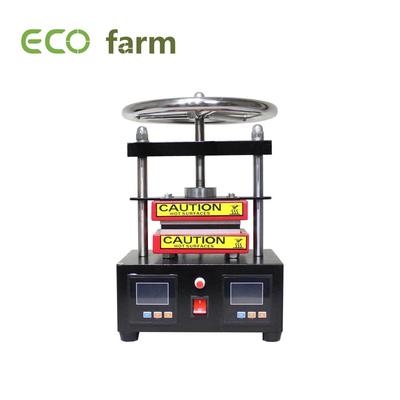 High Quality: ECO Farm rosin press has f

irm construction with business grade dual heated press hand crank, durable for years of trouble-free.

Suitable size: 2.4X4.7 Inches (6X12 cm) with intense pressure and flexible temperature control.
Convenient to Clean: Non-stick dual heating elements with Teflon paint on the surface. Dustproof and do not need high temperature cloth. Convenient to clean and oxidation resistant
Personalized Design: Microprocessor precision heat and temperature gauge so that you can set your desired pressure, temperature and use the crank to press as hard as you want.
Heating professional: Electric heat pipe and plate body to pouring into an organic whole for even heating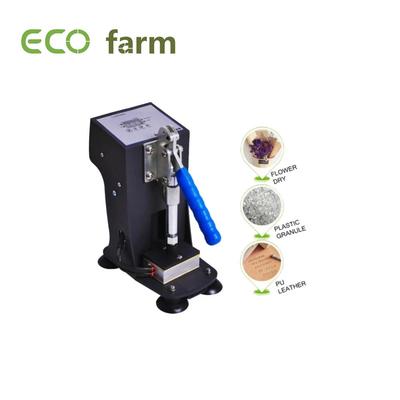 High-quality materials: ECO Farm 2"x3" rosin press with high quality that all spare parts used in the hot press have passed CE or UL certification, which can maintain a stable working state and a lower failure rate.
Stable and sturdy structure: The heat press has a sturdy structure, locking lever mechanism, 1.2-inch thick solid aluminum made heating element, the double heating plate is made of solid aluminum plate, the area is 2x3 Inch, 0~250°C/482°F temperature Range, 2~8°C temperature difference.
Maximum pressure: The heat press can produce 1,000 pounds of force, and 770 pounds of force is recommended.
Accurate LCD controller: The LCD controller can be replaced more quickly, and the
LCD controller controls each heating element and reads separately, making the reading more accurate.
Easy to use: This heat press weighs only 10 pounds, is super portable, very suitable for personal desktop operation, and saves time and space.
Ok, that's all. Looking for more options and information? Welcome to visit our official website. Follow us could get the biggest discount. 
If you have any questions, please contact us and we will respond to you as soon as possible. 
Our emails address is: business@ecofarm.ca
Contact:
WhatsApp: +1 206 581 5521