Samsung diode lm301h is actually more effective in transferring energy from electrons. It has been confirmed that the introduction of the LM301H is only to differentiate the "Horticulture" market from the general lighting market.
LM301H
* PPF: Photosynthetic Photon Flux ** PPE: Photosynthetic Photon Efficacy
Difference between LM301H and LM301B:
Anti-sulfur coating
According to the data sheet, the LM301H LED has the same electrical and optical characteristics as the LM301B variant. It is available in different colour temperatures from 2200K to 6500K and in colour rendering index CRI 70-90.
Depending on who builds the light you are looking at 2.7-3.10 μmol/J for the lm301h. The lm301b tops at about 2.7-2.8. So there is a difference but it's subtle.
So next I will recommend you several best Samsung LM301H LED grow lights.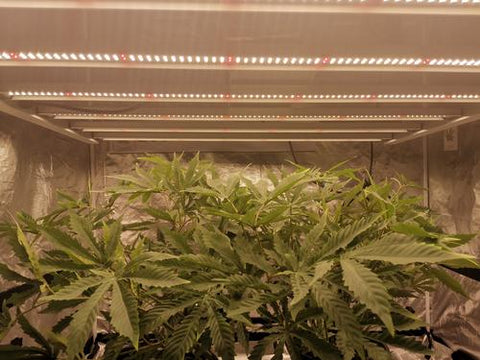 Description:
ECO Farm LED light strip is a full-cycle spectrum, which is similar to the sunshine, ideal for all kinds of indoor plants veg and flower at all growth stages.

ECO Farm upgrades LED is a high-performance, full-cycle top-lighting solution for commercial horticulture cultivation, with the power to scale from vegetative growth to higher light intensities in bloom. It was designed for commercial growers to push the envelope with high-PPFD cultivation practices along with sophisticated CO2 supplementation.

Designed with Samsung 301H chip, higher light intensity, less light decay, better lumens and PAR values than ordinary LEDs. It runs at a lower temperature and can bring higher energy conversion and longer life. This grows light is a full-cycle lighting solution for all growing environments including wet situations and is ideal for greenhouse or indoor lighting.

Flowering period: turn on the light for 12 hours, the humidity is 45-50%.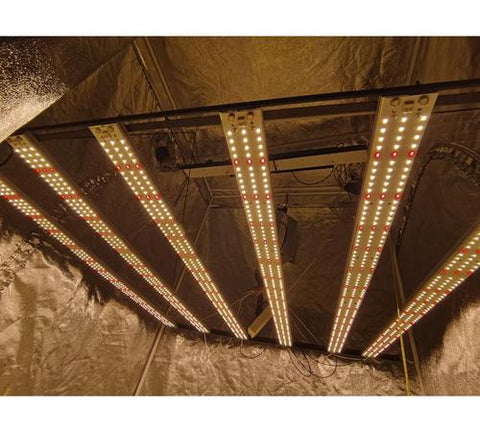 Description:
ECO Farm 600W LED light is a high-performance top-lighting solution for commercial horticulture cultivation. Designed for growers to push the envelope with high-PPFD cultivation practices.
The updated structure with an adjustable beam distribution rack and offers the possibility of adjusting the 600W LED grow light concentration along the rods, making application in different areas more flexible.
It also has an anti-sulfur coating unique to horticulture, which further increases the chip's durability.
Optimized full-spectrum, suitable for all growing stages from seed to harvest
In addition, Meanwell HLG 600H 54B driver with high voltage capacitors, ensuring LED chips lifetime of up to 50,000 hours.
The latest high-efficiency Samsung 301H 3500K chips + Epistar 660nm chips, with much better PAR efficiency results.
Certification: CE, EMC, FCC, LVD,
Warranty: 3-year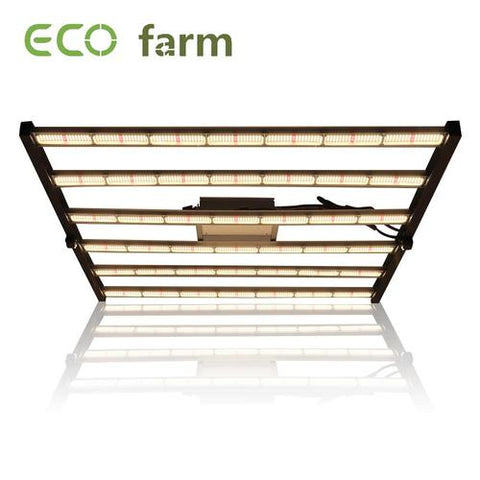 Description:
Designed for commercial growers high-efficiency vertical farming cultivation. Up to 2.8µmol/J high efficacy and 1113µmol/m²/s high average PPFD created to push the envelope for the maximum crop yield along with sophisticated CO2 supplementation. Full-cycle light spectrum provided for horticulture cultivation from vegetative growth to bloom.
PROMOTES PLANT GROWTH - Capable of supporting photosynthesis, the LED grow lights are for places where there is little to no sunlight. It's perfect for home use, greenhouse use, and laboratory use, the bulb is sure to provide flowering results. Ideal for indoor gardens, hydroponics, and aquatic plants, these grow lights are essential in promoting perfect plant growth and maturity.
OUTPUT & EFFICIENCY - Operating at only 630 watts with an output of 1758 µmol s-1, this LED achieves an efficiency of 2.8 µmol s-1 per watt. Maximize your yields & profits with ECO Farm LED Grow Lights.
BALANCED FULL SPECTRUM - ECO Farm growing light bar features a perfect blend of both full-spectrum 3500K+660nm+730nm. This results in the perfect spectrum for all phases of growth. The spread of light throughout the open 6-bar fixture ensures a uniformly mixed spectrum on your plants at short distances. The LED light help encourage stem growth, blooming/flowering and bud production.
EVEN COVERAGE & PAR DISTRIBUTION - The unique 6-bar configuration gives you the ability to mount this LED in rooms with low ceilings, on vertical growing racks, over grow benches and especially in grow tents.
If you have any questions, please contact us and we will respond to you as soon as possible. 
Our emails address is: business@ecofarm.ca
Contact:
WhatsApp: +1 206 581 5521