It takes more than finding an LED grow light with the same wattage as your HID (HPS/MH) to give your plants the light they need to thrive. In fact, wattage is probably the last thing you think about when converting your grow room's lighting. Thankfully there's a way to find an equivalent LED to replace your HID grow light.
So why should we change our HPS MH grow light for LED Grow Lights
Cons Of HPS/MH grow light:
HPS/MH grow light need a tall grow space – Since HID bulbs must be kept relatively far from your plants, MH/HPS grow lights can only be used even when the grow space is taller than 4 feet (1.2 meters), though 5+ feet (1.5+ meters) of height is recommended for the best results.
Higher initial investment – Will almost always cost more of an initial investment to get started with HIDs (compared to CFLs) though you are much less likely to need to upgrade your lights during your grow
HID grow lights can be difficult to find locally – Since HIDs are considered specialty growing lights, they almost always must be purchased online or from a grow store.
Heat means you will likely need an exhaust system – HID grow lights produce a lot of heat when you use bigger bulbs like 250W, 400W, 600W and especially 1000W HID grow lights, so you will need to create a way to exhaust the heat outside of your grow space. However, I will teach you how to set up exhaust systems and show you the relatively inexpensive way I set up a stealthy exhaust system for my house 

below

. This exhaust system has proven effective for cooling a 600W light without an air conditioner even in sunny southern California
Pros of LED grow light
LEDs Provide a Higher Quality Light Spectrum
There was a time when switching from MH to HPS bulbs between veg and flower counted as tailoring your light spectrum to your plants' needs. Now, with advancements in LED grow lighting, you can do far, far better than that.
First of all, high quality LED grow lights feature a full spectrum that closely mimics the sun's natural radiation. While MH bulbs provide a blue spectrum and HPS radiate red, LEDs cover the entire visible spectrum.
When you switch from HPS to LED, your plants receive the blue hues they need for sturdy growth and root development. They get the red they need for serious blooms and high yields. They even get white to increase potency and green to promote penetration through the canopy.
Plus, advanced LED grow lights like the ECO Farm go one step further with spectrum control. That means you can adjust and program spectrum settings to optimize the spectrum at every stage of growth.
The Switch from HPS to LED Increases Yield and Product Quality
Did you know quality LED grow lights provide just as much light intensity as your HPS bulbs? When you consider the added benefits of a comprehensive light spectrum, it's no wonder you can expect a better-than-ever harvest when you make the switch from HPS to LED.
For one thing, a full light spectrum ensures your plants receive the exact light they need for every stage of development. And if you use variable spectrum LED grow lights, you can even adjust the light spectrum to manipulate your crop. Using intelligent, strategic light recipes, you have the ability to heighten flavor and increase potency.
High quality LED grow lights also produce higher yields. This is especially true in the case of variable spectrum lights that allow you to usher your crops through the grow cycle more quickly. When you adjust the light spectrum, you signal a change in season. Your crop responds accordingly, budding and flowering at a faster pace. The result is higher yields per harvest cycle and more harvest cycles per year.
LED Grow Lights Have a Much Longer Life
 One of the most common reasons growers put off the switch from HPS to LED is the price tag. It's true that you can't find a quality LED fixture for a lower purchase price than an HPS bulb. But operational and replacement costs . . . that's another matter.
The truth is, most LEDs are more economical in the long run. One major aspect of cost savings is the much longer lifespan of an LED grow light. High end LED grow lights last upwards of 50,000 hours and can even operate efficiently for up to 100,000 hours. Over the course of that lamp life, there is very little depreciation in lumen output.
HPS bulbs typically must be changed every 5,000 hours to maintain the spectrum and light output.
Save Energy Costs by Making the Switch
If there is one thing LED grow lights are most famous for, it's probably energy efficiency. You can expect to save at least 50% on your lighting-related energy costs by switching to LEDs.
But it doesn't end there.
LEDs also emit very little heat compared to HPS lamps. When you switch from HPS to LED luminaires, you cut down significantly on supplemental cooling and ventilation. Plus, less heat means less evaporation. So, you don't just get to back off your energy consumption. You can also get your plants to thrive with less irrigation.
Easier Installation and Maintenance with LED Grow Lights
Growing is complicated enough as it is. You already deal with environmental controls, monitoring temperature and photoperiod, and calculating the perfect nutrient balance. This is why innovators in the field of LED technology strive to design lamps that are efficient, effective, and easy.
Mission accomplished.
LED grow lights typically have a built-in driver and super simple plug-and-play installation. You don't have to fuss with ballasts or costly bulb changes, which is the standard experience for HPS growers. When it's time to replace your LED luminaire (and we already discussed how rare that is), the switch-out is fast and easy.
Sound like it might be time to switch from HPS to LED lights? We recommend checking out ECO Farm for home grows or variable spectrum. We're also here to answer any questions you may have about making the switch.
 Let's get started with some best ecofarm LED grow light now:
ECO Farm MB4 880W Master/Station Spectrum Dimmable Samsung +Osram Chips UV IR LED Grow Light Strips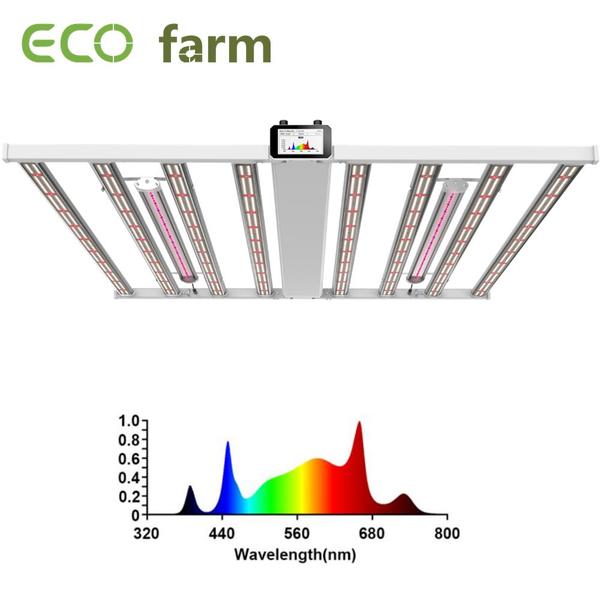 ECO Farm Master/Station version foldable LED fixture, with 8 bars, could evenly cover 4'X4' and 5X5' area.
Actual 880W light, provide powerful and quality light to the plant.
High-efficiency full spectrum light strips: 
The full-spectrum quantum board is optimized for rapid growth and complete plant development. Using Samsung white chips and Osram red chips, could up to 2.8 μmol/J, PPF up to 2184 μmol/s. 
Master version light with built-in LCD color screen, showing the detailed status of the fixture and its group members. Such as dimming percentage, wattage, amps, PPF value, spectrum, timer status.
Highlight: Built-in a control system on Master, with a step-less dimmer and five-step timer. One Master can control up to 50pcs of Stations. In other words, any changes made in Master will sync across all the connected Stations.
Spectrum Tunable. There are four types of spectrum built-in this fixture, it provides a suitable spectrum for different stages of medicinal plant growth, such as V1 for VEG stage, F1 for the flowering stage, FS for the last two weeks of flowering.
UV/IR enhanced bars was easy to install/uninstall from the fixtures. Item was our most creative mechanism design that enables you the most time-saving and convenient way to install the fixture.
Note: Our lights contain UV IR by default
ECO Farm 480W/650W/1000W/1200W Samsung 301H Chips LED Grow Light For Indoor Plant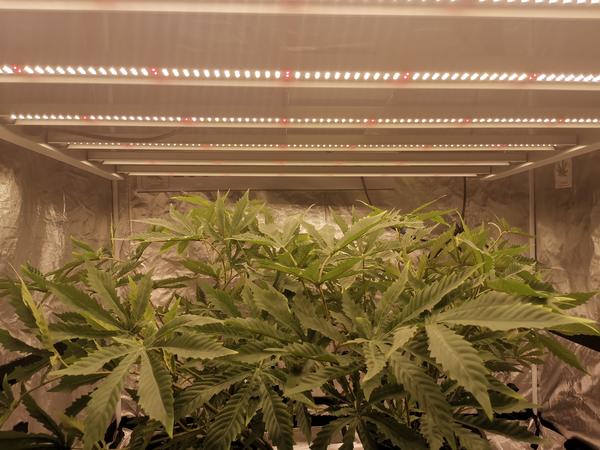 ECO Farm LED light strip is a full-cycle spectrum, which is similar to the sunshine, ideal for all kinds of indoor plants veg and flower at all growth stages.
ECO Farm upgrades LED is a high-performance, full-cycle top-lighting solution for commercial horticulture cultivation, with the power to scale from vegetative growth to higher light intensities in bloom. It was designed for commercial growers to push the envelope with high-PPFD cultivation practices along with sophisticated CO2 supplementation.
Designed with Samsung 281B chip, higher light intensity, less light decay, better lumens and PAR values than ordinary LEDs. It runs at a lower temperature and can bring higher energy conversion and longer life. This grows light is a full-cycle lighting solution for all growing environments including wet situations and is ideal for greenhouse or indoor lighting.
Flowering period: turn on the light for 12 hours, the humidity is 45-50%.
Low power, low energy consumption, high light absorption rate.
IP65 waterproof
Die-cast aluminum Good heat dissipation
High efficiency, almost all of the light can be absorbed by plants.
Energy saving as well as electric energy saving
No radiation, protect people's health
Long lifespan.
High PPFD value Samsung led chips .
Full spectrum high quality led source .
Diecasting aluminum heatsink. 
Conclusion:
LED grow lighting has many advantages over high-pressure sodium, metal halide, and fluorescents – they use less energy, emit less heat, reduce water usage and have spectra that are optimized for plant growth.  Another great thing about LEDs is their reliability.  Instead of re-lamping every year, many LEDs have lifespans of 10 years or longer.  
You can check out the full selection here. Follow us could get the biggest discount. Now using coupon code: Nicole11 to get 17% off when checkout.
Our emails address is: business@ecofarm.ca
Contact:
WhatsApp: +1 206 581 5521