Pressing rosin is still a relatively new art, although there are many great resources on the internet to teach you how to make pure, potent, and artisanal medcinal plants concentrate at home. But how about some pitfalls to avoid?  We've broken down some common rosin pressing mistakes into 3 main categories: 
Material
Equipment
Process
Material
Low Quality - Using material with low trichome production won't yield much rosin. If the buds don't smell like a bouquet when you break one open, your rosin won't express an impressive terpene profile. If you want high-quality rosin, don't use low-quality medicinal plants. 
Not Fresh - As medicinal plant ages its trichomes oxidize, which leads to a darker rosin. Material should be recently dried and cured without excessive time spent in storage.

Wrong Moisture Content - Using overly-dried buds will lead to disappointing results at the press. Use material that contains 62% humidity.
Equipment
Poorly Designed Plates - low-quality or poorly designed heating elements within aluminum plates can lead to temperature variances across the surface of the plates. These temperature variances decrease the ability of rosin to flow freely and evenly away from the source material. It's best to use plates specifically designed for pressing rosin, not hair straighteners and the like.

Premium Rosin Press Plates from ECO Farm are designed for extractors seeking to produce the highest quality rosin.

Not The Right Press for Your Needs - A common misconception is that bigger always means better. You don't need an industrial grade press capable of 20 tons of pressure between a set of gigantic plates to extract top shelf rosin. Similarly, if you're interested in squeezing more than a couple grams of rosin per week, that hair straightener may not be ideal in your situation. Keep in mind that with rosin, less is more.

Also, make sure you're operating in a well-lit area. Low visibility can lead to inefficiencies and sloppy mistakes. Our hands-free light is a great way to help eliminate blindspots while you work.
Low Quality Bags - Don't use bags that aren't built for high heat and pressure. Makeshift bags or bags made with low quality material and subpar stitching will lead to blowouts and/or inconsistent pressure on the source material. Use bags made with food grade nylon and solid stitching. 
Process
Too Much Heat - Don't overcook your source material. Stay away from excessively high heat that might slightly increase yield but can greatly decrease the terpene profile by vaporizing them off the rosin. 
Too Much Pressure - More is not always better. Most beginners have a tendency to overdo the pressure. Learn how to properly calculate psi and start on the low end and gradually work up through experimentation. Learn how to calculate Platen PSI here.

Not Gradually Increasing Pressure - Don't apply full pressure within the first few seconds of a press. Rather, increase pressure in increments, which will allow the maximum amount of rosin to flow. You'll develop a feel for this over time.
Here are some best rosin press recommended for you.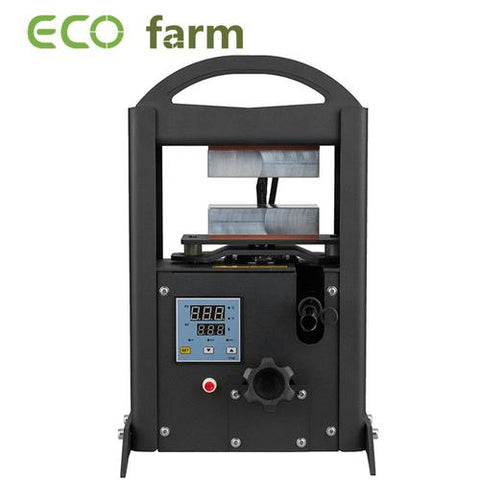 Aluminum Double Plate: ECO Farm hydraulic rosin press with 5" x 2.5" dual heating plates solid aluminum heating element support super high temperature heating evenly, pressing force can up to 8 Ton, the maximum temperature can up to 235°C (450°F).
Precise Digital Controller: This machine with an

 

automatic 

digital controller, you can automatically set time and temperature, the things heat efficiently evenly. This ribbon cable controller allows for a faster changeover. You can watch precise temperature control and read it out in the display when you use it.
UL Certification: The machine got UL certification. So the spare parts of the machine are keeping a stable working condition.
Ergonomic Handle Design: The heat press allows you to easily move the hydraulic heat press The machine is strong and stable, hold it on a bench or desk for its suction cups at the bottom grab machine when you use it. 
Double Heating: Double heating insulated solid aluminum plates, with the temperature control device and handle on the front of the rosin press, very user-friendly design, more convenient to use.
LCD Display: With intelligent temperature controller, with LCD screen and timer button. The upper and lower heating plates can evenly heat the objects.
Adjustable Pressure: The maximum pressure can reach 4 tons, which is easy to adjust and can be suppressed quickly.
Easy to Carry: Ergonomic design, easy to press and move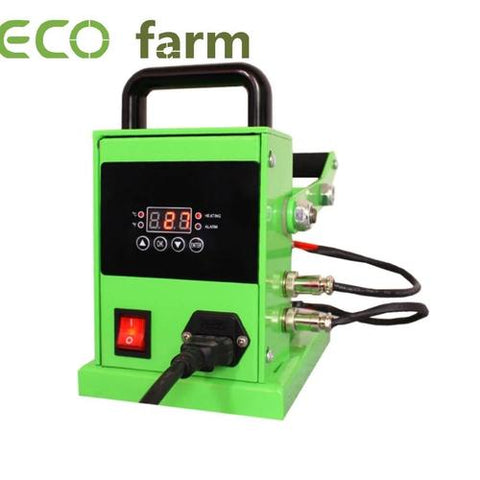 ECO Farm mini press uses a proprietary rosin press extraction methodology that using the proper surface area for a consistent extraction every time.
Hardware the fully adjustable temperature settings with the accurate digital temperature controller and the ease of use you will get started right out of the box.
You will enjoy the large 2.4" x 3.6" solid aluminum dual heat plates
Frame construction is solid aircraft-grade aluminum that is very sturdy and stable, can be well fixed to the desktop for easy use
This rosin press has a removable power cord and handles and a fast retract plate release and removable manual pump arm makes our mini press the extractors travel choice.
Conclusion
Keep these pitfalls in mind, and remember, there is no failure in art. Keep experimenting and if you have any questions, please contact us and we will respond to you as soon as possible. 
Our emails address is: business@ecofarm.ca
Contact:
WhatsApp: +1 206 581 5521