What is a Full-Spectrum LED Grow Light?
A full-spectrum LED grow light is simply a marketing term that implies that your grow light closely resembles light from the sun. This marketing term comes from the concept of "full-spectrum light," which in recent years has been used to refer to electromagnetic radiation from the UV to infrared wavebands.

The History of the Full-Spectrum LED Grow Light
The full-spectrum LED grow light is the newest evolution of an already confusing term. Originally, full-spectrum light described the only real full-spectrum light source, the sun.

Over time, the term began to take on other characteristics of sunlight. The commercial lighting industry began using the name "full-spectrum" to sell lights that produced a Color Rendering Index (CRI) over 90. Humans perceive colors more accurately under light sources with a CRI over 90, much like how we see colors in our natural world under daylight. This was a beneficial feature for human environments such as offices, outdoor spaces, and others.
With the advent of horticultural lighting, companies once again began to borrow the term. Only this time, they claimed that full-spectrum LEDs could reproduce the effects of sunlight for plants. Thus, the full-spectrum LED grow light was born. 
What is the Best Light Spectrum for Plant Growth?
By now you must be wondering:

"If I can't mimic sunlight, then what light spectrum should I use?". The answer is both simple and quite complex.

Plants only require PAR light for photosynthesis. So, if your grow light is optimized within the PAR spectrum, you're going to get the most bang for your buck when it comes to minimizing electrical costs while maximizing plant health.
Beyond PAR, it's important to choose a light spectrum that's:
best for the environment you're growing in (greenhouse or indoors)
tailored to your plant's growth phase (propagation, vegetative, flowering, or finishing)
or specific to the cultivar being grown
Here are several best full spectrum LED grow lights.
ECO Farm 240W/320W/480W/660W Waterproof Full Spectrum Foldable LED Grow Light With Osram Chips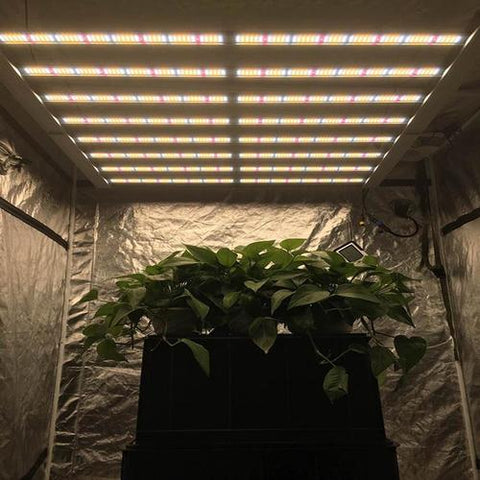 ECO Farm waterproof LED bars provide more even canopy coverage, Bar light design and aluminium material on the back contribute to better airflow and great heat dissipation. Plant growing light comes with a detachable driver and long power cord, thereby reducing ambient heat in your growing space for extended lifespan. With the waterproof circuit board, worry free of the moist environment. Easy installation.
High-intensity spectrum is perfect for veg to bloom, grow lamp born for Density Buds,widely suit for full-cycle commercial, home, grow tent, grow room, hydroponic ,soil growth.
prefect as commercial LED grow lights, ideal for home & vertical farming.with the intensity of light can be adjusted according to the needs of plants, enable the exact dynamic PPFD control over each of plant growing stages.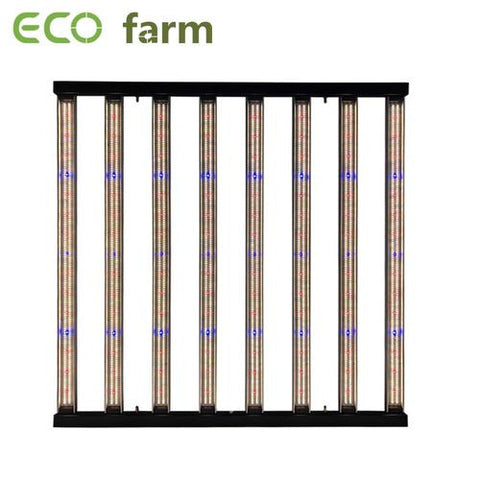 ECO Farm blue version 650W LED grow light combine with highest-quality light chips: Samsung 301B (3000K, 6500K) +Osram (660nm, 470nm,450nm). Every top-bin LED is selected from the industry leader for its particular wavelength.
High light intensity and energetic spectrum, crucial for canopy penetration to nourish lower leaves and flowers
Even, edge-to-edge coverage eliminates leaf burn and hot spots
Ideal full spectrum for both Veg and Flowering stages
The best active heat management in the industry, crucial to maximizing LED life, efficiency, and spectrum stability
Largest heat sink among LED grow lights for superior cooling and increased LED life,ultra-efficient LEDs 70,000+ hour rated lifespan
IP65 waterproof in damp/wet location.
Added 470nm, 450nm two kinds blue lighting, better for plant growing.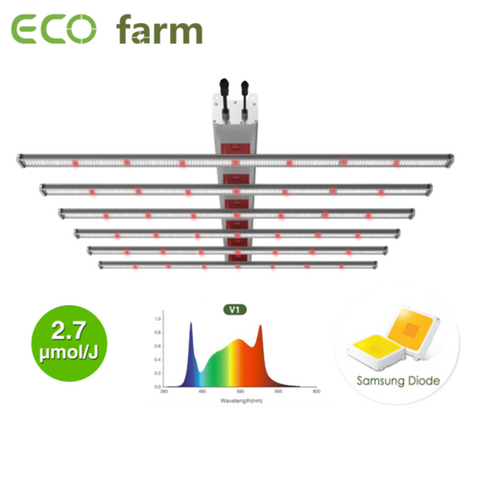 ECO Farm MS 660W/760W/900W full spectrum LED grow light strips with enhanced red for full-cycle grows. Using Samsung LM301B high bin LEDs, efficacy is up to 2.7μmol/J.
No wiring needed, it takes less than 30 seconds to install a fixture.
0-10v auto & manual dimmable control. 2 dimming solutions, manual and automatic dimming are optional.
Passive heat dissipation design (No need for internal cooling fans)
Uniform Light distribution. Each light bar is evenly distributed on the 2 ends of the power supply, and the PPFD value of each point is very uniform, giving your plants the most uniform growth environment.
Save 50% space for the same 660W/760W/900W grow light in the market, thus could save shipping and storage space.
If you have any questions, please contact us and we will respond to you as soon as possible. 
Our emails address is: business@ecofarm.ca
Contact:
WhatsApp: +1 206 581 5521