Grow Lights VS Regular Lamp Lights
If plants need light to grow, then why don't your indoor plants flourish under the everyday lights you use to light your way each evening? The answer is actually quite simple: not all lights are created equal, and many are specific to certain wavelengths of light. These wavelengths are what makes up the light spectrum, some of which are explicitly used by plants to help them grow and produce, while others are simply to help you find your way. If you have ever wondered about the specific differences between a grow light vs a regular light, then your explanation can be found below.
What Is an

 Regular

 LED Light and an LED Grow Light? What's the Difference?
Grow lights produce more power than their regular counterparts. The intensity of the lights helps increase the rate of photosynthesis, as it ensures that the plants have sufficient energy to grow. There are different grow lights out on the market with different intensity levels that affect the power they produce.
Illumination purposes:

Regular LED lights are solely used for providing illumination in a residential or commercial sphere. LED grow lights encourage plant growth.

Light variety: 

As we mentioned, you can select from a variety of grow lights that suit your budget and needs. These include HIDs, fluorescents,  incandescent, and, of course, LEDs.

Colors available: 

Here's what we covered in the intro. Normal LEDs do have a color spectrum, but it may not be as comprehensive as that of grow lights. For instance, LED grow lights need both blue and red light spectrums. The blue allows your plant to experience vegetative growth while the red can promote flowering.
While regular LEDs are great to have at home since they last practically forever and can save you money, don't get it confused. LED lights are not the same as LED grow lights. If you're providing a light source for your plant, a grow light will ensure they reach their full potential. That's not to say you can't use an LED or another non-grow light source, but grow lights work better.
What Makes a Good Grow Light?
Most grow lights provide full-spectrum light. Most of the light plants use is from the blue ("cool") and red ("warm") ends of the spectrum; they use little yellow and green light. Blue light stimulates vegetative growth (foliage and roots) while red light stimulates plants to produce flowers and fruit.
Here are two top LED grow light in ECO Farm for your reference:
ECO Farm SP Series 420W/630W/840W Dimmable LED Grow Light With Samsung Chips Foldable Light Strips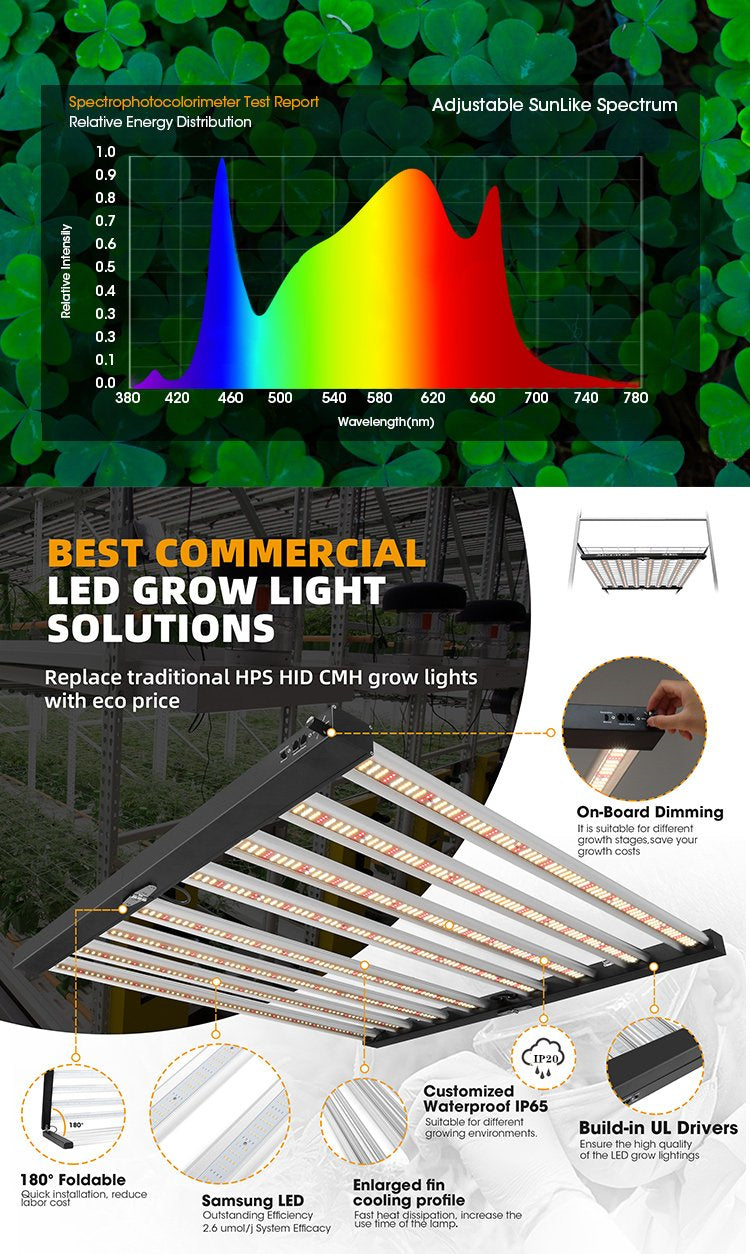 High-efficiency full spectrum grow light

: ECO Farm SP series led grow light have Samsung lm281B LEDs(3000k+5000k) +RED 660nm+IR 730nm +UV 395nm, provides the plant with the full spectrum from seeding to flowering. Ideal for indoor plants all stages growing, rapid plant response from seed to flower, speeds up flowering time and boost yields

Market-leading efficiency 

to 2.6 µmol/J and 2.5g yield per wattage with 30% higher average PPFD

Realize large-area harvest with LED lighting: 

Easy to dimming and heat dissipation, waterproof power supply, aluminum housing, long power supply life, suitable for large rooms and commercial places, make your plants get more energy, and get maximum headroom without burning plants

Optional touch screen controller

, an idea for commercial growing (max 100 lights) &timing and dimmable function.
All in one design, build-in driver, free assemble, save time and shipping fee

Low Noise & Low Heat: 

No fans needed meaning low noise; Ambient heat is very low, so there is no need to worry about burns or damage to your plant
ECO Farm 480W Samsung V3 Quantum Led Light Bar 301H Chips MeanWell Driver
Our 480W Samsung V3 Quantum Led Lamp Bar uses Samsung LM301H chip + Epistar Red 660nm

 

,

 

Perfect performance for veg and bloom.
Each QB V3 grow light is designed with knob dimming and UV&IR can be independently controlled.
Consist of 1024pcs LM301H Samsung diodes and mix 192 red diodes 660nm, equips with 480 watts Meanwell HLG-480H driver. Grow lights deliver uniform and battery canopy light penetration, high PAR efficiency with 2.6 umol/J to maximum higher yields.
Reliable passive-cooled design (no cooling fans required)
Dimming Design: LED plants light board with dimming knobs, growers can easy to control the light intensity at liberty according to indoor plants' growth phrases, plants get the best growing performance at the same time.
The grow lights suit for the commercial grower and individual growers.
High-quality original diodes from famous brands like Samsung, Epistar.
The light bar are movable, you can adjust the light distance according to the space where the plants grow.
Optimal Full Spectrum: Qantum board grow lights provide naturel spectrum and color temp 3500K. The light wavelength from 380nm to 700nm, which can offers all the necessary light energy for indoor plants at all growth stages
High Efficiency and PPFD value
Looking for more options and information? Welcome to visit our official website. Follow us could get the biggest discount. Now using coupon code: Nicole17 to get 17% off when checkout.
If you have any questions, please contact us and we will respond to you as soon as possible. 
Our emails address is: business@ecofarm.ca
Contact:
WhatsApp: +1 206 581 5521