Grow Room Fan Size Calculator
If you are ventilating a grow tent, it's important to know how much air to move to provide and adequate amount of fresh air. Since it fills up the entire space, you can guess that the volume of your grow tent is equal to the amount of air that needs to be exchanged. A little more goes into the calculation if you are filling the space with accessories. So from our full grow tent ventilation guide, learn how to find the CFM you need.
Therefore, having proper circulation in your grow tent is essential to preventing mold and powdery mildew from growing on your medicinal plants. I'm going to lay out everything you need to know about selecting an inline fan for your grow tent, and getting it set up properly. 
The proper size fan for a 4x4 grow tent:
Most 4x4 tents measure 48in x 48 in x 80 in. So the total volume of air in a 4x4 grow tent is 4ft (length) x 4ft (width) x 6.667ft (height) = 106.67 cubic feet. But that doesn't mean you need a 106 cfm fan.
What size fan is needed for other grow tent sizes?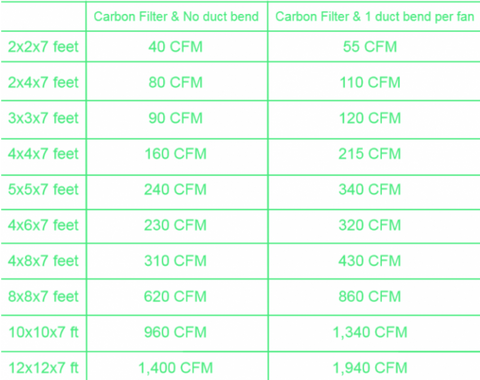 Factors to Calculating Grow Room Fan Size
You need to consider some factors that would determine the need for your tent ventilation. You need to think about factors that contribute to the needs of airflow in your grow tent.
Understand that for every Grow area; you need to get a fan with a CFM that can accommodate and sustain the conditions of your tent. That's why it's important to consider all the conditions that will give your plants the best condition for their growth.
The following are four major factors that you need to consider
I. Grow Room Volume
 It the total space and volume that your fan has to deal with. It's all space inside your grow room.
When you buy any fan, it needs to replace all air inside the Grow room. At the same time, it needs to replace it with fresh air from outside. And most importantly, your fan will be responsible for even circulation of air within your Grow area.
So, you will need to have a fan that can adequately circulate this air. Its CFM shouldn't be too low in a way that it can't circulate or supply air that covers the entire Grow room.
At the same time, the CFM of your grow fan shouldn't be more as compared to the total volume of your Grow area.
Calculating CFM by Volume
To get the CFM of your fan, use the dimensions of the Grow area. Multiply the height, width and length of the tent to get the total volume.
That is:
CFM = Height x Width x Length
The total volume of the tent should be the same as the CFM of your fan.
Note that most fans are measured in Cubic Feet Per Minute (CFM). For that reason, its advisable to measure the dimensions of your tent using 'Feet' measurements instead of using 'meters.'
Example:
Kenny, after measuring his Grow area he found out that the height was length was 5 feet, width 5 feet, and height 7 feet. The following were the calculations of the total volume for his fan CFM.
CFM = 5 Feet x 5 Feet x 7 Feet
Total = 175 CFM
II. Ducting Design and Length
Ductwork will determine the volume of air that can pass through them at any particular time. Ducting curves and length will affect your fan capacity. Generally, you will find the following Ducting designs in most Grow tents.
Long ducting runs: These have a length of between 10 to 20 feet and around 3 to 6 bends.
Medium Ducting: You can expect a medium length of between 5 to 10 feet with 2 to 3 bends.
Minimal Design: They don't have any ductwork hence no bends over them. It's just an opening where you place your fan directly to ventilate your Grow tent.
Calculation of CFM by Ductwork
You need to note that for every 1 foot of ducting length, you will need an additional 1% of the fan CFM. When you think about the curves, you consider the angle. For every 90 degree angles of curves, you will need an additional 20% of fan CFM.
In short, if you have a tent with ductworks of 5 feet and curves of 90 degrees, you will need a total of 25% additional CFM to your fan.
Example
Jack has a Grow tent with 200 CFM volume. It has 3 ducting beds of 90 degrees and a total length of 15 feet.
Here are the calculations of the total CFM he requires for his tent.
By Ducting;
Total CFM = ( 200 CFM + (200×15%) + (200 x 60%)) = 350 CFM
Note: 15% comes from the 15 feet. The 60% comes from the three curves where every curve adds 20% of total CFM.
III. Air Requirement 
Before you settle on any CFM, you need first to understand the amount of air you would be required to supply to your Grow area per minute. As we earlier mentioned, CFM is the volume that your fan will supply your Grow area within a minute.
These would be a matter of understanding how many minutes you would want to replace the entire air from your Grow tent.
Calculating CFM by Air Requirement
To calculate the CFM of your fan based on the air requirement, you need to get the total volume of the air in your area and divide it with the number of minutes you would wish to replace it with.
For example:
Chris had calculated his total volume and got 175 CFM. If he wishes to replace the entire air withing 5 Minutes or 1 minute, he can calculate the CFM easily.
5 Minutes
Total CFM = 175 cubic feet / 5 minutes
Total = 35 CFM
1 Minute
175 cubic feet / 1 minute
Total = 175 CFM
Use the same formula to calculate the CFM you will need for your fan depending on the volume of your tent and divide it with the minutes you would wish to replace the entire air in your Grow tent.
 VI. Carbon Air Filter
A carbon filter drops the efficiency of fan in extracting air from a grow tent. When air is passed through a carbon filter, its speed reduces to a certain level.
The role of carbon filter in a grow room is to purify the air and remove any impurities before they are passed to the air.
To learn and understand why you need a carbon filter, read this article on Carbon filters for a Grow Tent.
Calculating CFM by Carbon Air Filter
Carbon filter reduces the level of air extraction from your Grow tent by 25%. So, if you want to get the best from your fan, add 25% to the total CFM.
For example:
Ike has a Grow size volume of 400 CFM. He will, therefore, need to buy a fan of 500 CFM.
That is;
Total CFM = (400 CFM + (400 x 25%))
Total CFM = 500 CFM
Best Fans For Your Grow Tents
The bottom line is the fan you buy at the end of the day. You might calculate all the sizes well, but if you pick a fan that doesn't give you the best performance, it will be useless. This is why it's important after you have calculated the size of your fan, you consider buying a superior fan.
After research, we have found the following Grow tent fans that will give you an amazing performance. Go ahead and buy either of these fans, and you will notice the difference.
ECO Farm 4"/6"/8"/10"/12" Mixed Flow Duct Extractor for Grow Tent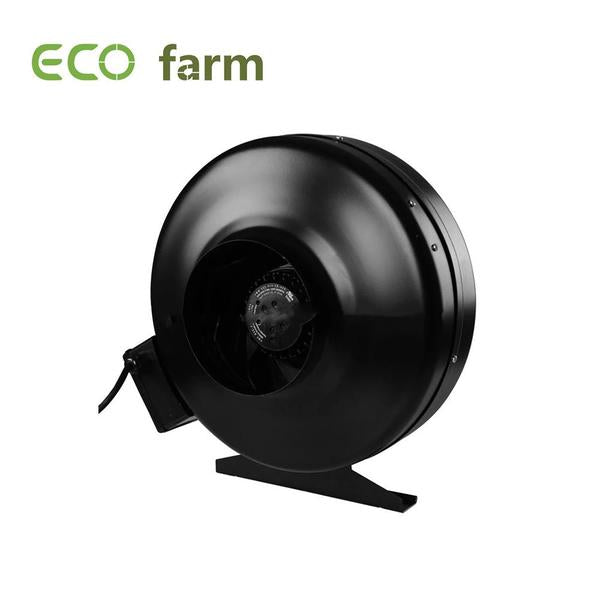 POWERFUL AIR FLOW: Heavy hitting blower with a fan speed of 2450 RPM for an air flow of 440 CFM. Moves air through your target location efficiently for optimal ventilation.
RUNS SMOOTH AND QUIET: Powerful fan puts out only 50 dB noise level.
DURABLE BUILD: Galvanized steel parts come factory painted to resist atmospheric corrosion from humidity. Tight, precise construction eliminates rattling and reduces wear and tear to give the element a long life.
HIGH TECH DESIGN: The aerodynamically designed centrifugal impeller of this unit delivers strong air flow with a disproportionately low sound profile.
VERSATILE APPLICATIONS: Ideal for cooling lighting fixtures or controlling hot and humid conditions in grow tents/rooms. NOTICE: Without speed controller.
ECO Farm 4"/6"/8" In-line Ventilating Fan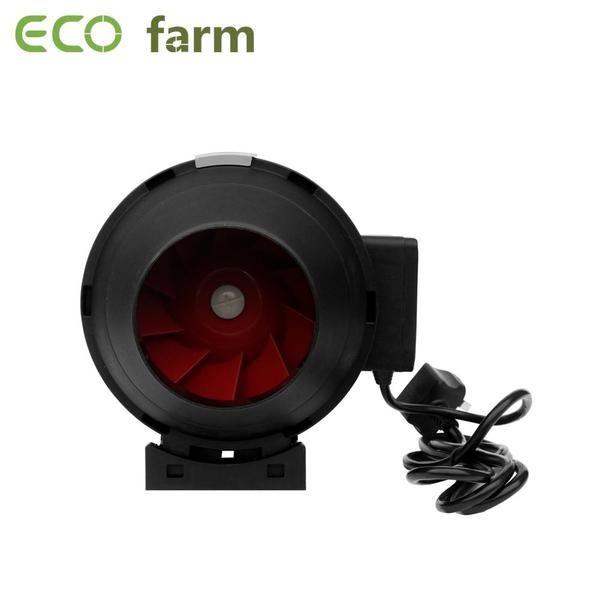 EFFICIENT FAN - Combines the features and benefits of axial and centrifugal fan, effectively circulates air for room ventilation and purification; Please be aware that the value of air flow is the maximum tested at ZERO atmospheric pressure.
EASY ASSEMBLY - Features with lightweight, durable and UV resistant plastic housing guarantees long-term use; Simply remove the duct ends with locking tabs for quick installation and easy maintanance; Universal mounting bracket for direction of airflow indicating.
SPEED CONTROLLABLE - A variable speed controller designed in the 5.4 feet power cord, its three speed switch enables fan to run at low, medium and high speed, you can adjust it to desired airflow level according to your requirement.
QUIET OPERATION - The durable fan blades revolves smoothly and powerfully, which helps collect airflow volume and cut noise output; A less than 31 dB noise level does not have any harm and will not disturb your work.
MULTI APPLICATIONS - Help you maintain a healthy grow room by quietly and efficiently moving large volumes of air throughout your ventilation system; Ideal solution for multi-purpose use in residential and commercial ventilation.
ECO Farm 5 Inch Silent High Speed IP68 Waterproof Exhaust Duct Ventilation Fan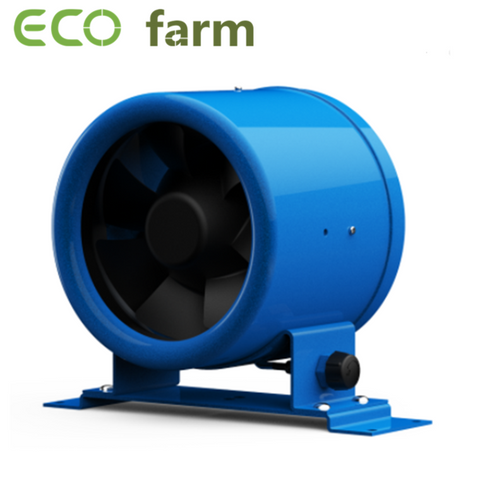 ECO Farm Fan body is made of environmental protection material with beautiful lines and light weight, double insulation.
Fan blade is designed according to hydromechanical principle to reach the optimal airflow and air pressure, high efficiency working. Low energy consumption, saving more than 50% energy cost.
Special design of joint to facilitate installation and dismounting; Easy installation and maintenance.
Outer rotor motor inside, long working life over 85000 hours.
Perfect for greenhouse ventilation purpose.
Protection class: IPX4, can effectively waterproof.
These fans are available on www.ecofarmgreeninc.com. Click here to check the latest price and buy it today.
If you have more issues with your plants, do not hesitate could contact us freely.
Our emails address is: business@ecofarm.ca
Contact:
WhatsApp: +1 206 581 5521