How do I choose a rosin press?
With the advent of rosin, more companies are offering affordable solutions. Add to that the relaxed regulations in growing medicinal plants at home. So if you're a home grower, and want rosin whenever you want it, it makes sense to get your own rosin press.
Choosing the right rosin press comes down to your desire for consistency along with the scale of your operation. We'll cover all the basics to help you make an informed decision on the best rosin press for your needs.
 So, What is rosin?
Rosin is the process of extracting the oils that give a medicinal plant its unique taste and smell by using heat and pressure. 
 What is a rosin press?
A rosin press uses a solvent-less technique to create medicinal plants rosin, and this will eliminate any solvent contamination of the medicinal plants end-product.
A rosin press also removes the need for the dab enthusiast to clean the machine of solvent impurities.
The process is often referred to as "squishing" because you effectively squeeze the organic compounds out of a medicinal plants bud. Unlike extracts produced with chemical solvents, rosin presses work by manually breaking open the trichome heads to expel and filter the plant's desirable resins, flavonoids, and terpenes.
A rosin press is certainly a revolutionary machine that was invented to extract and create the highest THC concentrates for all you dab lovers out there.
Why we chose these rosin presses
Just a few years ago, rosin presses were mostly a DIY project. You'd rig a 10 or 20 ton shop press with heat plates, a heater and controller. Or grab some hair straighter, a clamp and parchment paper. Then you would apply heat and pressure to your medicinal plants buds, gradually squeezing out the oil from the plant with high concentrations of the good stuff and none of the bad stuff (meaning no solvents like alcohol or butane).
Is pressing your own rosin worth it?
While it's true that the rosin process was invented by using hair straighteners, rosin tech has evolved enormously in the last few years, and it's absolutely worth investing in a press that's made for the job.
How To Choose a Rosin Press
Avoid Homemade Press Kits
Skip the hassle of buying a heat plate kit, a harbor freight shop press, plus all the extra equipment you need – save yourself the trouble by getting an all-in-one unit. Although it sounds attractive at first to build a rosin press, you'll end up spending a lot more than you think to get started, and with nowhere to turn when something goes wrong. Despite what is claimed, cheap shop presses don't last very long, so you'll be stuck having to buy more and more equipment. You also want to ensure you don't waste your precious material, which is reason enough to avoid the headache of tinkering with plate kits and shop presses.
Look for Long, Narrow Heat Plates
Solventless rosin is quickly becoming known as the premier connoisseur grade concentrate, so preservation of terpenes is crucial to making the best rosin possible. Most rosin presses on the market today offer only square heat plates, which all but guarantee a loss of yield and burned terpenes because the oil has to travel much further and sits in the heat for longer. Make sure your rosin press only features long, narrow heat plates, which is critical to ensuring the highest yield possible and terpene profile. This design allows your rosin oil to quickly escape your heat plates, thus maximizing every press and allowing for that fully terpene-rich aroma to be preserved in your concentrates. Better your heat plates are made of aluminum– stainless steel heat plates offer exceptionally poor heat distribution, which is common with nearly all cheaper rosin presses.
Pneumatic is Better Than Hydraulic
Buying a pneumatic rosin press is almost always the right choice over a hydraulic option. Cheap hydraulic presses (which most shop presses and homemade kits utilize) are prone to breaking down and actually dispersing trace amounts of machine oil into the air, thus potentially contaminating your rosin in the first place. What's the point of that? Look for a rosin press that offers an oil-less pneumatic cylinder, which is going to be the best possible choice for extracting clean rosin efficiently. Cheaper pneumatic presses often require oiling too, so keep an eye out and don't be fooled.
Quality Is More Important Than Price
You get what you pay for, and we recommend only buying a rosin press that is from high quality components. It's an investment that should last a long time, so don't be fooled by cheap machines that are literally re-purposed t-shirt presses. When you run the numbers on how much extra rosin you'll get with every press using a high quality rosin press, the cheaper option ends up being to get a top notch press in the first place. When it comes to pressing rosin, it's all about quality and yield, so don't skimp on a press that's only going to give you 10% when you could be getting 20% or more. That's a lot of extra dabs!
Selection of the best rosin presses in 2021
Below you'll find a comprehensive guide to what we consider to the best rosin presses you'll be able to find this year.
ECO Farm Pneumatic Auto 5000 PSI/ 13000 PSI Power Heat Rosin Press Machine
Product Feature:
Pressure 5000PSI /13000PSI
Easy to adjust the pressure 
Strong solid aluminum heating plates make heating more even.
The newest LCD temperature&time controller, a professional look, makes reading time and temperature more accurate.
Pneumatic system - Auto operation pneumatic system with high pressure for work.
Completely commercial business grade Removable controller box
LCD Digital controller - Individually controlled and temperature with clear LCD panel.
Digital timer & temp controller - Preset desired time and an audible alarm will sound when time is complete. Set the desired temperature (in Fahrenheit) and the element will stop heating when preset temperature is reached.    Good for the extraction of rosin, wax and essential oils.
Double heating plates, each heating plate has a separate LCD time thermometer to control the Fahrenheit or Celsius can be switched, the pressure is even
Strong metal structure - Machine is heavy-duty, commercial-grade, super stable and built.
ECO Farm 15000 psi Pure Pressure Electric Auto Rosin Press Machine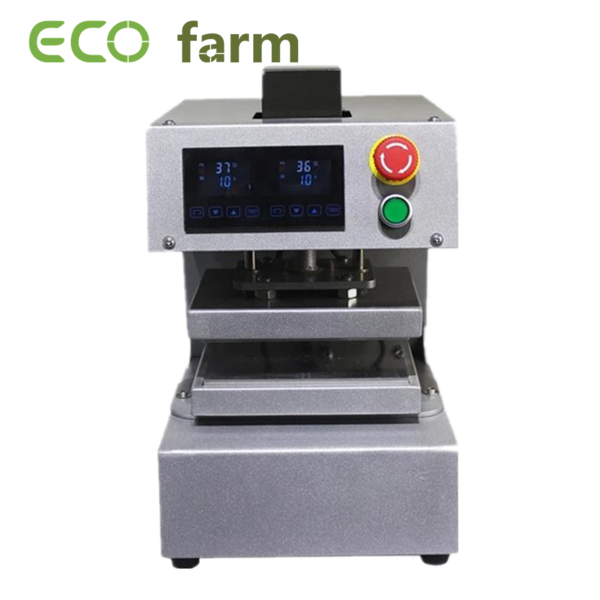 To produce rosin, three components are essential: heat, pressure, and time. The technique in rosin production rests inside the capability to balance these three components together to generate a superior product in flavor and effect. ECO Farm 15000 psi full-electric rosin press could plug and play directly into and you're simply perfect for extraction.
Strong solid aluminum heating plates make heating more even.
Heat Press Style: Flatbed press with mug press
Non-stick coated 6"*8" heat plates
Even-Heat and pressure die-casting heat platen
Digital timer and temperature control
Adjust the pressure and temperature from 0° - 415º F
Full electric and no air compressor needed, dual heated plates
Fits on a countertop.
Certification: CE,FCC,ROHS
Voltage: 110V/220V
Product Feature:
Rugged and durable for years of trouble-free performance
Thick items capable (up to 1/2 inch thick)
Micro processor precision heat and temperature gauge
Scratch-resistant baked-on paint
Full range heating coils for quick heat up
Heat indicating light
Electronic time control indicates completion of heat press cycle
ECO Farm Pre-sale 10 Ton Electric Full Auto Rosin Press Machine With Double Heating Plates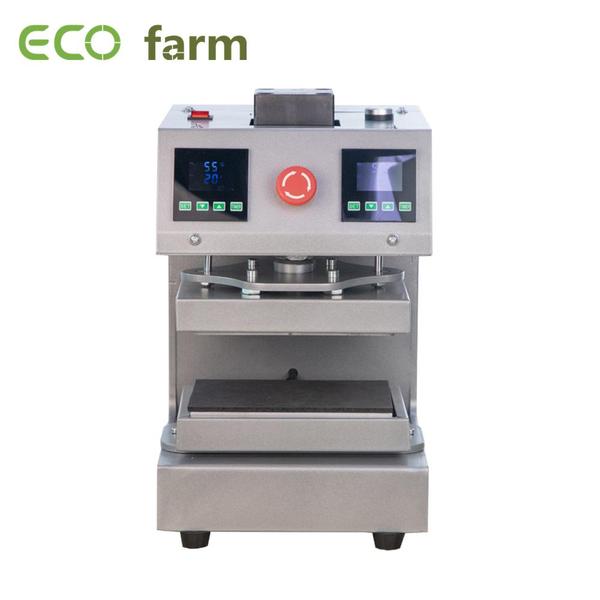 Product feature:
ECO Farm Full auto rosin press machine has thicker metal cover, Stronger body. Full auto, free your hand. We command the most advanced rosin press techology, so our rosin press machine can work better and save energy, has longer using lifetime.
Strong solid aluminum heating plates make heating more even.
100% brand new, exquisite design.
Thicker plate, more durable.
Easy to operation.
Suitable for many kinds of flated material, special for oil extraction.
Heating elements -Thicker heating plate with more even temp than other suppliers.
Strong metal structure - Machine is heavy-duty, commercial-grade, super stable and built.
Conclusion:
Choosing a rosin press ultimately comes down to your personal preferences and exactly what you will need it for. Factors such as cost and size are points that you need weigh heavily on before making your purchase decision.
For any further advice, pls feel free to visit our official website or contact us directly.
Our emails address is: business@ecofarm.ca
Contact:
WhatsApp: +1 206 581 5521