What Cause Medicinal Plants To Turn Purple?
All plants have naturally occurring pigments. The most dominant pigment in most plants (including medicinal plants) is chlorophyll, which, apart from helping plants photosynthesise, also gives them their green colour.

However, plants also have many other active pigments, including carotenoids and anthocyanins. In the absence of chlorophyll, plants may use pigments like anthocyanins to absorb sunlight and photosynthesise. Unlike chlorophyll, anthocyanins naturally absorb all wavelengths from the sun except those in the indigo spectrum, which is what gives plants their purple colour.

Hence, purple medicinal plants (or any purple plant for that matter) get their colour because the dominant pigment in their leaves and flowers are anthocyanins, rather than chlorophyll.
The Right Ways To Turn Your Plants Purple
Now that you know how NOT to go about growing purple weed, here are a few pointers to help you maximise your chances of harvesting some eye-catching purple buds this season:

1: Start With The Right Genetics
Genetics are going to have the biggest impact on the final colour of your plants. So, if you're set on growing purple medicinal plants, shop around for purple strains, as they'll have been specifically bred for their unique colour. Remember that your buds are going to lose some colour after trimming, so opt for strains with the most vibrant purple pigmentation you can find.
2: Adjust Your Temperatures
While you might be eager to watch your plants turn purple, this will usually only happen once they've finished vegetative growth and start flowering. Once your plants have entered their flowering stage, try dropping your nighttime temperatures. Colder temperatures cause chlorophyll to break down and can encourage your plants to produce more anthocyanins. Ideally, you'll want there to be a difference of 10–15°C between your daytime and nighttime temperatures.

Other Ways To Grow Purple Medicinal Plants
There are some other ways to manipulate the colour of your plants. Most of these techniques, however, involve depriving your plants of certain nutrients, which, of course, we do not recommend doing. Even if you are able to achieve some purple colouration using these alternative methods, it will likely be to the detriment of quality, flavour, and potency.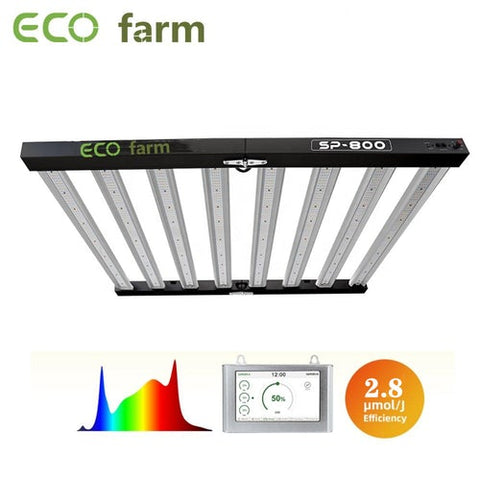 High-efficiency full spectrum grow light: ECO Farm SP series led grow light have Samsung LM281B LEDs(3000k+5000k) +RED 660nm+IR 730nm +UV 395nm, provides the plant with the full spectrum from seeding to flowering. Ideal for indoor plants all stages growing, rapid plant response from seed to flower, speeds up flowering time and boost yields
Market-leading efficiency

 

to 2.6 µmol/J and 2.5g yield per wattage with 30% higher average PPFD
Realize large-area harvest with LED lighting:

 

Easy to dimming and heat dissipation, waterproof power supply, aluminum housing, long power supply life, suitable for large rooms and commercial places, make your plants get more energy, and get maximum headroom without burning plants
Optional touch screen controller, an idea for commercial growing (max 100 lights) &timing and dimmable function.
All in one design, build-in driver, free assemble, save time and shipping fee
Low Noise & Low Heat:

 

No fans needed meaning low noise; Ambient heat is very low, so there is no need to worry about burns or damage to your plant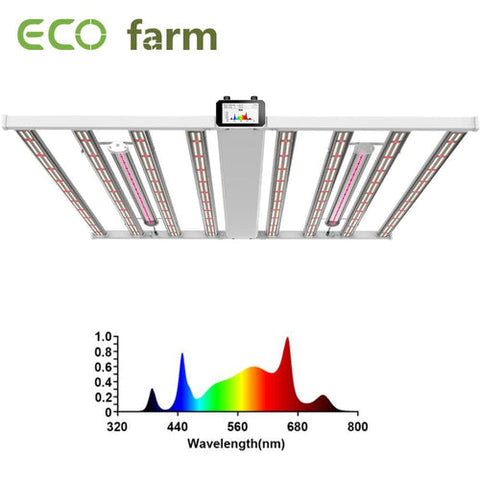 ECO Farm Master/Station version foldable LED fixture, with 8 bars, could evenly cover 4'X4' and 5X5' area.
Actual 880W light, provide powerful and quality light to the plant.
High-efficiency full spectrum light strips: 

The full-spectrum led grow light is optimized for rapid growth and complete plant development. Using Samsung white chips and Osram red chips, could up to 2.8 μmol/J, PPF up to 2184 μmol/s.

Master version light with built-in LCD color screen, showing the detailed status of the fixture and its group members. Such as dimming percentage, wattage, amps, PPF value, spectrum, timer status.
Highlight: Built-in a control system on Master, with a step-less dimmer and five-step timer. One Master can control up to 50pcs of Stations. In other words, any changes made in Master will sync across all the connected Stations.
Spectrum Tunable. There are four types of spectrum built-in this fixture, it provides a suitable spectrum for different stages of medicinal plant growth, such as V1 for VEG stage, F1 for the flowering stage, FS for the last two weeks of flowering.
UV/IR enhanced bars was easy to install/uninstall from the fixtures. Item was our most creative mechanism design that enables you the most time-saving and convenient way to install the fixture.
Note: Our lights contain UV IR by default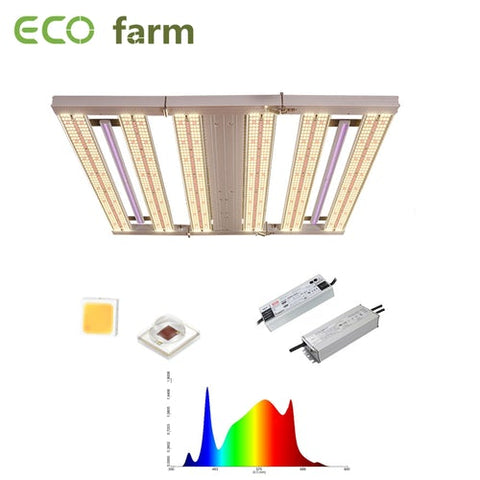 ECO Farm LED grow light has customized full-spectrum LED plant lamp beads + Sonseng power supply (can be matched with Samsung lamp beads and Mingwei power supply solutions), and a special spectrum ratio scheme specially developed and matched for medicinal plants, which is more than conventional full-spectrum High PPFD and PAR, the efficiency is also higher.
The radiator module is integrally formed, and is made of high-purity refined aluminum anodized, and uses physical heat dissipation, which greatly extends the service life of the lamp.
On the basis of the integrated design of the power module and the light-emitting module, detachable ultraviolet and infrared light-emitting modules are added. The unique folding design and detachable solution are more convenient to use.
Using the three-way dimming design of the knob and controller, the light components can be adjusted separately to adapt to different growth stages of plants.
Our products have passed ETL, CEFCC, IC certification, and important parts have passed UL certification.
If you have any questions, please contact us and we will respond to you as soon as possible. 
Our emails address is: business@ecofarm.ca
Contact:
WhatsApp: +1 206 581 5521