For more information on drying medicinal plants:
Medicinal plants drying is a common stabilization technique that preserves essential oil yields and important qualities of bioactive compounds. However, systems and appropriate drying methods remain understudied. This review focuses on drying medicinal plants and how drying affects essential oil yield, antioxidant content, antimicrobial activity, health benefits, color, and aroma of dried goods. Various drying methods are summarized. The preferred drying method for most herbs is oven and freeze drying, but this depends on the type of heat transfer to the surface of the herb and the type of component volatility. However, medicinal plants color retention requires faster drying times. Furthermore, antibacterial and pharmaceutical compounds require intensive research due to their unique properties, which cannot be determined by general drying methods. Since there is no universal drying method, these findings underscore the importance of comprehensive medicinal plants research. However, specific drying patterns can be observed, inspiring future research and drying innovations.
Why Dried medicinal plants?
Medicinal plants are "any plant with leaves, seeds or flowers used for flavoring, food, medicine or perfume". medicinal plants are considered highly perishable foods due to their high moisture content, and most medicinal plants are sensitive to cold. Therefore, they are processed by drying to make shelf-stable products. Drying preserves the quality of medicinal plants  by reducing moisture content, thereby inhibiting microbial growth and chemical changes during dry storage
Drying methods for medicinal plants:
Sun-drying method:
Wash the fresh medicinal plants and weigh 250 grams using a digital scale. The medicinal plants were dried in the sun from 9 am to 4 pm, weighed every 3 hours and repeated until the weight was constant. Use the HTC-1 to measure ambient air temperature and humidity.
Use Different Types of Dryers:
ECO Farm 8 Layers Hanging Drying Rack For Medicinal Plants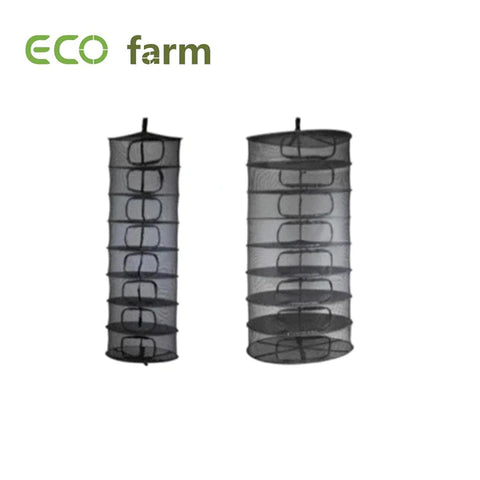 Features:
The Perfect Hanging Drying Rack for Medicinal Plants After Washing - This drying rack provides a safe, clean and dry place to dry your garden medicinal plants. Closed design, zipper design, breathable and not intrusive. There is enough space between the shelves to provide adequate airflow. Protect from wind and other birds or flyers. The zipper closure and fine mesh keep harmful insects out of your product. 8-Tier Big Leaf Clothes Rack for Even and Fast Drying - Hanging Clothes Drying Rack Mesh is made of nylon material with built-in wire loops for stability and the top is waterproof fabric. Item Material: Durable non-toxic polyester mesh and steel, enough to provide sturdy support. Great for keeping pets and insects away from dry medicinal plants.
Dry rack plants, ideal for drying medicinal plants and seeds. Hanging drying rack can be used directly, no need to assemble after hanging, can be hung anywhere. 8-Tier Medicinal Plant Drying Rack Hanging, Well Made, Perfect for Big Harvests. The dryer has as much capacity as you want to dry at any one time. The hanging dry net is collapsible. It is quick and easy to install and disassemble, and is very suitable for hydroponic plants, medicinal plants, flowers and other plants. Medicinal plants can be laid in multiple layers for drying, and the whole machine can be turned upside down to ensure thorough drying. Large drying space - The foldable design of the drying net makes it easier to carry and store.
ECO Farm 5 Trays Commercial Medicinal Plants Dryer Dehydration Machine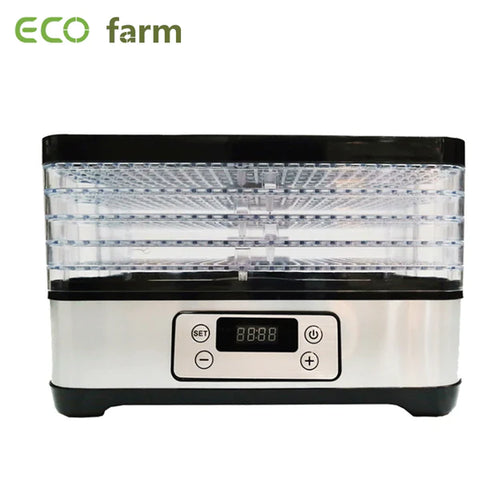 Features:
5 dry layers, put more food at a time, transparent layer can always check medicinal plants.
Inexpensive and food-safe plastic material with stackable breakaway layers for durability
Adjustable temperature settings for easy selection of the most suitable temperature for different products. Saving time, money and space, this dryer offers a controlled drying environment, which means your plants dry perfectly in less time than it takes to hang dry. While preserving potency, terpenes and flavor.
ECO Farm 5 Layers Stainless Steel Medicinal Plants Dryer Machine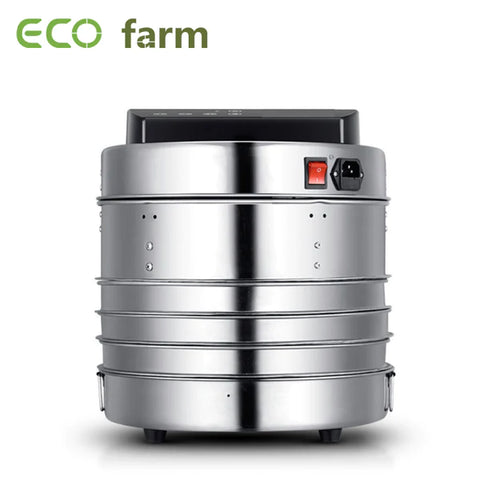 Features:
Versatile Food Dehydrator Ideal for medicinal plant dryers. Quickly and easily dry plants and preserve a variety of foods. Bottom mounted fans and heating elements provide constant airflow for optimal drying. No need to rotate. Adjustable thermostat and high-quality formula ensure medicinal plants are dehydrated at the optimum temperature and crispness. Comes with a 5-tray system to dehydrate food at a fraction of the cost of commercial dry food, with no additives or preservatives. Easy to clean and store. The clever design circulates hot air through the ingredients, allowing them to dry slowly and naturally, locking in flavors and nutrients, keeping them delicious for longer!
ECO Farm Medicinal Plants Dryer 5 Trays Dehydrator Machine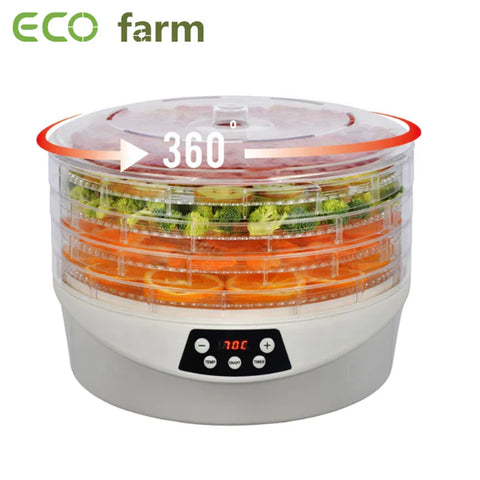 Features:
The dehydrator features an adjustable timer and temperature; the digital LED display allows you to accurately time and control temperature settings, so you can set different times and temperatures for different foods. Equipped with 5 large-capacity food-grade drying racks, which can hold a large amount of food at one time and dry evenly. The dehydrator removes moisture, locks in the original flavor, and keeps 97% of the vitamins and minerals retained. It is definitely your first choice for food preservation, and you can use it to keep most food fresh. Suitable for drying medicinal plants. Bottom-mounted fans and heating elements provide 360º airflow circulation for optimal drying without the need for rotation. 400W high power makes the dehydrator work in a stable state to ensure the best taste. It preserves the natural flavor of food without any additives or preservatives, allowing you to enjoy healthy homemade snacks. In addition, the hot air of the dehydrator is automatically turned on and off to keep the temperature balanced. This food dehydrator is made of stainless steel base and high quality plastic tray, all materials are BPA free and absolutely safe for your health. If the dehydrator overheats, the overheat protection will activate
ECO Farm Electric Medicinal Plants Dryer Machine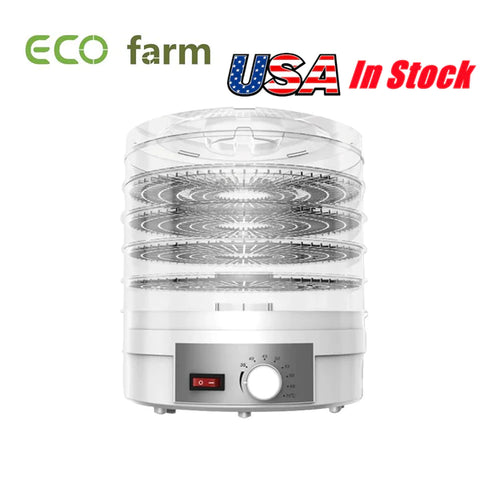 Features:
Electric Medicinal Plant Dryer Machinedryer machines provide you with the perfect environment during each drying of medicinal plants. It is designed with advanced technology to provide you with the ideal temperature specially tested for drying medicinal plants. Medicated Pants Dehydrators use heat to remove moisture from plants, preventing microbial growth, extending shelf life and giving them a new feel. Reduces weight but retains the essential active ingredients of plants. Modern plant drying tools make getting the job done very easy and safe.
conclusion:
Now the drying method for entry. The preferred drying methods for most herbs are oven and freeze drying, but this depends on the type of heat transfer to the herb's surface and the type of ingredient volatility. However, medicinal plants require faster drying times for color retention. Since there is no universal drying method, the invention of these dryers underscores the importance of comprehensive medicinal plant research.