When you first introduce plants to your grow space, if using a 600W light, you need to keep them at least 3 - 4 feet away from your plants to begin with, just while your plants climatise to the heat.

Subsequently, one may also ask, how far away should a 600 watt light be from plants?

In general, with HID (High Intensity Discharge) lighting—including MH (Metal Halide) and HPS (High-Pressure Sodium)—individual 1000-watt lights should be kept 24 – 30 inches from the canopy; 600-watt lights should be 18 – 24 inches away; and 400-watt lights can be as close as 12 – 18 inches from plant tops.
What happens if my grow light is to close to my plants?
On the flip side you can also cause problems to your plants if the grow light is to close. The obvious problems occur with CFL and HPS lights because of the heat they emit they can easily burn the tops of your plants.

Many growers also report strange or stunted growth when the light source is placed to close to plant.
What happens if my grow light is too far away from my plants?
If you put your grow light too far away from your plants you can cause much damage. The biggest problem of all is stretching, this is when your plant puts extra effort into growing taller so that it can be nearer the light source.

Because they put all their energy into getting closer to the light they don't put as much energy into producing yields, this will lower your yields by as much as 30%, let me repeat, you could be getting 30% less yields simply because you positioned your grow light to far away!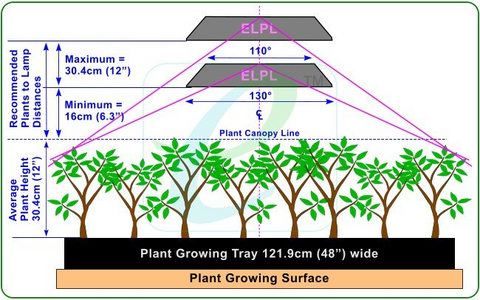 Here are three best LED grow lights: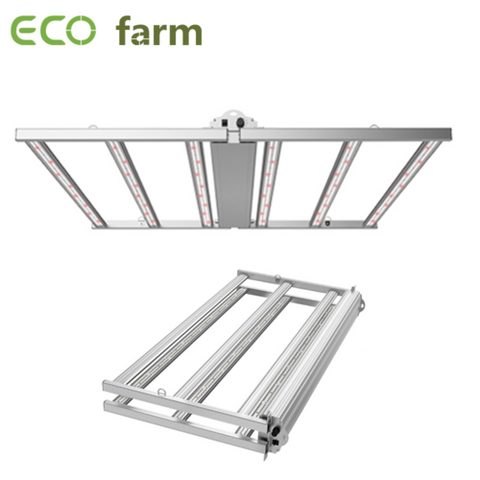 ECO Farm MB2 660W/ 720W light using the highest output Samsung 301B LED chips and Osram 660nm chips, efficacy is up to 2.7umol/J. High PPF is up to 1782μmol/s. Ultra-high PPFD than Fluence/Gavita.
Advanced Sonsen LED driver can provide higher performance
Full-spectrum grow light, Samsung 301B white light, and enhanced Osram red 660nm, good for full-cycle growth, high yield
180° Folding design, just hang it up and plug and play, very convenient and flexible to adapt to different growing areas
Standard 0-10V knob dimming, support the daisy chain RJ port
UL, DLC, CE, ROHS certified
Big footprint: suitable for large-scale use in greenhouse, commercial growing space etc.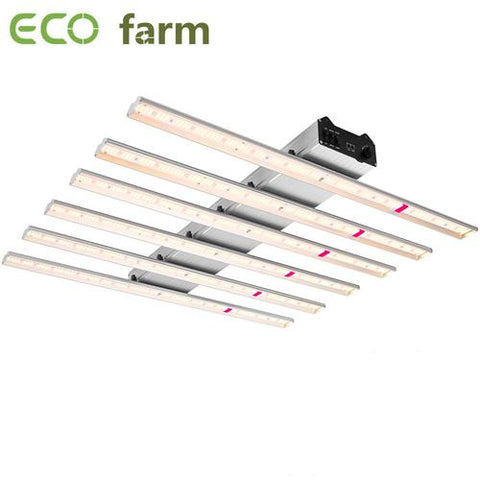 ECO Farm ECOX series dimmable three channel dimming light strip is more suitable for indoor plants whole grow stage. The dimmer knob to adjust according to the needs of the plants, in order to obtain perfect growth performance, which enhance high yields to obtain the ideal harvest.
Easy to install, high energy efficiency with 2.9umol/J
ECO Farm ECOX light uses full-spectrum white samsung 301B diodes, 660nm deep red diodes, 730nm IR diodes, 395nm UV diodes, which provides desired needs for plants seedling to harvest growth with full spectrum led grow lights and provides better light-spectrum coverage, maximum PAR output at various distances.
ECO Farm led grow light makes your home grow life quiet, and this growth lamp used reliable driver and high effective aluminum heat sink to ensure heat dissipation and long lifespan.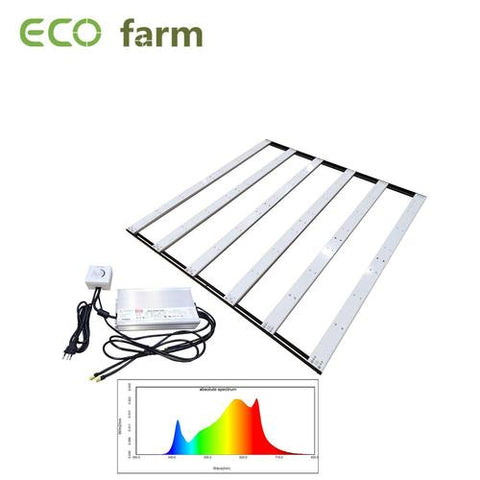 ECO Farm 600W LED light is a high-performance top-lighting solution for commercial horticulture cultivation. Designed for growers to push the envelope with high-PPFD cultivation practices.
The updated structure with an adjustable beam distribution rack and offers the possibility of adjusting the 600W LED grow light concentration along the rods, making application in different areas more flexible.
It also has an anti-sulfur coating unique to horticulture, which further increases the chip's durability.
Optimized full-spectrum, suitable for all growing stages from seed to harvest
In addition, Meanwell HLG 600H 54B driver with high voltage capacitors, ensuring LED chips lifetime of up to 50,000 hours.
The latest high-efficiency Samsung 301H 3500K chips + Epistar 660nm chips, with much better PAR efficiency results.
Certification: CE, EMC, FCC, LVD,
Warranty: 3-year
Looking for more options and information? Welcome to visit our official website. Follow us could get the biggest discount. 
If you have any questions, please contact us and we will respond to you as soon as possible. 
Our emails address is: business@ecofarm.ca
Contact:
WhatsApp: +1 206 581 5521