How many plants per light? This is sometimes an issue for novice growers and it has a pretty simple solution. The amount of plants per LED grow light depends on the type of plants and how you grow them, apart from the space you have and the potency of the plants.

Planting seeds is not the same as planting clones, and autoflowering seeds aren't the same as seasonal seeds; plants that have more yield on the tips of the branches aren't the same as plants that have larger yields in the central calyx. In this article we're going to talk about different kinds of plants and grows and how many plants you should use for each – planting too many can eventually ruin your entire grow.

Practically all bulbs and lights can illuminate the same amount of space, and your plants will adapt to that space and the power of the lights. 2 month plants should give about 40g per plant, so with about 9 you'll be able to easily fill a square meter and get up to 400g per 600w light. 3 month autoflowering plants grow much bigger, however, so you should only plant 4 per 600w light. If you plant four 3 month autoflowering strains with a 600w light, with a 250w light you'll do the same; the difference is that with a 600w light you can get 400-500g and with a 250w light you can get 120-200g. The second lot will grow slower but you'll still fit the same amount of plants under the lights.
Here are three best LED grow lights: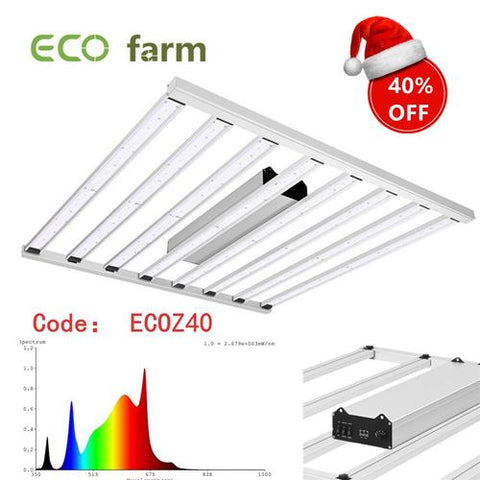 ECO Farm Z6/ Z8series was the full spectrum grow light, which fulfills plant need from seeding to flowering and fruiting.
ECO Farm LED grow light is designed for anyone who wants to set up an indoor garden easily. It can generate sufficient full spectrum light imitating sunlight to fulfill plant need in various plant development stages, from seed germination to flowering and fruiting.
This LED grow light generates low heat and consumes less energy than a traditional grow light.
Good to provide a boost for photosynthesis, rooting, flowering, and fruiting.
You can install this grow light in various places, such as shelves, kitchen cabinets, grow tent, garages, and basements.
This grow light has long lifetime, save energy.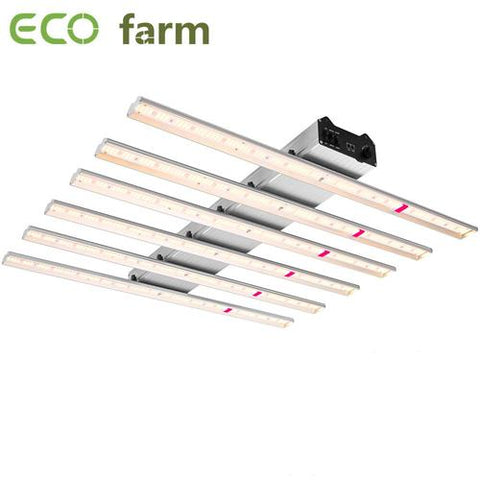 ECO Farm ECOX series dimmable three channel dimming light strip is more suitable for indoor plants whole grow stage. The dimmer knob to adjust according to the needs of the plants, in order to obtain perfect growth performance, which enhance high yields to obtain the ideal harvest.
Easy to install, high energy efficiency with 2.9umol/J
ECO Farm ECOX light uses full-spectrum white samsung 301B diodes, 660nm deep red diodes, 730nm IR diodes, 395nm UV diodes, which provides desired needs for plants seedling to harvest growth with full spectrum led grow lights and provides better light-spectrum coverage, maximum PAR output at various distances.
ECO Farm led grow light makes your home grow life quiet, and this growth lamp used reliable driver and high effective aluminum heat sink to ensure heat dissipation and long lifespan.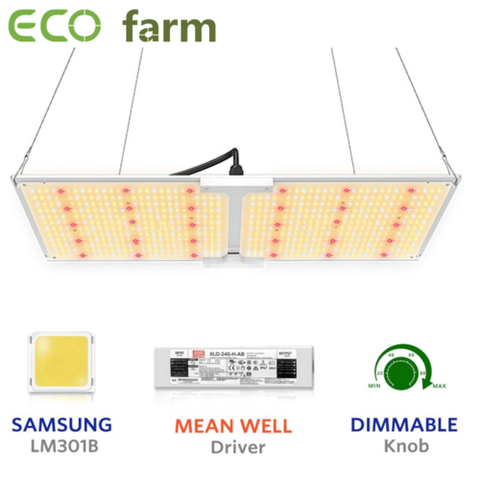 Upgraded ECO Farm 10W/220W/460W/600W quantum board have a dimming knob and light switch. A single light can be adjusted the light intensity at liberty. Multi-light Connection with unified dimming especially beneficial for large area of indoor growing and commercial planting.
Excellent full spectrum provide more light. The light is especially useful during bloom, where it speeds up flowering time and boost yields. Uniformly across the surface and deep into the roots and bottom of canopy for consistent, highest quality flowers.
No Fan& No Noise. High Efficient and reliable MEAN WELL Driver. Aluminum heat sink is thick and sturdy, protective covers for cables; User-Friendly Packaging. Quality components mean the light lasts longer, it takes good cares of you with more considerate design, you can easily save money without purchasing lights frequently.
High Efficacy: 2.7 μmol/J Samsung 301B/ Samsung 281B chips and Meanwell driver
Looking for more options and information? Welcome to visit our official website. Follow us could get the biggest discount. 
If you have any questions, please contact us and we will respond to you as soon as possible. 
Our emails address is: business@ecofarm.ca
Contact:
WhatsApp: +1 206 581 5521