Researchers and growers use Photosynthetic Photon Flux Density, better known as PPFD, to measure the photons that actually hitting the plant. PPFD measures how many photons are hitting an area per second. PPFD is reported in micromoles per meter squared per second, or umol/m2/s, by using a quantum sensor to a spot measurement.
PPFD is similar to lux. It is a per area measurement. Lumens are to PPF as lux is to PPFD. For reference, to convert lux to PPFD you would multiply the lux reading by a conversion factor. The conversion factor varies depending on the light source. For instance, sunlight has a conversion factor of 0.0185. A HPS lamp uses a conversion factor or 0.0122. Example: 70,000 lux * 0.0122 = 854 umol/s/m2. To convert PPFD to lux, multiply the PPFD by a different conversion factor. Sunlight has a conversion factor of  54, while a HPS lamp has a conversion factor of 82. Example: 400 umol/s.m2 * 82 = 32,800 lux. For comparison, mid-day sun has a value of approximately 110,000 lux. Converted to PPFD, this is 1342 umol/s/m2.
There are two other phrases related to photosynthetically active radiation (PAR) that you need to understand when growing medicinal plants. Those phrases are Photosynthetic Photon Flux Density (PPFD) and Micromoles (μmols). This is the light intensity requirements for medicinal plants. 
The light loses strength as it travels from source to endpoint (from grow light to plant). You'll notice on most grow light intensity charts, the PPFD numbers decrease with increased distance from the light.

That's why paying attention to your grow light hanging height is so important when growing medicinal plants.
Then I will recommend several high quality LED grow light with PPFD.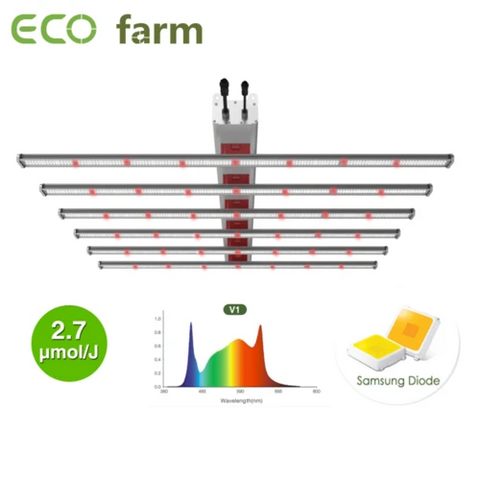 Description:
ECO Farm MS 660W/760W/900W full spectrum LED grow light strips with enhanced red for full-cycle grows. Using Samsung LM301B high bin LEDs, efficacy is up to 2.7μmol/J.
No wiring needed, it takes less than 30 seconds to install a fixture.
0-10v auto & manual dimmable control. 2 dimming solutions, manual and automatic dimming are optional.
Passive heat dissipation design (No need for internal cooling fans)
Uniform Light distribution. Each light bar is evenly distributed on the 2 ends of the power supply, and the PPFD value of each point is very uniform, giving your plants the most uniform growth environment.
Save 50% space for the same 660W/760W/900W grow light in the market, thus could save shipping and storage space.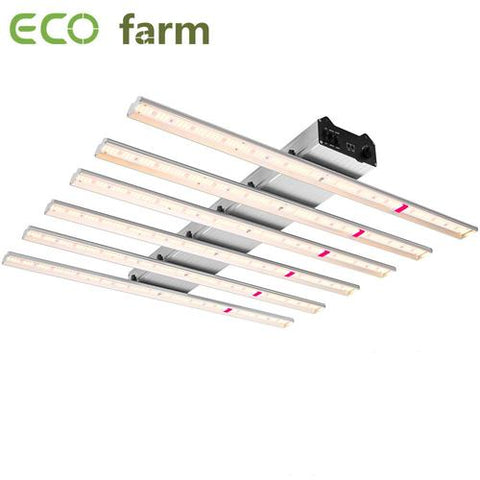 Description:
ECO Farm ECOX series dimmable three channel dimming light strip is more suitable for indoor plants whole grow stage. The dimmer knob to adjust according to the needs of the plants, in order to obtain perfect growth performance, which enhance high yields to obtain the ideal harvest.
Easy to install, high energy efficiency with 2.9umol/J
ECO Farm ECOX light uses full-spectrum white samsung 301B diodes, 660nm deep red diodes, 730nm IR diodes, 395nm UV diodes, which provides desired needs for plants seedling to harvest growth with full spectrum led grow lights and provides better light-spectrum coverage, maximum PAR output at various distances.
ECO Farm led grow light makes your home grow life quiet, and this growth lamp used reliable driver and high effective aluminum heat sink to ensure heat dissipation and long lifespan.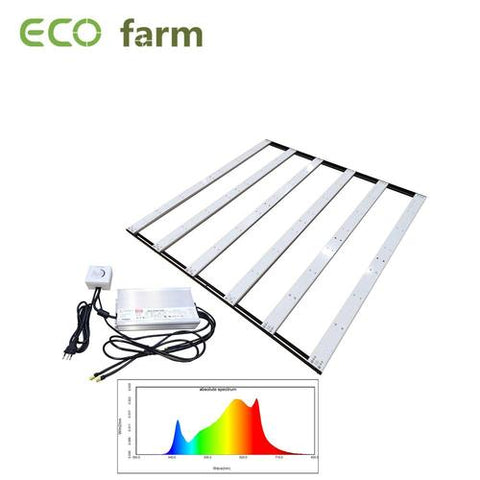 Description:
ECO Farm 600W LED light is a high-performance top-lighting solution for commercial horticulture cultivation. Designed for growers to push the envelope with high-PPFD cultivation practices.
The updated structure with an adjustable beam distribution rack and offers the possibility of adjusting the 600W LED grow light concentration along the rods, making application in different areas more flexible.
It also has an anti-sulfur coating unique to horticulture, which further increases the chip's durability.
Optimized full-spectrum, suitable for all growing stages from seed to harvest
In addition, Meanwell HLG 600H 54B driver with high voltage capacitors, ensuring LED chips lifetime of up to 50,000 hours.
The latest high-efficiency Samsung 301H 3500K chips + Epistar 660nm chips, with much better PAR efficiency results.
Certification: CE, EMC, FCC, LVD,
Warranty: 3-year
Looking for more options and information? Welcome to visit our official website. Follow us could get the biggest discount. 
If you have any questions, please contact us and we will respond to you as soon as possible. 
Our emails address is: business@ecofarm.ca
Contact:
WhatsApp: +1 206 581 5521