Yes, every light produces heat. It does not matter if the light comes from a bulb, diode, or a star like our sun; they all produce heat. LEDs provide a more efficient means for converting energy to light than other methods and therefore produce less heat, but they can not break the laws of physics. Physics dictates that anything that consumes electrical power will emit heat.
While LEDs generate heat, there are important differences between traditional lighting technology and LED lights:
HID lights (metal halide, high pressure sodium and ceramic metal halide / light emitting ceramic) require heat to produce light by arcing electricity through selected gasses, making them extremely hot, to the point the gasses glow. This means HID bulbs themselves are extremely hot-- hot enough to start a fire, and many gardens have gone up in flames because of this danger. LEDs' electroluminescence technology is entirely different and does not require heat to produce light; LEDs themselves will not get hot enough to start a fire.
Much of the energy used by HID lights is emitted as infrared light (above 800 nanometers). This "light" is not usable by plants and only works to warm up the leaves -- and everything else under the light. This is why HID light feels warm on your skin, while LED light does not. Our LED grow lights don't waste energy creating unusable and detrimental infrared light; all the energy goes toward growing your plants.
Because LEDs aren't wasting energy producing light plants can't use, we can use less energy overall to get the same (or better!) growth from plants. Less energy consumed means less heat; for a given growing area, LED lights will put off less heat than any equivalent artificial light.
Our full spectrum led light contains less of the green and yellow light that warms up plants' leaves because they cannot use these colors efficiently. This means you can run your growing area significantly warmer with our LED grow lights, reducing cooling requirements. We see an average 60% savings on HVAC costs when combining less heat into your growing area to start with the warmer growing temperatures!
Calculating Grow Light Heat Production
Calculating the amount of heat your grow light produces is easy.  You simply take the total amount of watts used (the wall plug wattage) and multiply it by 3.41 to get the total BTUs produced per hour. (BTUs or British thermal units are a standard heat measurement within the HVAC industry and one BTU is roughly equal to the heat produced by one 4 in long match).  As stated earlier, this is true regardless of what kind of light it is – LED, HPS, MH, or any other.
Example: 400w * 3.41 = 1364 BTUs/hr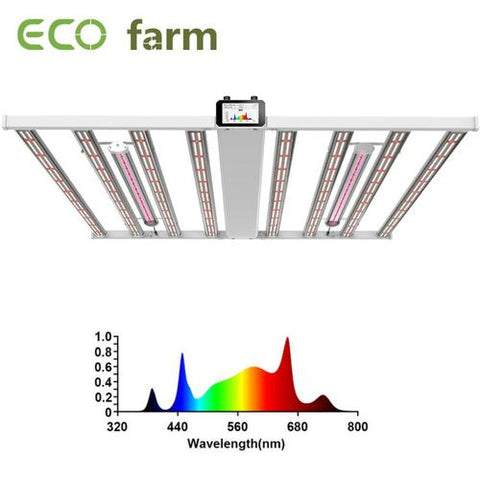 ECO Farm Master/Station version foldable LED fixture, with 8 bars, could evenly cover 4'X4' and 5X5' area.
Actual 880W light, provide powerful and quality light to the plant.
High-efficiency full spectrum light strips: 

The full-spectrum led grow light is optimized for rapid growth and complete plant development. Using Samsung white chips and Osram red chips, could up to 2.8 μmol/J, PPF up to 2184 μmol/s.

Master version light with built-in LCD color screen, showing the detailed status of the fixture and its group members. Such as dimming percentage, wattage, amps, PPF value, spectrum, timer status.
Highlight: Built-in a control system on Master, with a step-less dimmer and five-step timer. One Master can control up to 50pcs of Stations. In other words, any changes made in Master will sync across all the connected Stations.
Spectrum Tunable. There are four types of spectrum built-in this fixture, it provides a suitable spectrum for different stages of medicinal plant growth, such as V1 for VEG stage, F1 for the flowering stage, FS for the last two weeks of flowering.
UV/IR enhanced bars was easy to install/uninstall from the fixtures. Item was our most creative mechanism design that enables you the most time-saving and convenient way to install the fixture.
Note: Our lights contain UV IR by default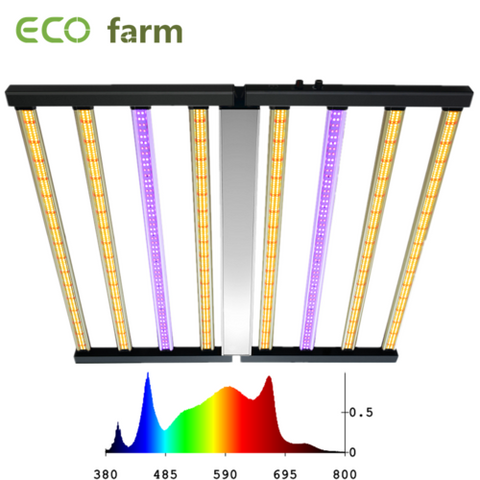 ECO Farm each LED light strip has an end-to-end connection, fully satisfy large area lighting demands.
Grow Any Indoor Plants Year-Round
Plants Grow Naturally in Winter, Similar to Sun, No Mess
Energy Efficient LED Grow Lights for Faster Growth
Sprouts in Days, Harvest in Weeks, Enjoy for Months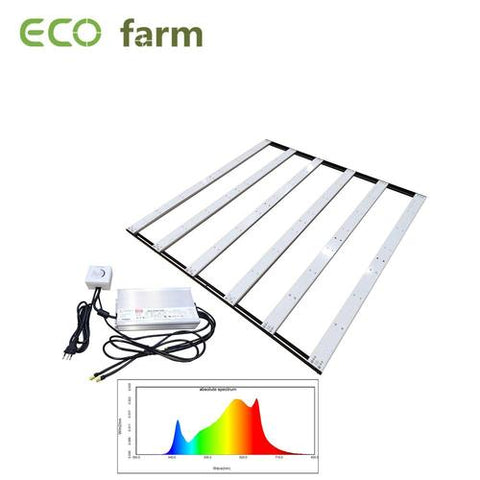 ECO Farm 600W LED light is a high-performance top-lighting solution for commercial horticulture cultivation. Designed for growers to push the envelope with high-PPFD cultivation practices.
The updated structure with an adjustable beam distribution rack and offers the possibility of adjusting the 600W LED grow light concentration along the rods, making application in different areas more flexible.
It also has an anti-sulfur coating unique to horticulture, which further increases the chip's durability.
Optimized full-spectrum, suitable for all growing stages from seed to harvest
In addition, Meanwell HLG 600H 54B driver with high voltage capacitors, ensuring LED chips lifetime of up to 50,000 hours.
The latest high-efficiency Samsung 301H 3500K chips + Epistar 660nm chips, with much better PAR efficiency results.
Certification: CE, EMC, FCC, LVD,
Warranty: 3-year
If you have any questions, please contact us and we will respond to you as soon as possible. 
Our emails address is: business@ecofarm.ca
Contact:
WhatsApp: +1 206 581 5521