Determining the size of the grow light to the grow space
Before kickstarting the indoor growth of the indoor plants, you must estimate the yield that you are can willing to harvest each cycle. The yield of each grow is determined by the amount of space available for the growth. Thus, the size of the tent should be determined by your yield goals and the grow tent determines the amount of light required for the process.

Indoor plants can be grown both under small and large lights. Even small grow lights have the capacity of producing a decent harvest. Having said that, the efficiency of the grow and the quality of the harvest turn out to be impressive when the grow lights perfectly match with the grow space.
Impact of light fails to produce
Insufficient light often leads to lower quality of indoor plants. If large plants fail to get a sufficient amount of light for their growth then it leads to a lot of low-quality bud which is also known as 'larf'. Again, too much light can cause harm to the growth of indoor plants. So, it is important to understand the amount of light a plant needs to yield a good output every cycle. 
Amount of light used by the indoor plants
There is a common saying that more light is better however there is a certain limit to the density of the photons (PPFD) that the plant uses. Thinking that plants exposed to the higher density of lights increase in yield then it is wrong. On the contrary, it can minimize both yield and the quality of the harvested indoor plants.

Several factors determine the rate of photosynthesis such as carbon dioxide, photon density, temperature, oxygen, and many more. So with the increased photon other factors becomes the limiting factor.
The optimal PPF for indoor plants
PPFD is the measurement of the density which is expressed micromoles per square meter. The ideal photon density for peak indoor plants photosynthesize is around 500 to 700 µmol/m2. To avoid causing damage to the indoor plants we should refrain from going over 1000 µmol/m2. Perfect distribution of light is not possible with artificial lighting. Hence, a minimum of 500 µmol/m2 (PPFD) is recommended. 
Then I will introduce you some perfect LED grow lights.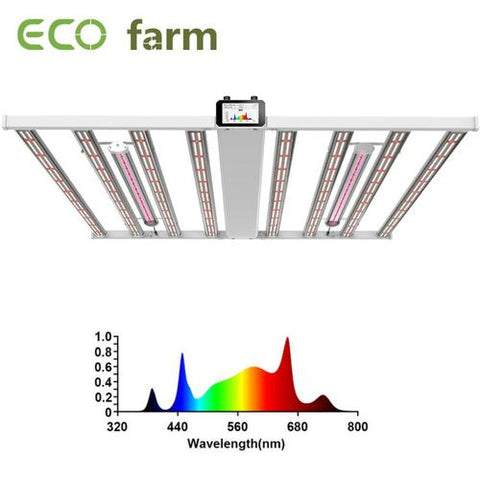 Description:
ECO Farm Master/Station version foldable LED fixture, with 8 bars, could evenly cover 4'X4' and 5X5' area.
Actual 880W light, provide powerful and quality light to the plant.
High-efficiency full spectrum light strips: 

The full-spectrum led grow light is optimized for rapid growth and complete plant development. Using Samsung white chips and Osram red chips, could up to 2.8 μmol/J, PPF up to 2184 μmol/s.

Master version light with built-in LCD color screen, showing the detailed status of the fixture and its group members. Such as dimming percentage, wattage, amps, PPF value, spectrum, timer status.
Highlight: Built-in a control system on Master, with a step-less dimmer and five-step timer. One Master can control up to 50pcs of Stations. In other words, any changes made in Master will sync across all the connected Stations.
Spectrum Tunable. There are four types of spectrum built-in this fixture, it provides a suitable spectrum for different stages of medicinal plant growth, such as V1 for VEG stage, F1 for the flowering stage, FS for the last two weeks of flowering.
UV/IR enhanced bars was easy to install/uninstall from the fixtures. Item was our most creative mechanism design that enables you the most time-saving and convenient way to install the fixture.
Note: Our lights contain UV IR by default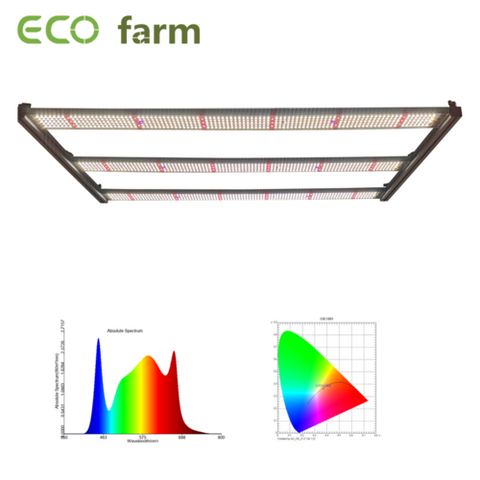 Description:
ECO Farm 480W LED Light Strips with Samsung 301B Chips +UV IR high efficiency light with inventronics driver can better heat disappear and stay cool while enabling even light spread. Save you a lot at ventilation and exhaust.

Simple structure, no fan, no noise.

ECO Farm 480W lights with dimming knob allows to control the light intensity or height and provide the right amount of light in every stage of plant growth, which can reduce energy loss.

UV IR high efficiency light with inventronics driver. Born for big buds, rapid plant response from seed to flower,speeds up flowering time and boost yields. Easy dimming design meets needs of indoor plants at different stage of growth.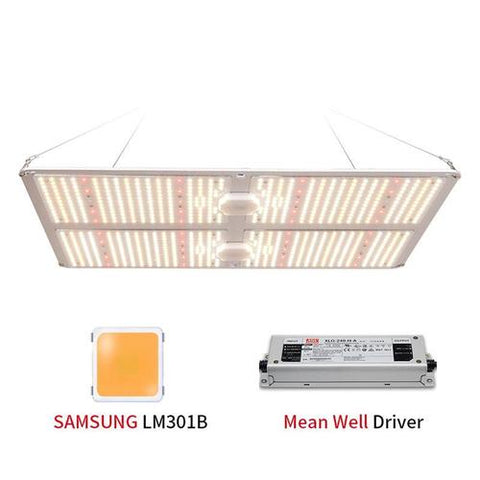 Description:
ECO Farm 110W/220W/450W/600W quantum board consuming true output. Using high-quality MeanWell driver and Samsung 301B chip could up to 2.7 umol/J efficiency.
Excellent full spectrum waterproof ECO Farm quantum board: white, blue, red and IR (380nm-800nm, 3000K, 5000K, 660nm and IR 750nm), provide everything plants desired in the natural sunlight. Could meet the plants' demands on the full grow phases of seeding, booting, leafy, flowering and fruiting.
If you have any questions, please contact us and we will respond to you as soon as possible. 
Our emails address is: business@ecofarm.ca
Contact:
WhatsApp: +1 206 581 5521