Trying to get rid of powdery mildew during flowering is a serious problem, and a difficult one to resolve. Short of dousing your infected plants in gasoline and lighting a match, your options are limited. The smart way to deal with powdery mildew is never to let your plants be exposed to spores in the first place.
There are many ways you, as a medicinal grower, can stop powdery mildew in its tracks. First of all, you want to put the brakes on the mildew before it gets into your growing areas and infects your plants. More on how to do that in a bit.
What is Powdery Mildew?
Powdery mildew is a highly transmissible fungus that belongs to the Erysiphales order of fungi. Erysiphales are obligate parasites.
Mycelium is what grows on the surface of infected plants. As it grows, threads of vegetative, root-like structures reach out to penetrate host cells. They take nourishment directly from the plant.
The part of powdery mildew that is first spotted by the naked eye are the tell-tale white, powdery mildew spots, hence the name. Depending on your plant, these spots might appear on younger or older leaves first. For example, on lettuce, the disease usually appears on older, lower leaves. Whereas on roses, younger leaves often display first signs.
Prevention Is Best Way to Get Rid of Powdery Mildew
It's crucial to fight this pathogen before it has a chance to reach your plants. Let's remember that powdery mildew, like most pathogens, is airborne. It spreads by using the air in your grow areas. So the best way to prevent the spores from getting anywhere near your plants is to keep the air in your growing rooms totally clean and completely free of all threats. In short, kill powdery mildew before it kills your crop.
An Effective Air Sanitation System
You do this by setting up a good ventilation system. This is the best way to scrub the air clean and keep pathogens away from your plants. Keeping the air completely free of mold spores and other blights will forever solve the problem of powdery mildew.
Simple tips:
General:
Select plants that are known to be resistant to powdery mildew.
Maintain plant to plant distance, don't overcrowd.
Water plants during the day, so they have plenty of time to dry off.
Prune excessive foliage.
Give plants plenty of sun.
Prevent pest infestations as the sticky secretions from them cover the leaves and make it easier for spores to attach to leaves.
Outdoor:
Do not grow plants too close together or close to damp areas.
Remove weeds that may create density and restrict airflow.
Avoid the use of nitrogen-rich manure or fertilizers. It encourages young plant growth where powdery mildew thrives.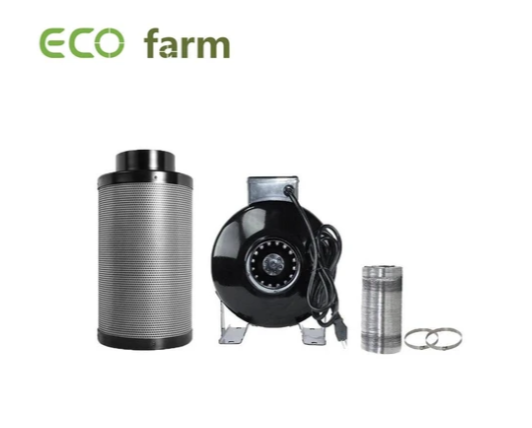 Description:
Effective ventilation: Powerful blower with a 6 inch fan of

 

2780RPM

 

for an airflow of

 

460CFM

. Moves air through your target location efficiently for optimal ventilation
Superior carbon filter: Exceptional odor control for better privacy.
Sturdy ducting & 2x stainless clamps
Package includes: 1x Coal Based Activated Carbon Air Filter + 1 x Silver/Silver Flex Ducting + 1 x Inline Fan + 2 x Steel Hose Clamps
ECO Farm 4"/6"/8" In-line Ventilating Fan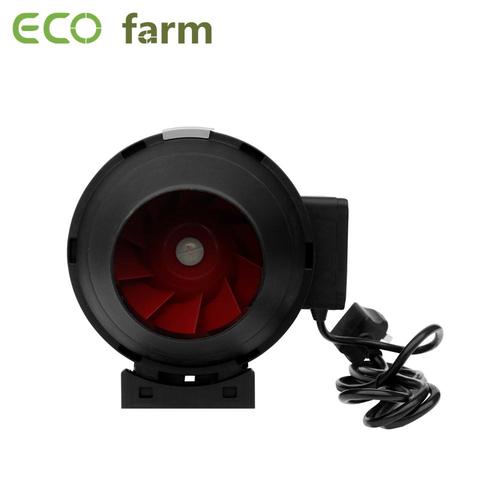 Description:
EFFICIENT FAN - Combines the features and benefits of axial and centrifugal fan, effectively circulates air for room ventilation and purification; Please be aware that the value of air flow is the maximum tested at ZERO atmospheric pressure.
EASY ASSEMBLY

 

- Features with lightweight, resistant plastic housing guarantees long-term use; Simply remove the duct ends with locking tabs for quick installation and easy maintanance; Universal mounting bracket for direction of airflow indicating.
SPEED CONTROLLABLE

 

- A variable speed controller designed in the 5.4 feet power cord, its three speed switch enables fan to run at low, medium and high speed, you can adjust it to desired airflow level according to your requirement.
QUIET OPERATION

 

- The durable fan blades revolves smoothly and powerfully, which helps collect airflow volume and cut noise output; A less than 31 dB noise level does not have any harm and will not disturb your work.
MULTI APPLICATIONS

 

- Help you maintain a healthy grow room by quietly and efficiently moving large volumes of air throughout your ventilation system; Ideal solution for multi-purpose use in residential and commercial ventilation.
Looking for more options and information? Welcome to visit our official website. Follow us could get the biggest discount. Now using coupon code: Nicole11 to get 17% off when checkout.
If you have any questions, please contact us and we will respond to you as soon as possible. 
Our emails address is: business@ecofarm.ca
Contact:
WhatsApp: +1 206 581 5521