Ready to set up a grow room? It doesn't have to cost the earth. 
For most people after a cheap indoor grow setup, there are three main steps involved:
Choosing your lighting
Picking a tent
Controlling your climate
The easiest & cheapest thing to do is to get a grow tent kit.
Grow room requirements
LED Grow Lights
LED grow lights are one of the most trending lights being used in grow rooms especially when we talk about growing medicinal plnants. They are not only well known for their durability but are also highly recommended as exact supplements of sunlight as they give off light in all visible spectrum as well as the infrared and UV radiations.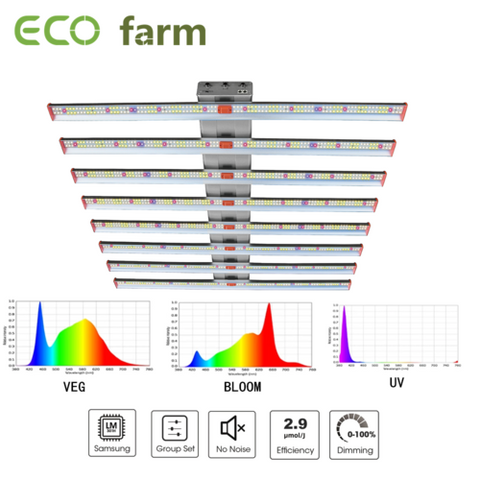 Description:
ECO Farm ECOZ 250W/510W/700W/1000W series light with top-bin Samsung LM301H chips (5000K+3000K)+Osram (660nm+730nm)+Refond (395nm), offering all the necessary light effiency to your medicinal plants in whole growth stages - from VEG to Flower
Adjustable full spectrum 3 channels dimming way, each channel can be controllable separately.
UV IR seperately control
Passive cooling, no noise operation.
Higher yields and lower cost: ECO Farm ECOZ series delivers powerful light output and uniform canopy penetration to resulting maximum higher yields.
'Plug & play' fast installation design makes your grow way easier with lowest maintenance cost and easy installation, specially big saves on shipping.
Grow Tents:
Grow tents are specially designed for the people who want to grow plants indoor; the mean is that they already have the above mentioned elements. You have previously come across to lightproof, waterproof and airtight grow tents. Each of these grow tents aims at preserving the internal environment. These grow tents are specifically designed to hang up your lamp or air extractor.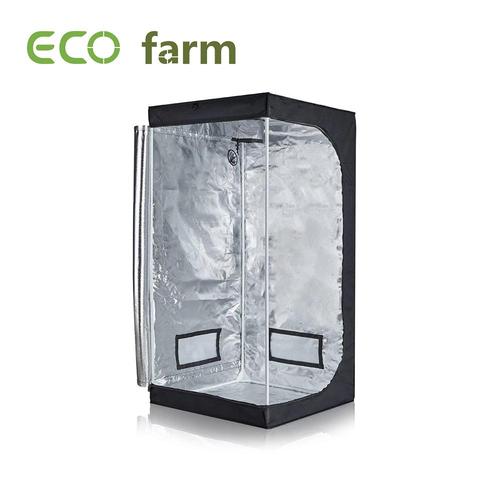 Description:
ECO Farm 2.7*2.7 FT grow tent has all stable construction, 600D oxford cloth outside and 96% highly reflective waterproof diamond Mylar inside, with exterior zippers design, ensure safety use and ease to set up. And it also has multiple vents to accommodate fans and filters.
Durable pole and solid corners, which made the whole frame structure will not shake. Large heavy duty Zippers & Double Stitching is tear-proof . 99% light proof and fully sealed unit once closed.
Easy assembly & easy clean. Best choice for indoor grow.
Pls note:  When you are using this tent, please adjust the inside flap around the zipper to avoid the zipper getting stuck.
This is considered one of the most vital elements to have a check on the temperature of inner environment. But what you find better when you get a thermometer without disturbing the inner environment that is a digital thermometer is found with memory features helps you regulate the long term trends. As it is digital one, so it can be attached with the wire and you can have a check balance of temperature without disturbing the inner environment of your garden.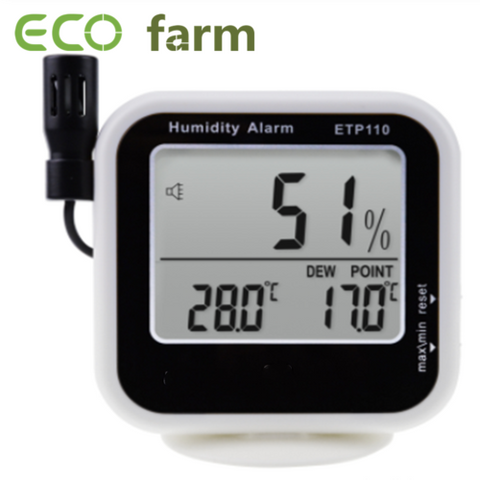 Description:
Digital hygrometers
usually also have other uses, such as measuring temperature and other environmental factors in addition to the humidity level. There are some pros to using these kinds of tools, though. For instance, they are very, very
accurate
, and they are often more affordable than quality analog versions.
Temperature (°C/ °F), Relative Humidity % and Dew Point measurements.
Accurate hygrometer Digital thermometer displays high/low temperatures and humidity, ready to adapt to changes in the environment.
Humidity alarm features can be turned on or off.
Selectable °C/°F temperature units.
Can be wall-mount or desktop.
Fresh Air
As all green plants use light, water and CO2 to produce sugar through photosynthesis. Likewise, medicinal plants uses all three above vital elements to produce sugar and oxygen. Commonly, the amount of carbon dioxide can be up to 350ppm in any closed space but this can be consumed very easily if the plant is in any closed space like a grow room . Furthermore, not having adequate approach to Carbon dioxide can decline the growth of plant.

To overcome this short coming, you can use a CO2 tank with a controller/regulator but you can also use a small ventilation system to refresh air of inner environment or grow room of your medicinal plants garden. Firstly, you need to place a fan in front of the air inlet and create a hole where air can escape.

Moreover, there are other thousand ways to make sure that there is a good environment in your medicinal plants garden grow room by just buying a cheap door and making hole in it allowing air and it will also work as air extractor.
Conclusion:
In short we are aiming at a lightproof, air tight grow room which has an air vent for CO2 to come in. The gas fills the atmosphere and leaves from another vent that is part of successful ventilation.
If you have any questions, please contact us and we will respond to you as soon as possible. 
Our emails address is: business@ecofarm.ca
Contact:
WhatsApp: +1 206 581 5521