If your medicinal plants get too tall for your grow space, you're not alone; it's a really common problem for indoor growers. A meidicinal plant's ability to grow very tall in a very short amount of time can (and frequently does) get growers into a lot of unexpected gardening trouble!

If you need help with a meidicinal plant that's too tall, this article will teach you what to do!
Low Stress Training
Low stress training is performed on the plant when it first starts to grow. At a high level, LST is basically bending your plant over once it gets to about 6" tall and tying it over so it stays. As it grows, keep bending it over and directing it around the base of the pot. You will need a way to tie it down gently without digging into the plant.

Remember this is called low stress training because you are applying minimal pressure as to not snap the stalk or stems. If your pot is big enough, you could lay down up to 2' of plant which means your plant will be 2' shorter in height.
Topping is an Excellent Way to Stop Your Plants from Getting Too Tall.
Once your plant is a good 12" to 18" tall and/or has at least 3 branch levels (nodes), locate the very top center growth shoot of the plant/growth. Cut that center growth shoot off leaving a few centimeters or a quarter inch of stalk above the highest branch line.
This way, there is a location for new growth to start at that point where it will now branch off into at least a couple of stalks instead of just the once that was there previously. The important thing with this method is to cut all the growth shoot off, just leaving a bit of that stalk. I really hope that made sense.
Fimming is Another Way to Keep Plants Shorter
Following the methods for topping, instead of cutting the new growth shoot off, just go about halfway down the shoot and cut it there. This method causes less stress on your plants and they will recover quicker than topping. What fimming will do is force more growth in the lower nodes. It's that simple.
Keeping the Lights Closer to the Plants
This will stop them from stretching and getting too tall. Yes, it's true if the plants are not getting enough light, they will stretch to reach whatever light there is. Let's look at how close the lights should be.

LED grow lights can be kept very close to medicinal plants, as they do not throw off much if any heat and will not typically cause light burn. Try placing the LED lights approximately 12" above the plants to start and watch how the leaves react. If they start to curl and droop, then raise the light a few inches.
If the leaves look healthy and are growing at a fast rate, you could try lowering them to as close as 6" from the top of the plant. The leaves of the plant will tell you if they like it or not.
If you are using HPS or other lighting, try setting the lights at approximately 24" from the top of the plants. Most other lights will generate heat and will more easily cause light burn. Always watch the reaction of the leaves to see if they like the light or not.
So here I recommend some good LED grow lights: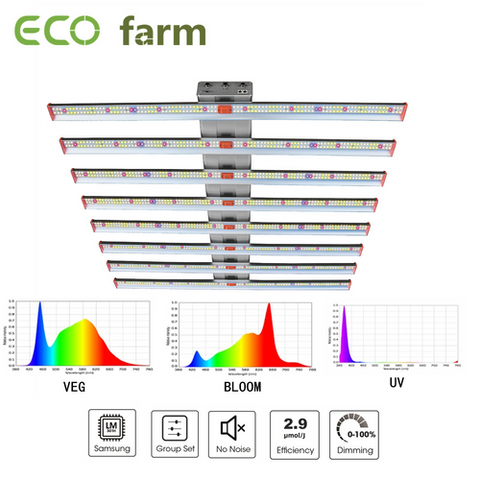 ECO Farm ECOZ 250W/510W/700W/1000W series light with top-bin Samsung LM301H chips (5000K+3000K)+Osram (660nm+730nm)+Refond (395nm), offering all the necessary light effiency to your medicinal plants in whole growth stages - from VEG to Flower
Adjustable full spectrum 3 channels dimming way, each channel can be controllable separately.
UV IR seperately control
Passive cooling, no noise operation.
Higher yields and lower cost: ECO Farm ECOZ series delivers powerful light output and uniform canopy penetration to resulting maximum higher yields.
'Plug & play' fast installation design makes your grow way easier with lowest maintenance cost and easy installation, specially big saves on shipping.
ECO Farm MS 660W/760W/900W full spectrum LED grow light strips with enhanced red for full-cycle grows. Using Samsung LM301B high bin LEDs, efficacy is up to 2.7μmol/J.
No wiring needed, it takes less than 30 seconds to install a fixture.
0-10v auto & manual dimmable control. 2 dimming solutions, manual and automatic dimming are optional.
Passive heat dissipation design (No need for internal cooling fans)
Uniform Light distribution. Each light bar is evenly distributed on the 2 ends of the power supply, and the PPFD value of each point is very uniform, giving your plants the most uniform growth environment.
Save 50% space for the same 660W/760W/900W grow light in the market, thus could save shipping and storage space.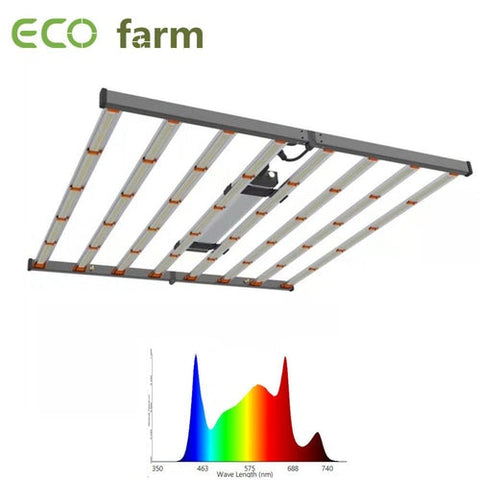 Maximum yields & high quality: Durable IP65 waterproof aluminum material used, Samsung LM301H/ LM301B/LM281B led chips and Osram power, high efficiency is 2.5 umol/J, delivers powerful light output and uniform canopy penetration to resulting maximum higher yields. PPF is 2000 umol/s, maximize yield with 50% higher Average PPFD, achieve 60% higher yield & quality compared with the traditional led lights. Consume power is 400W/650W/800W, make it a high-end&high-performance commercial grow light.
User-friendly dimmer suits full-cycle home horticulture. Wider 8-bar light for even & broad canopy coverage.
Reality full sectrum grow light: utilize the latest in high yielding LEDs technology today, max yield Spectrum with enhanced 660nm led chips and warm 3500K led chips, it speed up blooming & fruiting stages, perfect for Density Buds.The light could be used for commercial,home,grow tent,grow room, hydroponic,soil growth. this 800W led grow ight is best for 6x6 FT growth.
The light is great in heat dispersing & 50000 hours lifespan, drop 50% in electricity bill than HID lights!
Dimming design would also enable the exact dynamic PPFD control over each of plant growing stages, its growers' best choice LED grow light.
If you have any questions, please contact us and we will respond to you as soon as possible. 
Our emails address is: business@ecofarm.ca
Contact:
WhatsApp: +1 206 581 5521