Trellising is an effective technique for providing light to all bud sites. Furthermore, trellising creates an even plant canopy by gently bending the stalks and providing structure to grow them sideways instead of vertically. The main purpose of trellising is to mimic the even footprint of available light outdoors by bringing all of the branch's top nodes to nearly the same distance from the light source. By doing so, some growers have seen increased yields of up to 30%.

Trellising happens in the Flower Room; once a plant has been trellised it will be difficult to move. Start prepping your plants for trellising in Veg by pruning them, shaping the plant so it is easy to spread out on a screen. Once the plants have been moved to Flower, follow the steps below to effectively trellis your medicinal plants.
1. When plants move into Flower, install trellising above them.
Use extruded or molded plastic netting, nylon string, or anything similar to create a solid structure to support the plant. Avoid thin string/wiring (such as fishing line, etc…) as it may cut into the plant tissue. The idea here is to create a grid of holes to weave branches and buds through in the next step. Ideally, you'll want to have a single bud site per 6″x6″ hole in the grid. Chain link fencing is a great, reusable way to accomplish this, but it can cost up to 75 times as much as plastic options.
2. Weave the branches of the plant through the trellis netting.
The branches should have been grown to be long and lanky so that they can be bent onto the trellis. The branches should bend when pinched with your fingers. Don't worry; this pinching won't hurt the plant. While it is capable of healing itself, still be sure not to snap the branch. Once bent, it will be possible to weave the branches as needed.  As the plant continues to grow up towards the light, bend and weave it down into the trellis netting to fill any gaps.
3. Position the branches so there is a single bud site in each hole of the trellis netting.
The trellis will create a grid with holes that are typically 6"x6". Once the plant has been bent onto the trellis, buds will form in the plant canopy over the top of it. Keep an eye on these developing bud sites and remove any extra buds that appear. Remember, the goal is a single bud per hole. Removing extra buds will help the remaining ones to grow larger.
4. If desired, create a side canopy (use vertical trellising on each side) and repeat steps 1-3 for each side.
When creating a side canopy, be sure to include vertical lighting to provide light to the bud sites on the side of the plant. Trellising a medicinal plant can have a large impact on the final amount of product produced. Maximizing the use of available light and ensuring all buds are on an even level will result in large, evenly sized buds across the entire plant canopy. Maximizing the its resources allows the plant to produce at its maximum capacity.
If you grow medicinal plants indoor, you must also need LED grow lights. Let me recommend you some grow lights.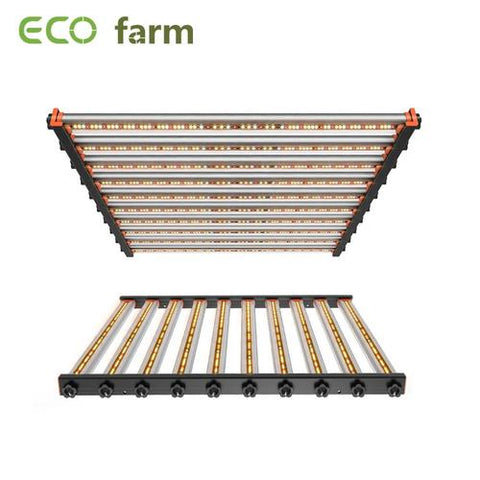 Description:
ECO Farm 650W LED grow light with Epistar diodes to get high-PPFD cultivation, achieving equal or better results than 1000w HPS equivalent. Removable 10 grow light bars can help growers achieve ideal growth performance more flexibly. Coverage area: 3*3 to 5*5 ft.
ECO Farm 650W grow light bars come with 10 independent power supply. Unplug some of the light bars easily to adapt planting needs. That makes it adaptable to different growing periods for your plant, the grow lights has high-quality driver, can adapt to the growth needs of plants in different periods, the germination, seedling, veg and bloom stages, the first choice for growers alike.
Wattage: 650 watts (65W/bar x 10 bars)
PPF 1755 umol/J
IP65 waterproof coating, great for humid environment.
Emitting color: 3500K warm white
Full-spectrum for all growth stages: Epistar 3030 3500K and 6500K + Epistar 660nm
Epistar chips promise high light efficacy and long lifespan
Aluminum material, high quality & excellent heat dissipation.
Each light bar has a small switch to control each light bar individually
Small & solid packing, save storage space and reduce shipping damage.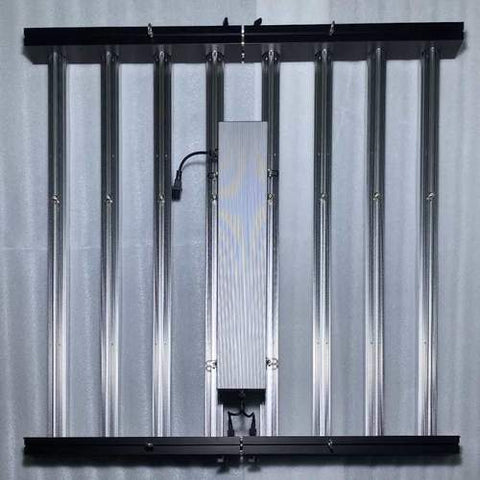 Description:
New upgraded light, it is been widely used in greenhouse and commercial grow room. ECO Farm 600W dimmable LED grow light could replace most of the light in today's market.
Fully equipped with the latest in high end LED technology from the best of Samsung 301H chips+ CREE chips +Meanwell driver.
Better canopy light penetration with diffused light.
This light bar is a massive fixture that delivers uniform light intensity.
Dimmable light could help you to adjust the light intensity during the plant's different stages, also could add the THC and the taste.
ECO Farm 600W LED grow light bar is a vertical tillage light, which integrates the blue chips and the red chips to make the light easier to absorb under high intensity and promote the best bud quality. And it is also use Samsung LM301H LEDs in high power LED grow light that flowers a 4x4 area or bigger, delivering an optimal PPFD value over a large footprint.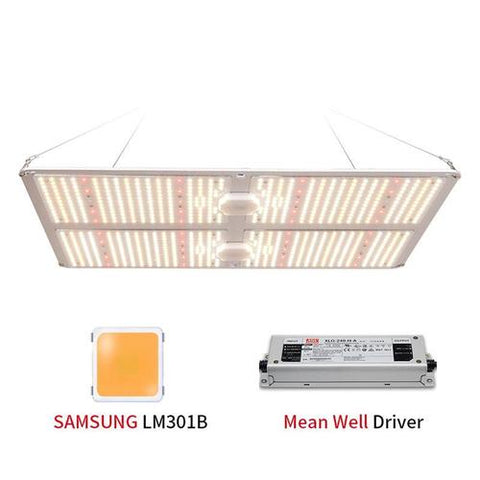 Description:
ECO Farm 110W/220W/450W/600W quantum board consuming true output. Using high-quality MeanWell driver and Samsung 301B chip could up to 2.7 umol/J efficiency.
Excellent full spectrum waterproof ECO Farm quantum board: white, blue, red and IR (380nm-800nm, 3000K, 5000K, 660nm and IR 750nm), provide everything plants desired in the natural sunlight. Could meet the plants' demands on the full grow phases of seeding, booting, leafy, flowering and fruiting.
If you have any questions, please contact us and we will respond to you as soon as possible. 
Our emails address is: business@ecofarm.ca
Contact:
WhatsApp: +1 206 581 5521