What are Carbon Filters?
Carbon filters play an important role in any indoor cultivation environment. Aside from growing tents, these devices are also found in air conditioning and furnaces where they help to capture contaminants while allowing clean air to pass through. When it comes to growing medicinal plants, the "contaminants" in focus are aromatic terpenes. Although these pleasant molecules determine the taste and effects of medicinal plants, they also unleash a mighty smell!

These filters feature layers of activated carbon, a form of carbon treated to features small, low volume pores. These small holes vastly increase the surface area of the filter, which provides much more space for chemical reactions and filtration to take place.
How Carbon Filters Work
Carbon filters use the principle of adsorption—the adhesion of molecules to a surface—to scrub the terpene-rich air found in grow tents. Because activated carbon possesses a greatly enhanced surface, it serves as the perfect substance for the job. To put things into perspective, a single gram of active carbon features a surface area of 3,000m²!

To ensure terpenes pass through the filter, growers need to create a vacuum in the grow space. Exhaust fans that match the requirements of the carbon filter in use will drag air through the device and out of the grow tent. Adequate suction will force all of the terpene-rich air through the filter, preventing any from leaking out of the sides of the grow tent.

As the smelly air passes through the filter at the correct speed, the active carbon will capture airborne terpenes while allowing other molecules to pass through, preventing the obvious smell of medicinal plants from seeping out of the grow tent. By attaching ducting to the external outlet of the exhaust fan, growers can direct odourless air out of the nearest window or ventilation shaft.
Where to Put a Carbon Filter in a Grow Room
Carbon filters typically suspend just below the ceiling of a grow tent. Use the following step to position them perfectly:
Connect your filter to an exhaust fan that features a compatible CFM (cubic feet per minute) and duct diameter.
Secure the two devices firmly together using an airstrip or duct tape.
Hang the setup from the roof bars of the grow tent, as high up as possible.
Connect ducting to the outlet of the exhaust fan and secure with duct tape.
Feed the opposite end of the ducting through the designated hole on the side of your grow tent.
Position the ducting outlet near an open window or ventilation shaft.
Here are three best carbon filters: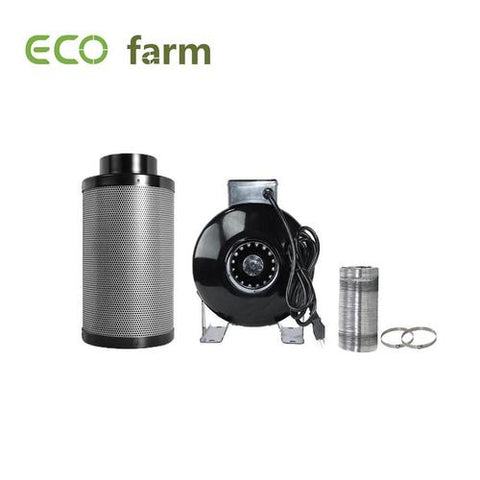 Effective ventilation: Powerful blower with a 4 inch fan of

 

3000RPM

 

for an airflow of

 

720CFM

. Moves air through your target location efficiently for optimal ventilation
Superior carbon filter: Exceptional odor control for better privacy.
Sturdy ducting & 2x stainless clamps
Package includes: 1x Coal Based Activated Carbon Air Filter + 1 x Silver/Silver Flex Ducting + 1 x Inline Fan + 2 x Steel Hose Clamps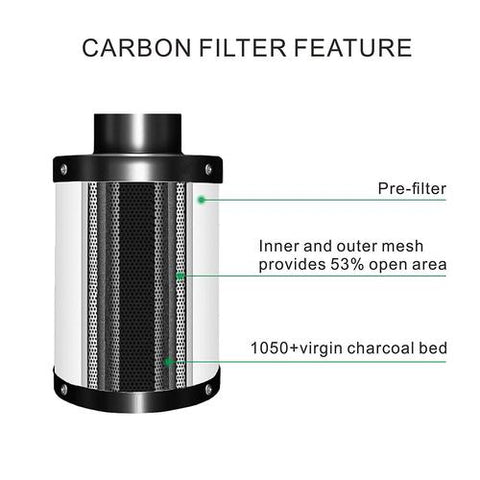 Overall Size: 6" flange: 18"H x 10"D
Lodine adsorption value: 950 (high efficiency)
Carbon layer thickness: 1.5 inches
Specific surface area: 900-1000

 

m

2

 

/g
Max endurable temperature: 400

°

 

(safer)
Operating environment temperature: -20 to 65°
Zinc-anodized steel housing mesh
Use coal based activated carbon
Changeable velcro pre-filter with 2 black elastic bands
Thick carbon layer for higher absorption and performance
Reversible filter flange and base for longer life
Exceptional odor control for better privacy
Inner and outer mesh provides 53% open area allowing increased air flow
Machine packed carbon enables 100% filtered air flow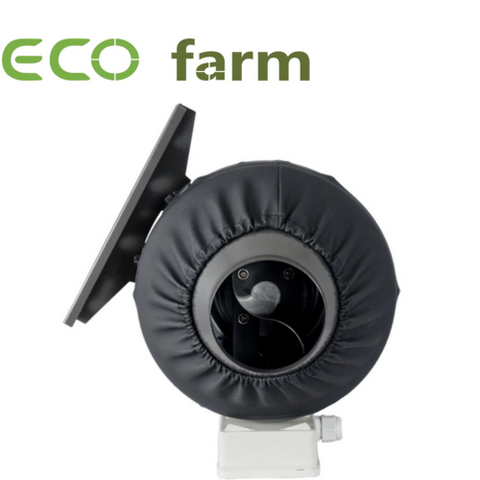 1. The voltage of 4 inch inner fans are: 110-120V, 60Hz or 220-240V, 50Hz.
2. Leather case: our company specially designed to reduce the noise of fans, but also to prevent air leakage, rust.
3. Foot frame: according to customer needs, there are a variety of styles to choose from.
4. Volute: there are two kinds of volute to choose from. In addition, we have plastic pipe fans and straight pipe fans.
5. Speed switch: we have two speed switch, three speed switch and stepless speed switch.
Ok, that's all. Looking for more options and information? Welcome to visit our official website. Follow us could get the biggest discount. 
If you have any questions, please contact us and we will respond to you as soon as possible. 
Our emails address is: business@ecofarm.ca
Contact:
WhatsApp: +1 206 581 5521