Carbon dioxide (CO2) is a gas that fills our atmosphere, and it's essential for plants to complete the process of photosynthesis wherein plants convert CO2 into energy. High levels of CO2 in a medicinal plants garden can result in stronger plants with increased yields – if introduced correctly. So how do you control and add CO2 to your medicinal plants grow room for the best possible end product?
How Does CO2 Work for Plants?
Plants extract CO2 from the atmosphere via the plant's stomates, which are the pores that plants "breathe" through. Photosynthesis begins as the plant uses CO2 in combination with light bulbs or light from the sun to produce both sugar and oxygen. The sugar is used by the plant to grow while the oxygen is released back into the atmosphere.

Increasing CO2 levels in your medicinal plants garden will allow your plants to create more energy – if you provide adequate lighting as well. Again, light is the second requirement to create energy for your plants, meaning you must match your CO2 levels with your lighting. However, before we dive into how this is done, there are a number of other considerations to make before investing in a CO2 system.
How to Introduce Additional CO2 to a Garden
There are multiple ways to introduce CO2 to your garden, but most methods do not guarantee controlled ppm (parts per million, used to measure CO2 levels in atmosphere). For this reason, it's important to invest in a quality CO2 setup. If the systems below are too costly or demanding for your space, you may consider holding off on CO2 supplemented grows until you're ready to make the jump.
CO2 Generators
CO2 generators, which look something like patio heaters, produce carbon dioxide by burning propane or natural gases. They can be set up to automatically power on or off when CO2 levels reach a specific ppm. Natural gas or liquid propane are very easy to acquire, but the burning of these gases produces heat which can be difficult to regulate in small grow spaces. Because of this, CO2 generators are better suited for large grow spaces with equipment for climate control.
Compressed CO2
Compressed CO2 tanks can be acquired at hydroponic stores, compressed gas facilities, or even home brewing stores. In this case, the CO2 is produced by the manufacturers and is collected and compressed into tanks that can be then made available for purchase. This allows you to introduce controlled quantities of CO2 into your garden via emitters without having to own a CO2 generator. The benefit of this setup is that without a CO2 generator, you're no longer producing heat when releasing CO2 into your garden. For this reason, compressed CO2 is ideal for smaller grow spaces.
How to Use CO2 in Your Medicinal plants Garden
CO2 levels in our atmosphere are around 400 ppm. Interestingly, studies show CO2 levels can continually increase plant growth as ppm reach upwards of 10,000. Note that once CO2 is above 3,000 ppm it starts to become dangerous for humans to breathe, and at 5,000 ppm it is considered lethal.

Most gardeners have found that when you are producing high-quality light in your garden, a CO2 level of 1,200 to 2,000 ppm will increase the growth of your plant significantly. Additionally, when using CO2 your plants can handle a higher average temperature – around 85-90 degrees Fahrenheit. Be aware that if your CO2 levels are too high for the amount of light or heat generated in the garden, you will see your plants become damaged from excess CO2.

The CO2 emitted should ideally fall from above the garden, as CO2 is heavy and will sink to the ground. Using fans will help keep the CO2 moving around the room and make it available for more plants to absorb. CO2 should only be emitted during the time that the lights are on; plants photosynthesize while it is dark out.
Here are some best LED grow lights for greenhouse.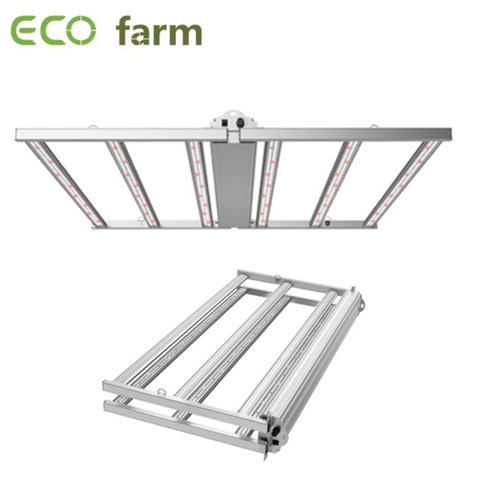 ECO Farm MB2 660W/ 720W light using the highest output Samsung 301B LED chips and Osram 660nm chips, efficacy is up to 2.7umol/J. High PPF is up to 1782μmol/s. Ultra-high PPFD than Fluence/Gavita.
Advanced Sonsen LED driver can provide higher performance
Full-spectrum grow light, Samsung 301B white light, and enhanced Osram red 660nm, good for full-cycle growth, high yield
180° Folding design, just hang it up and plug and play, very convenient and flexible to adapt to different growing areas
Standard 0-10V knob dimming, support the daisy chain RJ port
UL, DLC, CE, ROHS certified
Big footprint: suitable for large-scale use in greenhouse, commercial growing space etc.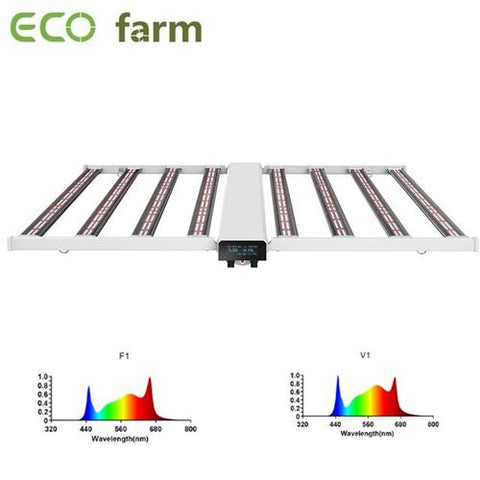 ECO Farm MB3 PRO 760W foldable LED plant grow hydroponic lights with Samsung 301B chips changeable spectrum light strips use superior quality white chips (Samsung 301B) and Red chips (Osram) on each bar, this high quality LED light is able to support your plants' photosynthesis in an optimal, efficient way. Suitable for every grow stage of plants.
The fixture can fold up to 180 degrees, making it compact and easy to install; It won't take up much space, thus keeping your storage room tidy.
With dimming options, this LED grow light can satisfy a range of needs; Moreover, this fixture is compatible with a master controller, so you can adjust this LED light to accurate parameters in a convenient, quick way.
This light offers great help for all stages of plant growth; It offers more than enough warm white light, which boosts plants' blooms, making flowers bigger and more vivid; Blue light promotes plants' germination, and red light leads to higher yields when combined with blue light.
ECO Farm MB3 PRO version 760W foldable grow light could offer 2128 μmol/s output, providing a great amount of Efficacy 2.8 μmol/J. High efficiency, long lifetime, save energy.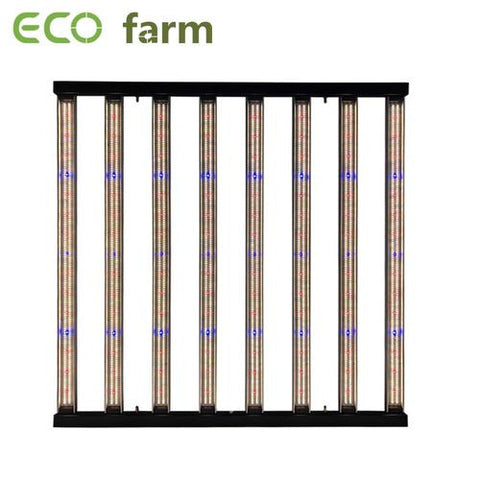 ECO Farm blue version 650W LED grow light combine with highest-quality light chips: Samsung 301B (3000K, 6500K) +Osram (660nm, 470nm,450nm). Every top-bin LED is selected from the industry leader for its particular wavelength.
High light intensity and energetic spectrum, crucial for canopy penetration to nourish lower leaves and flowers
Even, edge-to-edge coverage eliminates leaf burn and hot spots
Ideal full spectrum for both Veg and Flowering stages
The best active heat management in the industry, crucial to maximizing LED life, efficiency, and spectrum stability
Largest heat sink among LED grow lights for superior cooling and increased LED life,ultra-efficient LEDs 70,000+ hour rated lifespan
IP65 waterproof in damp/wet location.
Added 470nm, 450nm two kinds blue lighting, better for plant growing.
If you have any questions, please contact us and we will respond to you as soon as possible. 
Our emails address is: business@ecofarm.ca
Contact:
WhatsApp: +1 206 581 5521