What is transplanting medicinal plants?
Transplanting is the process of "re-homing" a medicinal plant, or moving a plant into a bigger pot with more soil as it grows bigger.

Growers typically start off the medicinal plants growing process by planting many seeds in small pots because they don't know if all of them will sprout—or germinate—and they don't know if all of them will be female.

Only female medicinal plants produce buds, so if you start growing from regular seeds, you will have to sex them out and discard the males.
When to transplant medicinal plants
Most medicinal plants go through 1-2 transplants during their life but could have more. As an example, transplanting can happen from:

First container (1-gallon) to second container (2-gallon): 4-8 weeks after seed germination
Second container (2-gallon) to third container (5-gallon): transplant 8-12 weeks later, or 2 weeks before flowering
Some growers may only transplant once: using the example above, from a 1-gallon to a 5-gallon container, skipping the 2-gallon. And depending on how big you want your medicinal plants to get, you may transplant into bigger pots than what's listed above.

The same goes for transplanting outside, in the ground—you can go straight from the first pot into the ground, but it depends on when you transplant and your local climate and weather.
Here are some indicators that your medicinal plant is ready for a new container.
Young plants sowed in small containers are usually ready to be transplanted after they've sprouted 4-5 sets of leaves, but keep in mind this may vary from strain to strain.
Check the drainage holes at the bottom of the container—a plant should have a healthy and visibly white root system. If roots are growing out of the holes, it's time to transplant.

Any discoloration or darkening may indicate the plant has become rootbound and a transplant should take place immediately.
A weed plant should be in its final pot or in the ground with plenty of room for its roots before it enters the flowering stage. During flowering, a plant will increase in both size and volume, as the plant itself continues to grow and as buds develop. It will require a substantial amount of space for root development.
How to transplant medicinal plants
The process of transplanting medicinal plants does not come without risk. Transplant shock can be incredibly detrimental to the growth and development of a medicinal plants, and can even kill it. However, through proper execution, the process of transplanting will benefit the plant and lead to stronger root development and healthier flower production.
First transplant of a medicinal plant
Young medicinal plants should start in a 4-inch or 1-gallon pot. This starting pot should be adequate for a few weeks before transplanting is needed.

Again, the first transplanting should occur after the seedling has sprouted its 4th or 5th set of leaves. To transplant:


Wash your hands and/or wear gloves to prevent contamination of the delicate roots, and keep the surroundings as sanitary as possible.
Give the plant a light sprinkling of water to help minimize shock; don't drench it, as the soil will be difficult to work with.
Fill the receiving pot with soil, allowing enough space for the new plant.
Avoid overpacking the soil during and after transplanting—this can compromise drainage and damage the root system.
Do not disturb or damage the roots when transplanting; the first transplanting poses the greatest risk for shock, which can occur from root damage and agitation.
Avoid intense light when transplanting; this will help prevent transplant shock as well.
Fully water in the plant once it's in its new home.
Additional transplanting of medicinal plants
ou may need to transplant your medicinal plants a second or third time to maximize its growing potential. Always monitor plants for symptoms of distress or overcrowded roots.

To do so, follow the steps above, and make sure the new container is at least twice as big as the old one, if not bigger.

The finishing container is the final home of a plant until it's harvested. This will be the largest container for a plant, and you always want to transplant into this pot 1-2 weeks before the flowering stage—you don't want to disturb a plant while it's flowering.

Keep in mind that large plants may require stakes or other support to avoid structural damage after transplanting.
Then I will recommmend some best LED grow lights for indoor plants.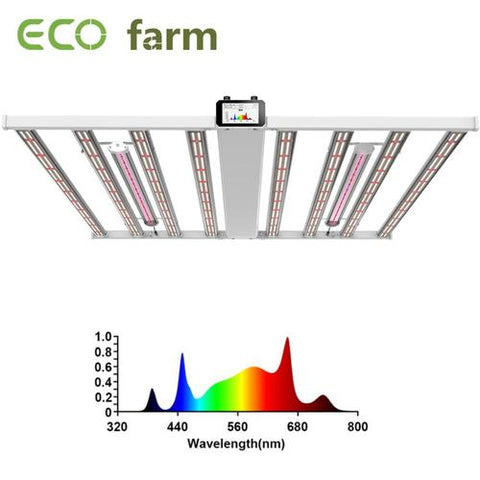 Description:
ECO Farm Master/Station version foldable LED fixture, with 8 bars, could evenly cover 4'X4' and 5X5' area.
Actual 880W light, provide powerful and quality light to the plant.
High-efficiency full spectrum light strips: 

The full-spectrum led grow light is optimized for rapid growth and complete plant development. Using Samsung white chips and Osram red chips, could up to 2.8 μmol/J, PPF up to 2184 μmol/s.

Master version light with built-in LCD color screen, showing the detailed status of the fixture and its group members. Such as dimming percentage, wattage, amps, PPF value, spectrum, timer status.
Highlight: Built-in a control system on Master, with a step-less dimmer and five-step timer. One Master can control up to 50pcs of Stations. In other words, any changes made in Master will sync across all the connected Stations.
Spectrum Tunable. There are four types of spectrum built-in this fixture, it provides a suitable spectrum for different stages of medicinal plant growth, such as V1 for VEG stage, F1 for the flowering stage, FS for the last two weeks of flowering.
UV/IR enhanced bars was easy to install/uninstall from the fixtures. Item was our most creative mechanism design that enables you the most time-saving and convenient way to install the fixture.
Note: Our lights contain UV IR by default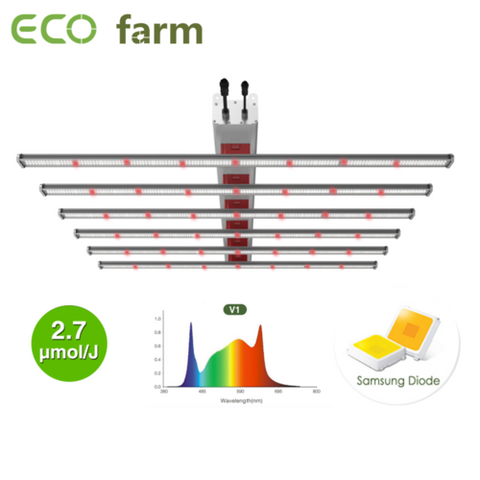 Description:
ECO Farm MS 660W/760W/900W full spectrum LED grow light strips with enhanced red for full-cycle grows. Using Samsung LM301B high bin LEDs, efficacy is up to 2.7μmol/J.
No wiring needed, it takes less than 30 seconds to install a fixture.
0-10v auto & manual dimmable control. 2 dimming solutions, manual and automatic dimming are optional.
Passive heat dissipation design (No need for internal cooling fans)
Uniform Light distribution. Each light bar is evenly distributed on the 2 ends of the power supply, and the PPFD value of each point is very uniform, giving your plants the most uniform growth environment.
Save 50% space for the same 660W/760W/900W grow light in the market, thus could save shipping and storage space.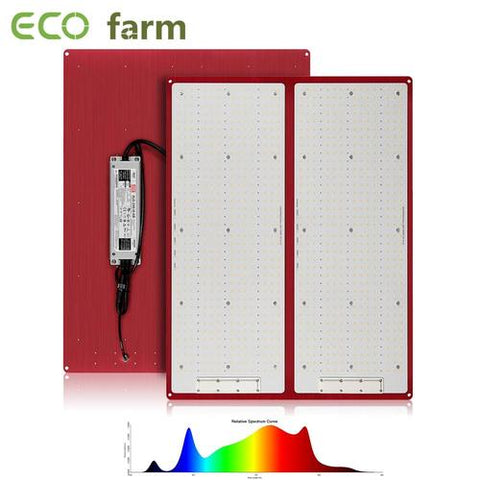 Description:
Upgrade quantum board-

 

Using the newest led technology 

samsung 301H 3500K + Red 660nm + UV+IR. That is suitable for the whole process of plant growth.
Professional Design- Superior full spectum for commercial medicinal plant cultivation with 2.6 umol/j high efficacy and 2.2g/wattt high yielding to get 50% higher yield harvest.
Working Reliably- Using high-quality samsung 301H LED chips and meanwell drivers, the light is also made of the led board is passively cooled by a large-area thick aluminum heat sink. Allowing your plants to get more energy without burning the plants for maximum space.
Water Resistant- This quantum board with waterproof design, can work normally in humid environment.
No Nosiy- A fanless design is used to provide you with a silent growth life. 
If you have any questions, please contact us and we will respond to you as soon as possible. 
Our emails address is: business@ecofarm.ca
Contact:
WhatsApp: +1 206 581 5521