Grow light stands are manufactured for the general need of growers while the manufacturers keep on modifying their posture and structures based on the customers' feedback from the market. Generally speaking, these stands may have several pros with a few cons that you need to know before ordering online.
What to look for when buying LED grow lights stand?
1. Wattage (How many led watts per medicinal plant ?)
You need to consider the size of the grow room and the plants that are inside to determine the right wattage of the light strips to buy. For a small grow room with only one or a few plants, you will already be good with a light that has a minimal wattage. If the grow tent is large, you need a more powerful light or use several light  strips.
2. Light spectrum (What is the spectrum resolution for medicinal plant ?)
The light spectrum is the wavelength of light that the plant needs at different stages of growth. The light spectrum needed to grow indoor medicinal plants varies for different growth stages. Usually, medicinal needs blue wavelength during germination and vegetative stages and red at flowering stage The best Light Spectrum for growing medicinal plants differs during different stages of growth in plants and what they need. The medicinal plants, like all other plants, rely on the light spectrum for signs about their growth. Blue light is particularly useful during vegetative growth, while the red light is particularly useful during the flowering stage. For the best results, you will also want to supplement these with the other colors on the visible light spectrum. Similarly, all other plants use the light of different wavelengths during different growth stages but generally, blue light is important for initial plant growth and red for flowering and bud formation.
3. Amount of light
Medicinal plants are adaptable to blue and red wavelengths for germination, vegetative growth, flowering, and bud formation. So, select a light that delivers the entire range of the light spectrum that your plants need. Even if you are not growing medicinal plants, it is necessary to select a full spectrum light for your grow room that exhibits the following wavelengths range.
Ultra Violet (380-410 Nanometer), Blue (1st Spectrum 440-450 and 2nd Spectrum 450-460 Nanometer), Orange (605-610 Nanometer), Red (1st Spectrum 620-630 and 2nd Spectrum 655-660 Nanometer), Far Red (730 Nanometer).
4. Wattage per square foot and coverage area
Your grow lights are supposed to be operative most of the growing time probably 12-14 hours if you are growing medicinal plants. So, it is import to know the wattage and the daily light consumption your selected lights will consume. On the other hand, your selection must be based on future gardening programs keeping in mind that these selected lights would go a long time with you. Your selection must be based on the type of plants and the area they might cover during their growth. Large spaces need more lights while growing 1 or 2 plants indoor should limit you buy accordingly.
5. Low Heat Emission
High heat omission may be of substantial damage to your lovely plants due to burning issues. Choose only those light that is durable and protect your plants from the heat burns. The lights remain close to the plant's foliage whereas high heat omission lights are prone to burn plants when kept lightening for several hours during a day. So, make a careful choice by selecting a light that omits a balanced heat.
What is the best LED grow light?
ECO Farm High Effcacy 660W 180° Foldable Samsung 561C+ Osram Chips Dimmable Commercial Light Strip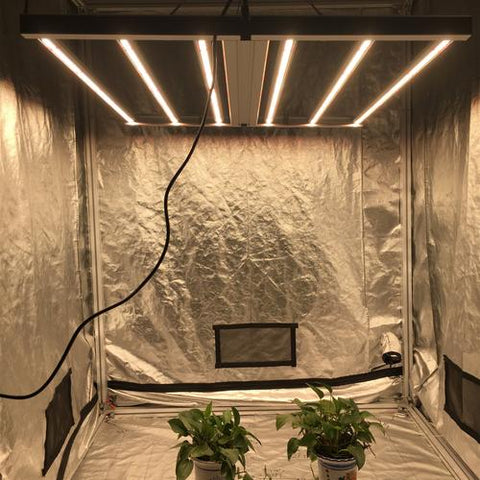 Description:
ECO Farm dimmable commercial hydroponic light strip suitable for all kinds of indoor plant at all growth stages of growth such as seedling, germination, vegetative and flowering. This grow lamp helping indoor plants growing faster, healthier and stronger.
Providing plants with excellent full spectrum, optimize plant growth in indoor/greenhouse environments from seeds to harvest. The dimmer knob is featured to control the light spectrum's intensity from 0% - 100%, easily adjust the light intensity at liberty.
This LED grow light helps to get 50% higher yield harvest performance and save lots of costs. Remember to properly adjust the height and brightness accordingly to plants desired level for optimal growth.
Long lifetime and high efficiency LED grow lights promote seed germination and growth etc. The greenhouse seedling lights for plants can be used for grow tent, grow box, balconies, darkroom, grow room, indoor gardening and so on. It is suitable for almost all plants.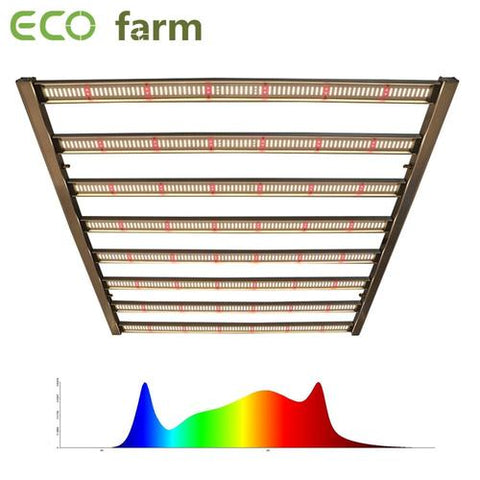 Description:
ECO Farm LED light strip is a full-cycle spectrum, which is similar to the sunshine, ideal for all kinds of indoor plants veg and flower at all growth stages.

ECO Farm upgrades LED is a high-performance, full-cycle top-lighting solution for commercial horticulture cultivation, with the power to scale from vegetative growth to higher light intensities in bloom. It was designed for commercial growers to push the envelope with high-PPFD cultivation practices along with sophisticated CO2 supplementation.

Designed with Samsung 301H chip, higher light intensity, less light decay, better lumens and PAR values than ordinary LEDs. It runs at a lower temperature and can bring higher energy conversion and longer life. This grows light is a full-cycle lighting solution for all growing environments including wet situations and is ideal for greenhouse or indoor lighting.

Flowering period: turn on the light for 12 hours, the humidity is 45-50%.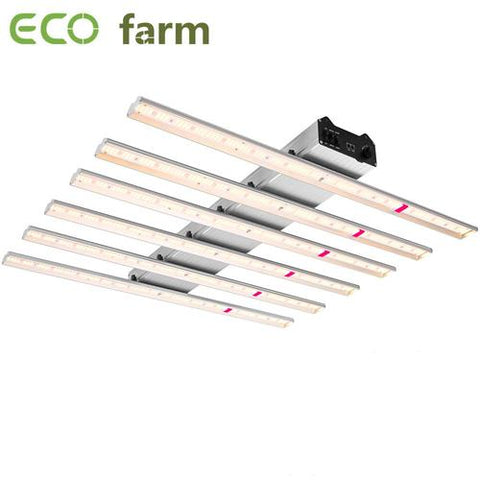 Description:
ECO Farm ECOX series dimmable three channel dimming light strip is more suitable for indoor plants whole grow stage. The dimmer knob to adjust according to the needs of the plants, in order to obtain perfect growth performance, which enhance high yields to obtain the ideal harvest.
Easy to install, high energy efficiency with 2.9umol/J
ECO Farm ECOX light uses full-spectrum white samsung 301B diodes, 660nm deep red diodes, 730nm IR diodes, 395nm UV diodes, which provides desired needs for plants seedling to harvest growth with full spectrum led grow lights and provides better light-spectrum coverage, maximum PAR output at various distances.
ECO Farm led grow light makes your home grow life quiet, and this growth lamp used reliable driver and high effective aluminum heat sink to ensure heat dissipation and long lifespan.
If you have any questions, please contact us and we will respond to you as soon as possible. 
Our emails address is: business@ecofarm.ca
Contact:
WhatsApp: +1 206 581 5521