Most growers agree that harvest time is the most rewarding part of the growing cycle. After months of raising your seedlings into mature, bud-laden plants, you're finally able to sample the fruits of your labor!
However, you still have work to do; you'll need to properly prepare your flowers for drying, curing, and storage. Do it correctly, and you'll have buds that look, taste, and smoke better. And it's worth your time and effort.
Trimming the sugar leaves off your buds after clipping branches off the plant. Remember those pristine and nugget-like buds at your local dispensary or coffeeshop? Those are the result of manicuring. Leaves contain more chlorophyll than the flowers (buds), so they will always feel more acidic in your throat when burned. Getting rid of those leaves will make the buds smoother and easier to smoke. Trimming your medicinal plants also improves THC concentration. Leaves, by nature, have a lower concentration of trichomes.
Tools
Pruning snips
Pruning shears
Disposable rubber gloves (thin latex medical gloves, not the thick dishwashing gloves)
Three trays or cookie sheets (one for the cut branch, one for the trimmings, and one for your finished bud)
Rubbing alcohol (for cleaning)
Rag (for cleaning)
When to Prune Your Medicinal Plants
Annual plants like basil, cilantro, tarragon, and lemon balm benefit from constant, light pruning throughout their growing season, which runs from early spring to early fall.
Evergreen perennial plants like rosemary, chives, oregano, thyme, and sage can survive year-round. These medicinal plants require occasional hard pruning about once a year, usually in the spring, at the beginning of a growing season. Pruning medicinal plants really helps keep their size and spread in check and encourage fresh, flavorful shoots instead of overly woody stems and muted flavor.
How to Prune Your Plants
Control upward growth

. By pinching off flower buds whenever you spot them, the plant's energy is redirected towards new growth, allowing it to grow fuller and bushier on the sides. A plant's flavor is usually dulled after it flowers, so keep the buds in check for quality and taste.

Remove dead or dying stems

. Using a pair of shears, remove any unruly or sickly looking branches down to ground level whenever you spot them. The same goes for yellowing or browning leaves. This is especially important for perennial, woody plants, which continue to grow through the winter. In the spring, old branches can be cut back by a third, before a round of new growth begins.

Make calculated cuts

. Tipping is a pruning method in which small shears or scissors are used to snip a couple of inches from the top of the center stem to encourage the growth of new branches. This method works best for annual plants that require light pruning.
Here are some shears in ECO Farm which can definitely help you doing your trimming:
ECO Farm Pruners Fast Heavy Duty Garden Shears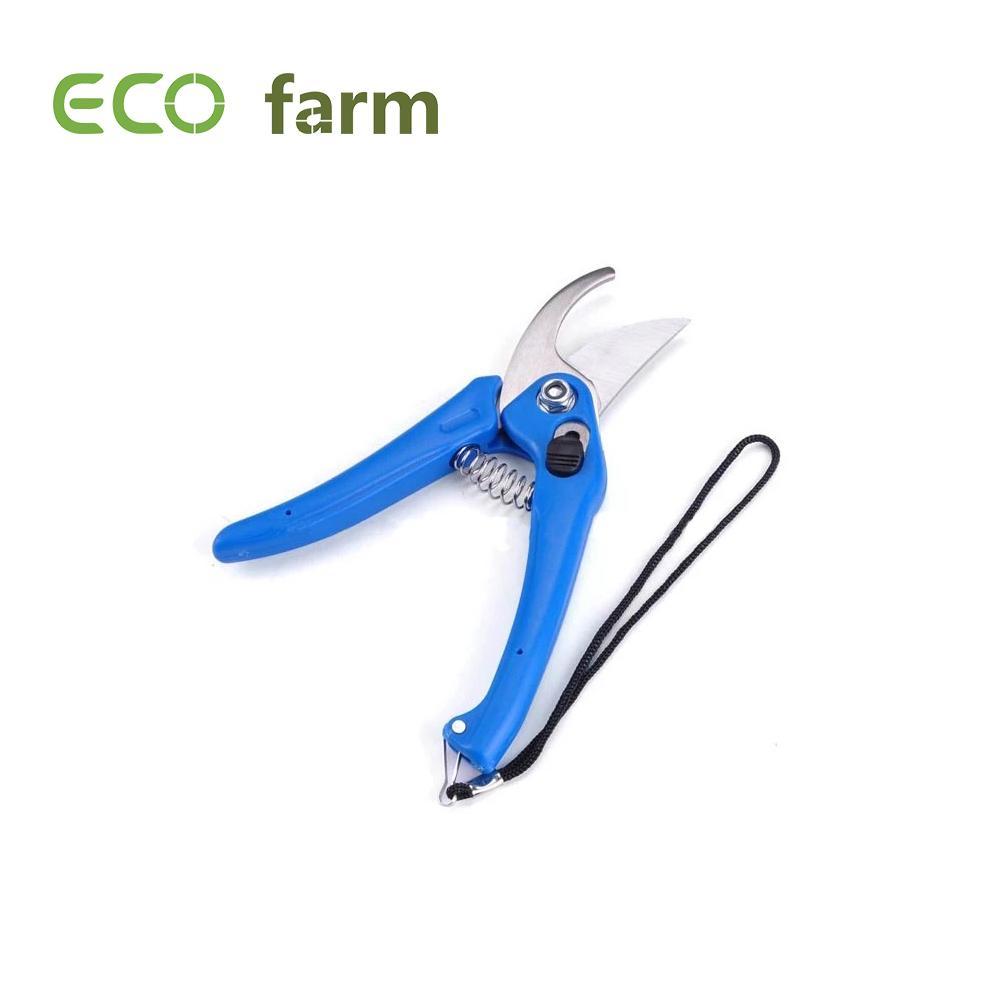 Reduce hand pressure: The scissors use soft grip handles, sharp stainless steel blades and quick-release springs to eliminate the daily pressure caused by long-term trimming.
Professional design: Our pruning shears are not only durable and light, but also made of high-quality super-sharp stainless steel blades, soft handles, comfort, quick-release springs, and easy to use.
Suitable for all types of gardening: These extra durable pruning shears are a must-have for hobbyists or commercial growers who care about product quality and love to trim flowers by hand. Whether it is pruning stems, rhizomes or pruning flowers, we believe that these scissors can help you get the job done.
More precise cutting: Whether you are trimming standard stems and flowers with our straight blades, or you need a perfect angle to reach hard-to-reach areas with a curved blade, we can meet your needs. This combination will make your medicinal plants, bonsai, tomatoes, roses or succulents look beautiful and eye-catching.
Curved stainless steel blades to prevent rusting.t
The handles have comfortable rubberized sides.
Overall length is about 6-5/8 inches.
ECO Farm 40/60MM Bonsai Garden Shears
ECO Farm doesn't need to worry about overusing this bonsai pruning kit. Designed to stay sharp even through the most vigorous use.
Titanium coating blade is three times harder than steel, and more durable over traditional blades.
Ergonomically designed handles minimize hand strain and maximize comfort while pruning. Rubber grips keep them safely and securely seated in your hands, allowing you to make precise cuts.
ECO Farm bonsai shears snips come with stainless steel precision-sharpened blades and are ready to tackle all of your deadheading, trimming, and shaping needs for your daily pruning and gardening.
Using this pruner will easily reach stems inside bundles, the roots of plants that you want to cut with one-hand and without damaging the other vital stems and branches of your other plants. Ideal for hydroponics and indoor medicinal plants
Size: 40mm 60mm.
Surgical stainless steel holds a sharper edge longer.
Skidproof cushioned grip handle.
Ultra-light simplistic design.
Excellent for floral pruning.
Conclusion:
If you want your medicinal plants garden to grow into its most luscious, abundant self, then you need to know how to prune. Pruning is essentially snipping off leaves and some parts of stems of your plants, which will prompt them to continue to grow. In doing so, you can control the shape of your garden, as well as its size!
And you are welcome to visit our official website for more information.
Our emails address is: business@ecofarm.ca
Contact:
WhatsApp: +1 206 581 5521