Maintaining constant and healthy levels of humidity is essential for healthy plants. When the humidity levels drop inside your greenhouse, photosynthesis slows down, and your plants can be susceptible to disease. Unless your plants are designed to withstand dry conditions you will need to buy a humidifier to maintain healthy levels. If your plants are designed to withstand dry conditions, consider a dehumidifier instead. Keep on reading to check out our top picks and learn about picking the right humidifier for your greenhouse.

Humidity refers to the amount of water vapor in the air, and some plants simply need more humidity because their root systems aren't designed to hold enough water. Humidifiers measure the level of humidity and restore it to optimum levels, helping the plants thrive, so they're more potent at fighting off infections and diseases. Check out our top picks.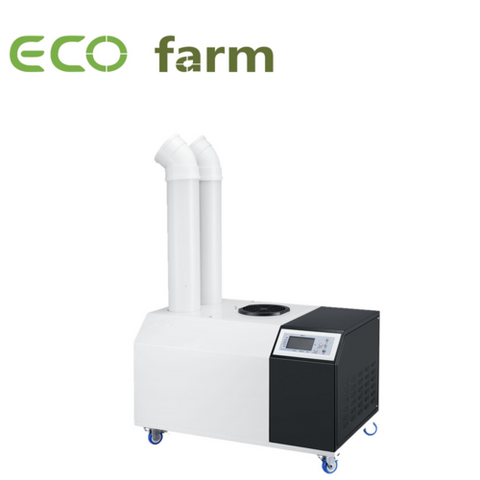 ECO Farm

 

ultrasonic humidifier adopts integrated atomizing module, replaceable chip, easy maintenance, can be operated on site

ECO Farm

 

ultrasonic humidifier has high humidification efficiency (close to 100%), high humidification intensity, small and uniform fog particles, which can quickly reach the required relative humidity
The integrated atomizing movement has its own water protection device, which can effectively ensure that the atomizing movement will stop working automatically when the water level is too low. There is no need for additional equipment, saving cost
The control mode of ECO Farm ultrasonic humidifier is flexible and convenient, and the humidity is automatically controlled.
Humidity digital automatic control, control system equipped with imported humidity sensor, high control precision, quick response. After setting, continuous work, no need for personnel duty

ECO Farm

 

ultrasonic humidifier adopts stainless steel box, beautiful appearance, corrosion resistance, long service life
The equipment is equipped with high-performance automatic water solenoid valve, overflow port and discharge port, etc., easy to use, safe and reliable
ECO Farm ultrasonic humidifier has been tested repeatedly and tested for many years, with compact structure and reasonable collocation. No noise when working, high effect of liquid atomization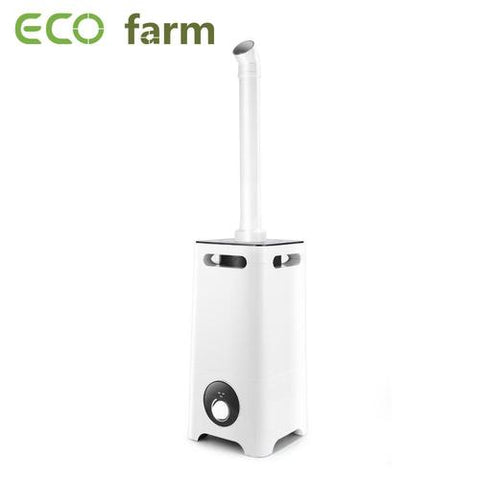 Large Capacity: ECO Farm ultrasonic humidifier with a 13 L huge water tank, atomization amount of 1000 ml/H, mist output can be adjustable.
Low Noise: a low noise ultrasonic humidifier, 38 to 58 dB of operating noise. which quietly humidifies, far from these annoying noises.
Guarantee of safety: When the machine is in a state of water shortage, the humidifier automatically switches off and does not burn the machine.
Application: 60-120㎡ of large area, suitable for large dry greenhouse, commercial plant cultivation, flower farms, fruit and vegetable supermarkets, and other large humidification areas.
Easy to Use & Clean: The humidifier uses a large diameter water inlet, which can help you quickly fill the water. In addition, you can also clean the water tank by the water inlet to keep it clean.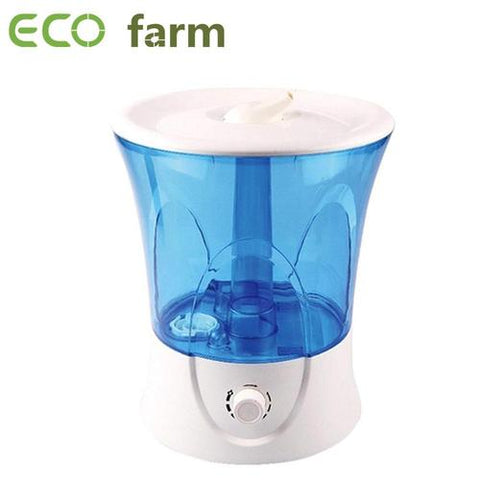 ECO Farm humidifier must be the one you're looking for. It pumps relief immediately and effectively! Increases humidity in dry grow room.
8L Extra Large Water Tank: ECO Farm humidifier is made with an impressive 8L super large water tank that keeps your grow room-humidifier right on chugging for over 28 hours on a single fill!
No Noisy: No humming, whistling or crackling as this durable Whole greenhouse humidifier steadily and efficiently dispenses the soothing cool mist you plant crave. Providing enough water to your plant.
Multiple Mist Settings + 360 Degree Rotating Nozzle– This Humidifier was designed with a super simple control dial and 360° rotating nozzle so that you can fully control and customize the mist output and mist flow direction.
Automatic Shut Off- Waterless automatic protection.No need to babysit this Humidifier.
It is made of plastic with an elegant design. It does not use any type of light when it is turned on, so plants are not stressed by any light source.
Waterless automatic protection
Mist-out mouth is rotatable at 360°C
Removable water tank with a wide mouth for easy filling
Low noise
Reduces static electricity and purifies the environment
That are all the 3 best humidifiers I recommend. 
Looking for more options and information? Welcome to visit our official website. Follow us could get the biggest discount. 
If you have any questions, please contact us and we will respond to you as soon as possible. 
Our emails address is: business@ecofarm.ca
Contact:
WhatsApp: +1 206 581 5521