Setting up an automatic watering system is an excellent idea to help you to fertigate most efficiently. We have complete plans and instructions to build your own "DIY Automatic Watering System". Whether you follow our plans or use a different system, the guidelines here will help you to avoid the common problems and make the most out of auto-watering medicinal plants.
Automating the watering process for medicinal plants
The easiest grow methods to automate are water-based set-ups – hydroponics, aeroponics, and aquaponics – but soil-based techniques can benefit from automated watering systems, as well. Regardless of which cultivation method is used, careful planning and set-up are crucial.
To begin the automation process, gather your supplies. You will need the following materials:
Flood Tables: These large, grooved trays are necessary for catching water run-off and protecting plants from over-saturation. They can be tilted slightly to help control.
Water Tank: The water tank necessary for an automated medicinal plants grow room must be large enough to hold one week's worth of water – any more, and the nutrients will expire; any less and labor will increase. Calculate two liters of water per plant per day to determine the volume of your water tank.
Water Pump: The submersible water pump should pump no more than 1000 liters per hour per square meter (enough to water about 16 plants). The pump will be placed inside of the water tank and must be cleaned regularly to prevent nutrient buildup. At a minimum, it should be cleaned before each grow cycle.
Watering Pipes: The tubes that transfer the water to the plants, watering pipes often come in two sizes: a large main pipe that pulls the water from the tank and smaller secondary pipes coming off the main pipe to water the plants.
Air Pump: The air pump serves two purposes: it oxygenates the water and keeps nutrients from settling. An air stone, which produces smaller bubbles than an average pump, keeps oxygen bubbles small and easier to mix.
Plants: The whole setup is futile if there are no plants to use it! Though hydroponic medicinal plants can use automated watering as clones, soil plants should begin auto watering during the first week of flower only.
After gathering your supplies, it's time to set up your automatic watering system. Set up your flood table so that it is easy to collect and dispose of run-off. Note that you will not want to reuse the run-off, but you will want to test it to ensure proper nutrition.

Next, add enough distilled water and nutrients to your water tank to feed your plants for one week then add your water and air pumps to the tank, as well. Connect the air pump directly to an outlet and the water pump to an outlet timer which you will later use to set your schedule.

Next, measure how much water is pumped through the system by placing a measuring cup at the end of one secondary pipe (connected to the main pipe which is connected to the water pump) and turning on the system for exactly one minute. At the end of the minute, measure the water in the cup to determine how many minutes it will need to run to pump two liters per plant. Lots of math – grab a pen and paper.
Finally, set up your plants. The grow medium in which the plants are held will largely determine the frequency of the water cycle – coco coir dries considerably faster than soil, for example. Before you let technology take over, monitor your plants to determine how frequently they require watering. If the top inch or more or the medium is dry, it needs watering. If the medium is still moist, hold off for a while.

Track your grow medium's moisture level closely for at least one week for the best results. Remember to check for pests and stress throughout the grow cycle (at least once each week) and remedy concerns promptly.
Here are three easy set up hydroponics system:

54 sites hydroponic grow kit - Layers: 2; Pipe Quantity: 6; Hole Quantity: 54; Pipe Size: 2.5"x31"; Planting Basket Size:1.7"x1.7"x1.8"; Spacing between Holes:3"; Sponge Size:1"x1"x1"; Hose Length: 51"; Overall Dimension: 39.8" x 14.9" x 31.5". The appropriate dimension provides enough space for you to enjoy fresh vegetables, flowers and other plants.

Premium food grade PVC-U - this hydroponic grow kit is made of food-grade PVC-U for long-term use. Oxygenated water and nutrients are delivered directly to the roots for better growth.

Pump for water circulation - our grow kit comes with a DC 12V 1A 4W water pump for better water circulation. The pump should be immersed in water to avoid damage, and it is suggested to put it into a 20L water tank(not included).

Easy to install & use


Wide applications - the growing system is suitable for leafy vegetables in your home, garden and office. It is ideal for planting lettuce, rape, celery, beets, strawberries, tomatoes, etc.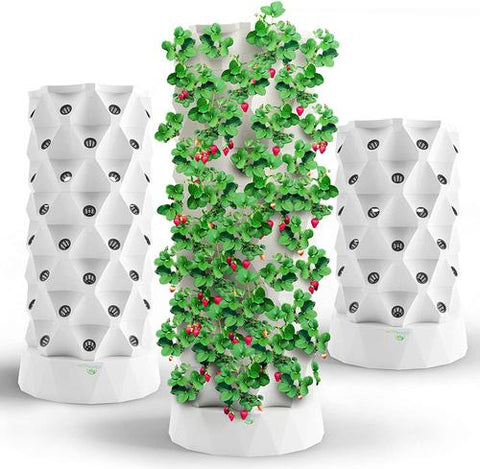 Vertical cultivation planting system: It is composed of multiple cultivation bodies and multiple planting baskets, which are combined into a circle with 8 cultivation bodies. It is soilless cultivation and only needs water and nutrient solution, which can realize green planting without pollution.

Automatic Planting Job: After you settle down this hydroponics growing system, It can automatically start to work when you connect the water and power on.You will get a significantly higher yield that grows faster consistently.

Highly Efficient Water Savings: It will saving about 90% water than the tradition planting way. Also this is soilless cultivation, Just need the water and plant nutrient solution, it can realize green planting without pollution.

Food Grade Material: Made of food-grade ABS, this hydroponic grow system produces high-quality plant that are more nutritious and better-tasting than soil-gardened produce because oxygenated water and nutrients are delivered directly to the roots.

Easy Assemble and Use: This hydroponic grow kit is very easy to assemble by everyone, Design for fast, maximum-convenience vegetable gardening. Perfect for beginners! No experience needed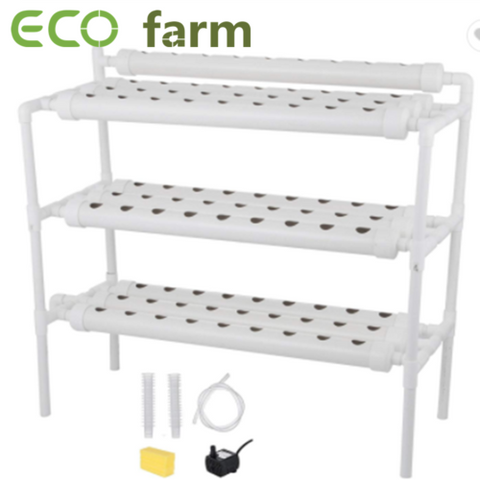 Clean & Environmentally Friendly: Soilless cultivation with Nutrient Film Technique can meet the production potential of crops; Compared with traditional soil cultivation, the yield can be doubled; Requires less water and less space

The pump is more durable, saving nutrient solution, and making vegetables better growth

Simple to Assemble & Use: The pipe kit is simple to install but must be installed in accordance with the instructions. This water culture garden plant system is extremely simple to assemble and use; Great for beginners; No experience required; It is easy to take care of, no arable land, saving time and energy

Prepare your seedlings, nutrient solution and bucket.


Place the hydroponic equipment in a sunny place and illuminate it to prevent vegetables from becoming malnourished in low light
Conclusion:
Generally speaking, the more you can automate, the less you can mess up. This is not to say that automation should replace the manual maintenance of medicinal plants crops, but it does mean you can accomplish more with less effort.

Though the light cycle and photoperiod manipulation is the easiest part of the medicinal plants crop to automate – just plug your lights into an outlet timer and set it up accordingly – it's not the only part of a medicinal plants grow you can automate. Automated watering takes a lot more practice, planning, and patience (and math!), but it pays for itself with healthy, happy plants that will thrive even if the parents leave town for the weekend.
Looking for more options and information? Welcome to visit our official website. Follow us could get the biggest discount. 
If you have any questions, please contact us and we will respond to you as soon as possible. 
Our emails address is: business@ecofarm.ca
Contact:
WhatsApp: +1 206 581 5521