While we were all taught that plants only need soil, water, and sunlight to grow strong, our science classes neglected to mention that the plant growth process has some cheat codes — like a specially designed heat mat. Plant heat mats are incredibly helpful in seed germination and plant propagation, especially during the colder months of the year.

Whether to kickstart the seed germination process in a controlled environment or to keep small plants and seedlings warm during the winter, read on to discover which is the best heat mat for plants.
What To Look For In A Heating PAD For Plants
Plant heat mats, also known as seedling heat mats, are used mostly with seed germination and plant propagation to help it grow at the sweet spot temperature (around 70–90 degrees Fahrenheit). With this temperature, seed growth and plant cloning become much easier. To guarantee that a heat mat is right for you, here are some things you should look out for in your search:
Using durable materials for the heat mat not only ensures that it lasts long but also that it's safe to use. These refer to the top and bottom layers of a mat, the internal heat layer, and a secure power source. All these materials should work hand in hand to evenly warm up a unit without getting too hot.
Water is crucial to plant growth and the chances are you'll have to water your plants while they're warming up. Water-resistance is necessary, especially for those intending to keep a hydroponic garden. As something connected to electricity, waterproofing helps with safety and cleaning. To be sure, look out for an IP67 or IP68 rating, for dust protection and water resistance.
To make sure you're buying something that won't cause more problems in the future, safety certification is necessary. There are many safety certifications to choose from but popular ones include MET (Eurofins) Certification and UL (Underwriter Laboratories) Listings. Both seals ensure that a product has been tested and has met their safety standards.
Temperature controls help minimize the supervision a mat needs since it manages the temperatures that you're looking for, rather than you checking on it constantly while it's plugged in.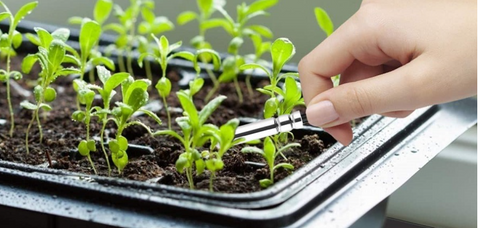 How To Choose A Seeding Heat Mat
Although many heat mats are built with similar features, nothing is perfect and some serve certain uses better than others. Here are a few questions to ask yourself to help you choose which heat mat will work best for you.
What Are You Using It For?
If you'll be using it to more quickly germinate seeds, for hydroponic gardening, or even for brewing and fermentation projects, then different features come into play. It would also be good to know what kinds of seeds and cuttings you'll be growing since different plants work best under different heat and humidity conditions.
How Big Do You Need It?
The standard heat mat size (10 x 20.75 inches) can fit one seedling tray but mats are also available in bigger and smaller sizes. A smaller mat is good for small plant projects in tight spaces while a larger size is ideal for growing large batches of plants and could also work for fish tanks and reptile enclosures.
Do You Need It To Meet A Specific Temperature?
Heat mats generally warm up the area but some gardeners need to achieve a specific temperature for their plants. For specific temperature conditions, a thermostat would be needed. This accessory can come with the mat, as a separate purchase, or not at all, depending on your preferences and needs.
If you love growing, you must also need LED grow lights. Here are three good grow lights for you.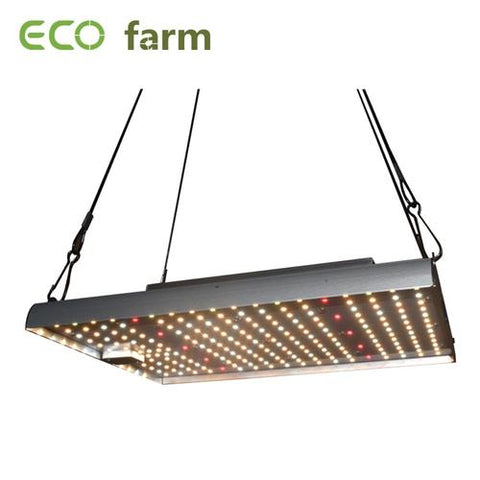 ECO Farm full spectrum 120W/240W LED grow light is suitable for all plant stages of growth. This light allows you to adjust the height according to the growth stage of the plant, such as a seedling, vegetative, flowering and fruiting stage.
3500K color temperature + red light full spectrum for flowering and full-cycle.
Passive heat sink (no fan)& large-area solid aluminum heat sink.
Adjustable high safety performance MeanWell driver.
Comes fully assembled plug and play.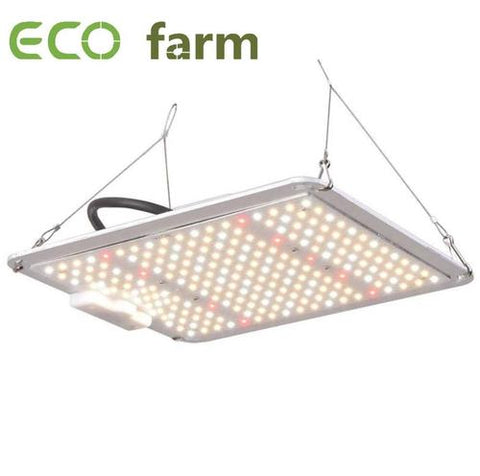 ECO Farm 110W/220W/450W/600W quantum board consuming true output. Using high-quality MeanWell driver and Samsung 301B chip could up to 2.7 umol/J efficiency.
Excellent full spectrum waterproof ECO Farm quantum board: white, blue, red and IR (380nm-800nm, 3000K, 5000K, 660nm and IR 750nm), provide everything plants desired in the natural sunlight. Could meet the plants' demands on the full grow phases of seeding, booting, leafy, flowering and fruiting.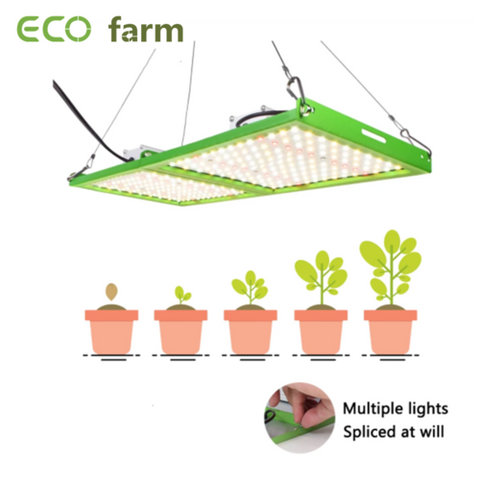 LED Chips: using Samsung 281B chips with luminous efficiency up to 2.5umol/j
Driver: select high-quality UL certified power supply
Spectrum: Full Spectrum 3000K, 5000K, 660NM, 730NM, 380NM
Can be freely spliced into lamps of different wattages and sizes
High power, support for input series connection
Support free splicing, you can open the distance between two or more quantum board brackets to expand the irradiation area
Warranty: 3 years
Certification: CE RoHS FCC
Application environment: can be used in dry/humid greenhouse
Looking for more options and information? Welcome to visit our official website. Follow us could get the biggest discount. 
If you have any questions, please contact us and we will respond to you as soon as possible. 
Our emails address is: business@ecofarm.ca
Contact:
WhatsApp: +1 206 581 5521