It may seem like a simple procedure to grow medicinal plants: "Push a seed into the ground, water it, and watch it grow."

But when it comes to growing your own high-quality medicinal plants at home, this rudimentary beginning can quickly become far more challenging in order for you to be successful in eventually reaching your lofty horticultural goals.

Growing quality medicinal plants outdoors can be highly dependent upon the regional environment and climatic conditions in the locale where it is being cultivated.

Like it or not, medicinal plants tends to do far better when grown in a warm, dry, sunny climate than it does in areas with a reputation for colder and more in climate weather.

Hence, more and more people involved in growing their own medicinal plants are now choosing to move the operation indoors via a grow kit, where every aspect of the cultivation process, from temperature, humidity, and hydration, can be carefully controlled.

Today, however, fledgling medicinal plants growers virtually everywhere can take advantage of a new generation of simplified medicinal plants growing kit that comes complete with just about everything you need to produce high-quality, mind-bending medicinal plants within a compact and highly controlled environment right within the walls of your own residence.

Our medicinal plants grow kit buying guide offers a compilation of insightful, well-researched suggestions to help you find the very best medicinal plants grow kit that will align with the space and production capacity that you require to meet your individual needs.
The best medicinal plants growing kit will generally include:
An indoor grow tent
Heavy-duty LED grow lights
Electric timer
Inline fan and carbon
filter
Thermometer
Hygrometer
Hanger and drying racks
Grow kit pots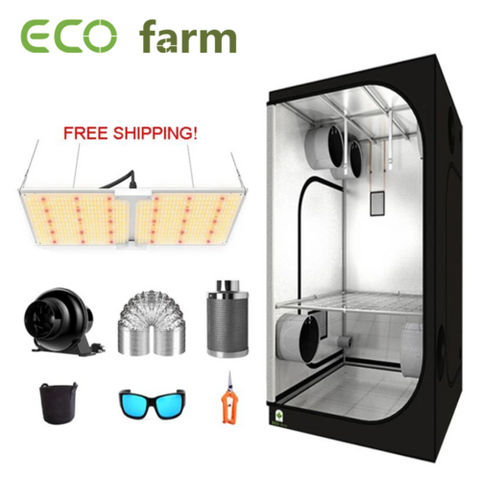 Description:
ECO Farm grow kits are simple to set up and makes it easier to begin growing.

The first benefit of buying a ECO Farm essential grow tent kit is that it's compact. Even if you have a small apartment with little closet space, you can set up a Essential grow kit there.

ECO Farm essential grow tent kits are moveable, so you can take them with you wherever you go. This is especially useful because grow tent kits are a big initial investment. Being able to pack up them up with you saves costs of setting up a new growing operation.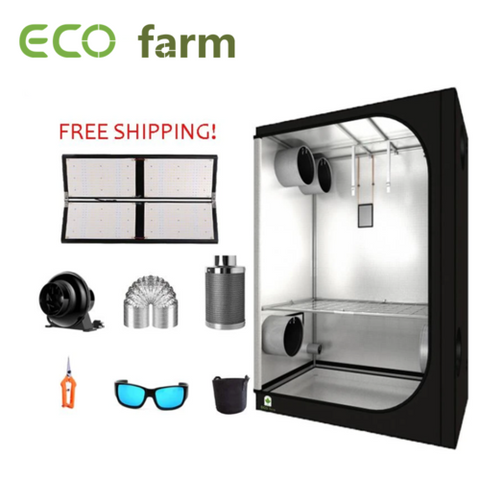 Description:
Grow Light: Featuring a user friendly "Full Spectrum" design, you can easily grow your plants in any growth cycle required like germination, seedling, veg, flower.
Ventilation Kit: The complete combo for odor elimination. As the high flow inline duct fan passes through the tiny honeycombs of the charcoal filter, odor molecules and other harmful substances are then trapped within the carbon, while clean air passes through the filter and exits.
Grow Tent: 96% highly reflective waterproof diamond mylar (enhance the reflective effect). 600D high-reflective Diamond Mylar, large heavy duty zippers & double stitching for protection against light leaks.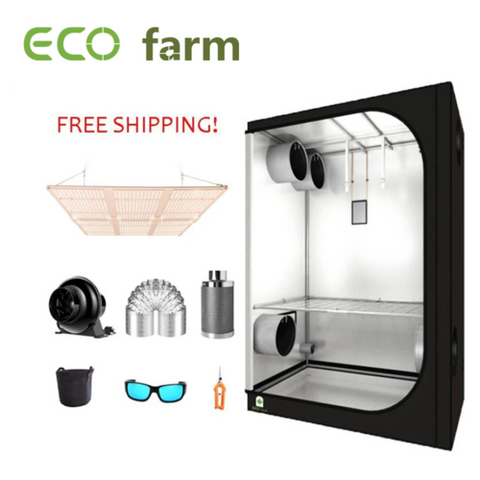 Description:
ECO Farm is proud to bring to you ECO Farm grow kits with all the features you have been looking for, at a price you will love. Everything you ever wanted in a grow tent and more!
Design, construction, materials, and value were all at the heart of this new collection of tent kit, and we cant wait for our customers to start enjoying them today!
These tents are designed based on features of the top brands in the market, and now include even more to enjoy. Reinforced plastic corners for higher durability, unique intake/outlet ports allowing for power cord access, lightweight for user friendliness, and customized silver coating and secret stitching designs for increased light proof ability.
This tent kit is very small and convenient can easy to install. You can grow what you want even in your house.
Conclusion:
One of the nice things about buying a complete grow kit is that you can start small with a more basic, inexpensive medicinal plants growing system, then after you have successfully completed several growing cycles and become more acclimated to the process, graduate up to a more sophisticated medicinal plants growing kit that may cost more, but will dramatically increase your yield of sticky, stony buds.

Buying a grow kit also saves you time and money by avoiding all of the efforts it would take to round up everything you need to grow medicinal plants while paying a high market price for having to purchase each one of them individually.
If you have any questions, please contact us and we will respond to you as soon as possible. 
Our emails address is: business@ecofarm.ca
Contact:
WhatsApp: +1 206 581 5521