If you've ever seen Medicinal plants growing indoors or in a greenhouse then you'll most likely remember a tightly packed canopy of buds. Medicinal plants growers call this the Sea of Green Method (SOG). The benefit of growing Medicinal plants using a SOG is to accelerate bud development to gain large yields as quickly as possible. This method of growing calls for more plants per square foot and a short vegetative stage. The most popular benefits of a SOG grow include:
high yields
quicker harvests
efficient space utilization
efficient use of resources
When growing plants using SOG you will get bud sites quickly since you don't need to "top" the plants. The faster the buds form means more harvests you can fit in a year. For Medicinal plants businesses or anyone else whose goals rely on consistent harvests of big yields, SOG is an important method for speeding up your crop cycles for consistently high yields.
How to Use the Sea of Green (SOG) Method
It's simple to begin growing in a Sea of Green in just a few simple steps, but first, you'll want to consider that:
The SOG method works best with medicinal plants genetics that are more compact since you will be placing plants close together
The medicinal plants should all be the same height to create a uniform canopy. That's why we recommend sourcing your starter plants using cutting propagation or tissue culture methods
It seems simple, right? Well, for the most part, it is. The difficulty comes when you need to adjust environmental parameters and genetics to improve flower yields. Luckily, we've got the lighting part of the equation dialed in for you:
When your medicinal plants clones are starting out, light them with 150-200 micromoles and gently increase to 550 micromoles for the vegetative stage
Set your lights to a vegetative setting (18 hours on and 12 hours off) for the duration of the vegetative cycle
Plan to slowly transition your plants from the vegetative to flowering stages by gently increasing from 550-800 or more micromoles. Generally, more light equals better Sea of Green yield per square foot, with 1% light equal to 1% yield up to a threshold
Change your lighting to a setting of 12 hours on and 12 hours off. Lighting at 12 hours will induce the flowering stage
Helpful Tip: You can use specialized LED grow light software to automatically adjust lighting intensity when transitioning between growth stages.
When setting up your grow room, consider these tips when setting up your SOG environment:
You will benefit from CO2 enrichment in vegetative and flowering stages, up to 1500 ppm
Vapor pressure deficit is a helpful number you can use to dial in your temperature and humidity
Decrease humidity when transitioning to the flowering stage to prevent the spread of disease
To get your grow room lighting, temperature, humidity, VPD, and CO2 right, use the helpful SOG growing guide below and get started in no time!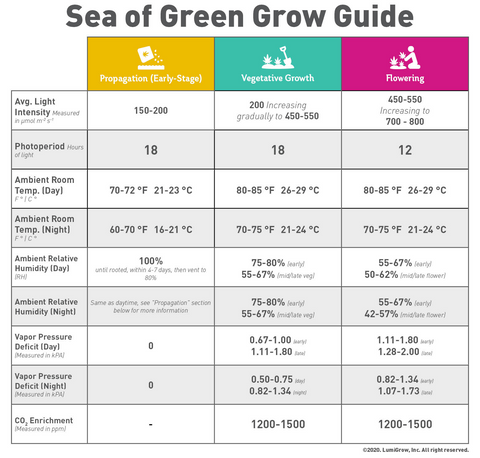 The following are three best LED grow lights: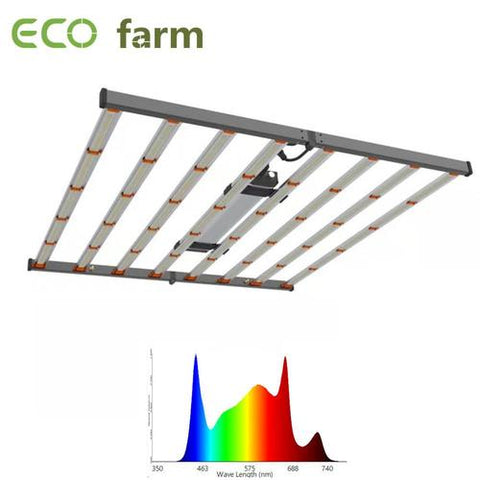 Maximum yields & high quality: Durable IP65 waterproof aluminum material used, Samsung LM301H/ LM301B/LM281B led chips and Osram power, high efficiency is 2.5 umol/J, delivers powerful light output and uniform canopy penetration to resulting maximum higher yields. PPF is 2000 umol/s, maximize yield with 50% higher Average PPFD, achieve 60% higher yield & quality compared with the traditional led lights. Consume power is 400W/650W/800W, make it a high-end&high-performance commercial grow light.
User-friendly dimmer suits full-cycle home horticulture. Wider 8-bar light for even & broad canopy coverage.
Reality full sectrum grow light: utilize the latest in high yielding LEDs technology today, max yield Spectrum with enhanced 660nm led chips and warm 3500K led chips, it speed up blooming & fruiting stages, perfect for Density Buds.The light could be used for commercial,home,grow tent,grow room, hydroponic,soil growth. this 800W led grow ight is best for 6x6 FT growth.
The light is great in heat dispersing & 50000 hours lifespan, drop 50% in electricity bill than HID lights!
Dimming design would also enable the exact dynamic PPFD control over each of plant growing stages, its growers' best choice LED grow light.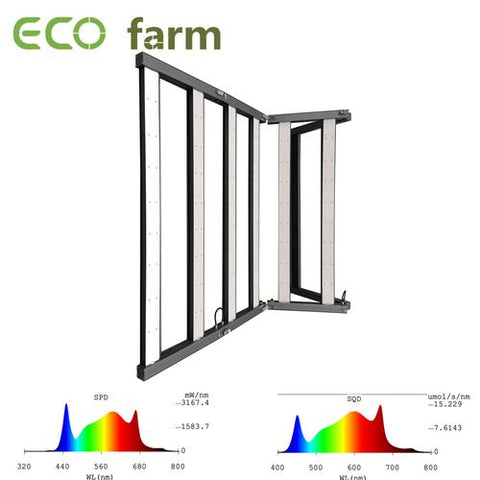 ECO Farm 780W/960W LED grow light with high-intensity, full-spectrum fixture that is designed to cover a 4' x 4' to 5' x 5' space for full-cycle or flowering growth.
It has a 120° wide beam angle to provide excellent light distribution and cover a large area.
Combined with 3 or 4 even-sized parts, each part can be folded. This design helps us do easier shipment packing, and you can store it easier.
With manual dimming knob and controllable dual-network port R14, suitable for smart light controllers to connect up to 200 LED lights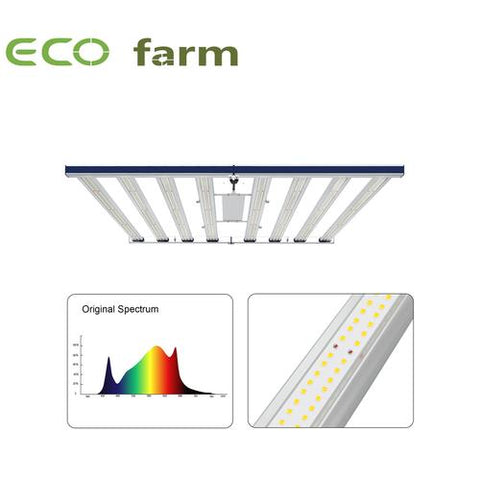 ECO Farm ECO-Net Series 680W/1000W provides highly efficient spectrum with a healthy red-to-blue ratio to drive photosynthesis Light energy between 500-599nm, which penetrates deeper into the plant canopy promoting photo morphogenic responses. High color rendering "white" light aids to rapidly identify potent al threats to your crop and provides superior working conditions and safety for personnel. Ideal for both flowering and vegetative production.
Harvest Skynet·180°folding design, low shipping cost and easy installation .
Excellent heat dissipation structure design.
Al6061 alloy allows high temperature resistant and corrosion resist a·
Full - spectrum meets every stage of plant growth .
High PPE up to2.73-2.75umol/J.
Ok, that's all. Looking for more options and information? Welcome to visit our official website. Follow us could get the biggest discount. 
If you have any questions, please contact us and we will respond to you as soon as possible. 
Our emails address is: business@ecofarm.ca
Contact:
WhatsApp: +1 206 581 5521