Benefits of Quantum Board LED Grow Lights
Quantum Boards LED grow lights are the favorite of many people among all the types of grow lights available.

That's because of the many benefits that they bring along. We have sampled some of the most significant ones below.
Simple Heat Management
Heat management has always been a concern with many grow lights. Some grow lights emit a lot of heat and end up causing leaf burn.

You do not have to worry about any of that while using quantum boards. Quantum boards distribute heat over the board to ensure there isn't too much heat on one spot.

Also, an aluminum heat sink is easily mountable on the quantum board to ensure it stays cool.
Even Light Distribution
Quantum boards help to spread light over the grow room evenly. Some lights will cause blind spots, or have most of the illumination concentrated on one spot. Quantum boards evenly distribute illumination, which means efficient energy use. Too much illumination can also cause leaf burn. The even distribution of light by quantum boards ensures you never have to deal with such cases. Also, it ensures the crops get just the right amount illumination an ensures they are healthy. Furthermore, quantum boards rarely have blinds spots. All the light is evenly distributed over the coverage area of the grow light.
High Efficiency
Quantum boards are highly effective as compared to the other types of LED lights. At a power draw of 50 watts, a quantum board will be delivering over 180 lumens for every watt. That is quite impressive as compared to what the other LED grow lights offer. That means that these lights will be consuming significantly less energy, and hence lowering your power bills.
Pocket-Friendly
As compared to the other types of LED grow lights, quantum boards are easier to make and are hence cheaper. Setting up a grow tent and buying all the equipment can be quite expensive. Any equipment that will do the work and is pocket-friendly is always welcome. There are many other reasons why you should opt for quantum boards if you are seeking an appropriate grow light.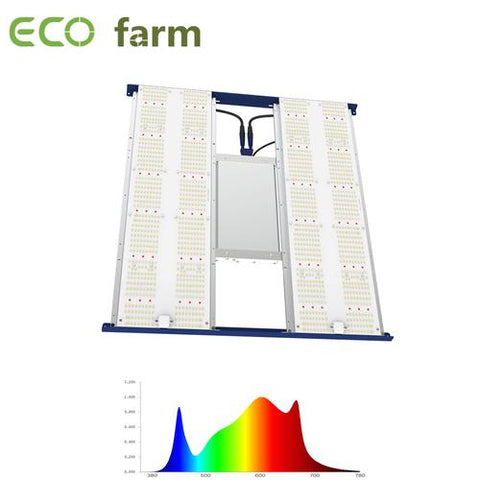 Sustainably double yield
By deploying a vertical farming cultivation system, We can increase the yield per room from 100-125 pounds per harvest under HPS to 200-250 pounds per harvest under purpose - built horticulture LEDs, while only increasing power consumption by five percent .
Achieve faster cycle time
Bench turns are faster as crops mature in eight weeks, instead of nine, which will result in 35 additional days of cultivation per year.
Provide increased uniformity
When compared to HPS, the LED lights are delivering more energy to the lower portion of the plant canopy which is resulting in higher yields for our customer, with notable improvements to flower size and weight throughout the canopy.
Higher energy efficiency conversion compared to HPS- grown medicinal plants, and terpene production increased 11 percent on average under LED.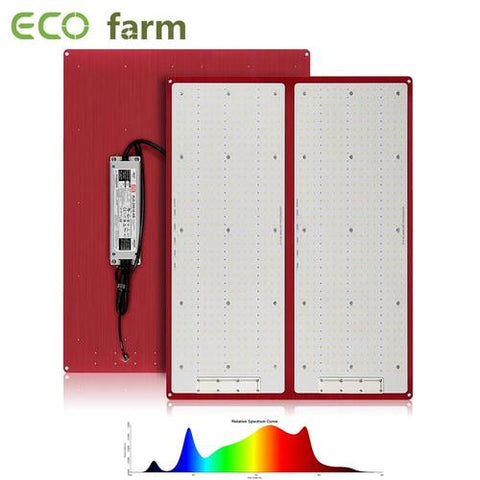 Upgrade quantum board-

 

Using the newest led technology 

samsung 301H 3500K + Red 660nm + UV+IR. That is suitable for the whole process of plant growth.
Professional Design- Superior full spectum for commercial medicinal plant cultivation with 2.6 umol/j high efficacy and 2.2g/wattt high yielding to get 50% higher yield harvest.
Working Reliably- Using high-quality samsung 301H LED chips and meanwell drivers, the light is also made of the led board is passively cooled by a large-area thick aluminum heat sink. Allowing your plants to get more energy without burning the plants for maximum space.
Water Resistant- This quantum board with waterproof design, can work normally in humid environment.
No Nosiy- A fanless design is used to provide you with a silent growth life.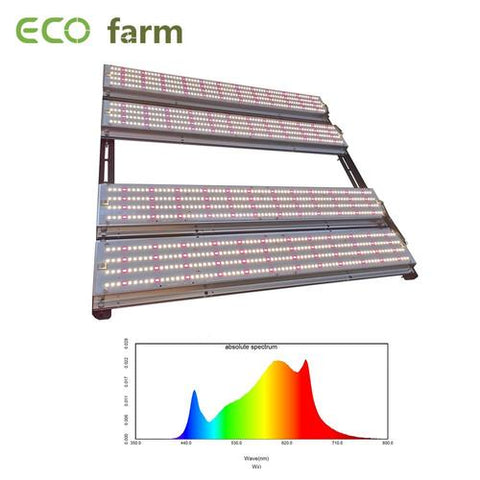 ECO Farm 480W V3 quantum board bar uses Samsung LM301H chips + Epistar Red 660nm

, p

erfect performance for veg and bloom.
Consist of 1024pcs LM301H Samsung diodes and mix 192 red diodes 660nm, equips with 480 watts Meanwell HLG-480H driver.
Grow lights deliver uniform and battery canopy light penetration, high PAR efficiency with 2.6 umol/J to maximum higher yields.
Conlusion
Well, that's all of our topic today. If you have any questions, please contact us and we will respond to you as soon as possible.