Today this artical will introduce what's the best size grow tent to run 4 plants in 5 gallon pots?
For 4 plants, a rectangular tent shape is best and the most common size is a 4×4 grow tent. That gives each plant about 4 square feet of growing space (a 2×2 area). It is actually a bit less than that, because you want to keep some space free between the plants. But this still allows for good sized plants.

It is also fairly common to grow 4 plants in a 3×3 tent, but you'll obviously have to keep them a bit smaller. Even a 2×2 tent can work, but in this case, the plants will be so small that they only have on bud site each.
Then I will recommend you some best grow tents.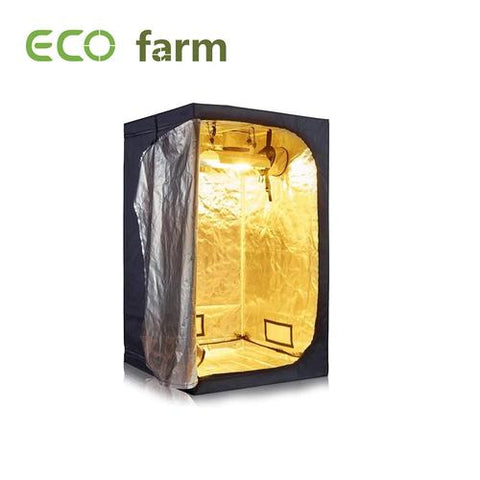 Description:
ECO Farm 4*4 FT grow tent has all stable construction, 600D oxford cloth outside and 96% highly reflective waterproof diamond Mylar inside, with exterior zippers design, ensure safety use and ease to set up. And it also has multiple vents to accommodate fans and filters.
Durable pole and solid corners, which made the whole frame structure will not shake. Large heavy duty Zippers & Double Stitching is tear-proof . 99% light proof and fully sealed unit once closed.
Easy assembly & easy clean. Best choice for indoor grow.
Pls note:  When you are using this tent, please adjust the inside flap around the zipper to avoid the zipper getting stuck.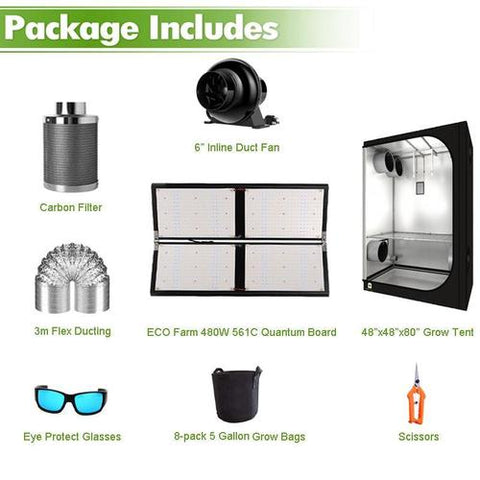 Description:
ECO Farm grow kits are simple to set up and makes it easier to begin growing.

The first benefit of buying a ECO Farm essential grow tent kit is that it's compact. Even if you have a small apartment with little closet space, you can set up a Essential grow kit there.

ECO Farm essential grow tent kits are moveable, so you can take them with you wherever you go. This is especially useful because grow tent kits are a big initial investment. Being able to pack up them up with you saves costs of setting up a new growing operation.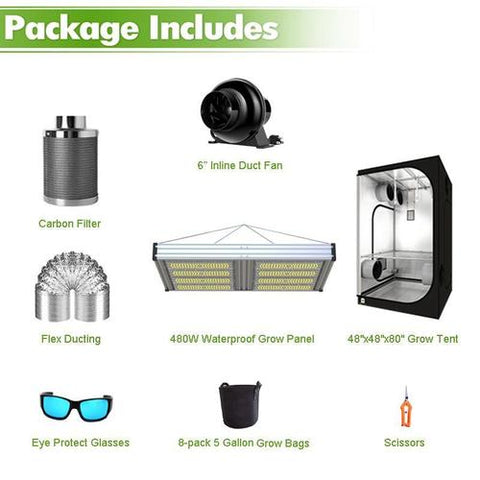 Description:
Grow Light: Featuring a user-friendly "Full Spectrum" design, you can easily grow your plants in any growth cycle required like germination, seedling, veg, flower.
Ventilation Kit: The complete combo for odor elimination. As the high flow inline duct fan passes through the tiny honeycombs of the charcoal filter, odor molecules and other harmful substances are then trapped within the carbon, while clean air passes through the filter and exits.
Grow Tent: 96% highly reflective waterproof diamond mylar (enhance the reflective effect). 600D high-reflective Diamond Mylar, large heavy duty zippers & double stitching for protection against light leaks.
Conclusion:
Hopefully, this article has given you a good idea what size grow tent you need, in order to house the specific number of plants you are hoping to grow. And now that you know the exact size of your grow space, it is time to figure out what size grow light you need to light that area in order to maximize yields.
If you have any questions, please contact us and we will respond to you as soon as possible. 
Our emails address is: business@ecofarm.ca
Contact:
WhatsApp: +1 206 581 5521