If you're looking for a soilless substrate for seed starting, stem rooting or hydroponics, consider using rockwool growing medium. This wool-like material is made by melting basaltic rock and spinning it into fine fibers. Rockwool for plants is then formed into easy-to-use cubes and blocks. But is rockwool safe to use for the production of food?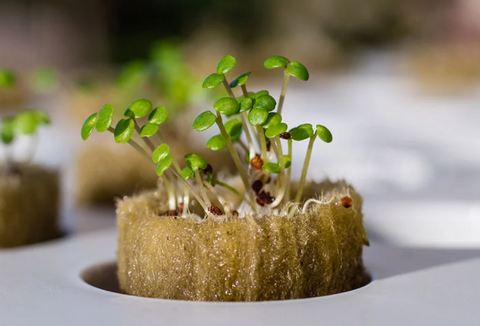 Advantages and Disadvantages of Growing in Rockwool
Safety:
Formed from natural materials, rockwool contains no harmful chemicals. It's safe to use as a rooting medium and substrate material for plants. On the other hand, human exposure to rockwool represents a health issue. Due to its physical properties, rockwool growing medium can cause irritation to skin, eyes and lungs.
Sterile:
Since rockwool for plants is a manufactured product, it's contains no weed seeds, disease pathogens or pests. This also means it contains no nutrients, organic compounds or microbes. Plants growing in rockwool require a balanced and complete hydroponic solution to meet their nutritional needs. 
Water Retention:
Due its physical structure, rockwool drains excess water quickly. Yet, it retains small amounts of water near the bottom of the cube. This unique property allows plants to attain adequate hydration while allowing more air to circulate and oxygenate the roots. This difference in moisture levels from the top to the bottom of the cube makes rockwool ideal for hydroponics, but it can also make it difficult to determine when to irrigate the plants. This can result in over-watering. 
Reusable:
 As a rock derivative, rockwool doesn't break down or erode over time, thus, it can be reused many times. Boiling or steaming between uses is recommended to kill pathogens. Being non-biodegradable also means it will last forever in a landfill, making rockwool for plants a not-so environmentally friendly product.
How to Plant in Rockwool
Follow these easy instructions when using rockwool growing medium cubes or blocks: 
Preparation: Rockwool has a naturally high pH of 7 to 8. Prepare a solution of slightly acidic water (pH 5.5 to 6.5) by adding several drops of lemon juice using pH test strips to attain the correct acidity. Soak the rockwool cubes in this solution for about an hour.
Sowing Seed: Place two or three seeds in the hole at the top of the rockwool growing medium. Water using a hydroponic nutrient solution. When the plants are 2 to 3 inches (5 to 7.6 cm.) tall, they can be transplanted into soil or placed in a hydroponic garden.
Stem Cuttings: The night before taking the stem cutting, water the mother plant thoroughly. In the morning, remove a 4 inch (10 cm.) cutting from the mother plant. Dip the cut end of the stem in honey or rooting hormone. Place the cutting in the rockwool. Water using hydroponic nutrient solution.

Net pot with holes in the bottom of these pots produce healthy roots with even drainage, which let the roots grow their own way, right down through the pot and out of the sides, allow for bigger, healthier roots.

Made of high quality plastics so that net pot/cup can be reused without crumbling. With wide lip along the top of containers.

These plant pots work with many types of media, such as hydroponics or soil-based, expanded clay pebbles, lava rocks, pumice, etc. They can also be used as a small garden with soil.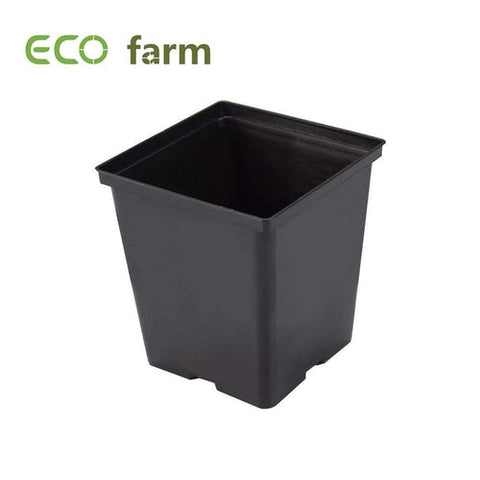 Classic square - the classic square design, layered appearance, nice-looking, inexpensive, lightweight.

Eco-friendly - made from high quality HDPE material, square nursery pots are strong and BPA free.

Durable - adopting injection molding process, ensures long lifespan and reusable.

Breathable - unique hollow bottom design with drain holes improves drainage and soil aeration, promotes plants to grow.

Easy handling - reinforced rim design for easy handling and stacking. Several sizes for your planting needs.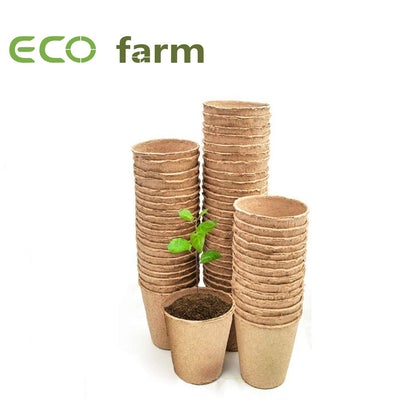 ECO friendly material: 100% natural and biodegradable pots for healthy seedlings. ECO Friendly way to grow!
Features: self-absorbing, breathable, biodegradable, suitable peat pots for seedlings, Just plant the whole pot without taking out the seedlings.
Suitable for saplings and starters. Suitable for planting flowers, medicinal plants, vegetables, strawberries, hanging plants etc.
Prevent transplant shock: seedling starter trays, by becoming one with the root ball and promoting aeration, these starter peat pots are great for transplanting plants without causing root circulation or harm.
1. Let root hairs easily go through and promote growth.
2. Easy to transplant without disturbing the roots.
3. It can be used for balcony vegetable garden, greenhouse, home gardening and other applications.
Conclusion:
Rockwool is the substrate of choice for many large hydroponic farms. But this clean, pathogen-free product is also readily available in smaller-sized packages specifically marketed for home gardeners. Whether you're dabbling with cultivating lettuce in a hydroponic jar or you're setting up a larger system, growing in rockwool gives your plants the advantage of superior root zone technology.
If you have any questions, please contact us and we will respond to you as soon as possible. 
Our emails address is: business@ecofarm.ca
Contact:
WhatsApp: +1 206 581 5521