When you decide to use LED grow lights, you put yourself and your plants at a great advantage. LEDs are the only lights capable of providing plants with the exact light spectrum they need for all stages of the grow cycle. In addition to offering the highest quality of light, these lamps use the least amount of energy to function. They also emit very little heat, so you save on cooling expenses in addition to the reduced cost of operation.
There are several LED grow lights designed specifically for 48X48X80 Tent foot grow spaces. These specific grow lights spread the light uniformly across the grow space so that even buds on the sides of your tent get enough light to grow large.
Then let me introduce you several  best light for a 5 plant setup in a 48X48X80 Tent.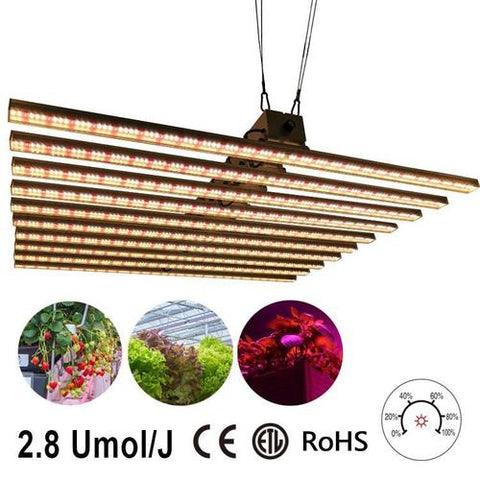 Description;
1. 220-223 lm/w High Brightness Chips~Up to 2.6-3.0umol/J~High Photon Efficiency;

2. 98% Lighting Transmittance with Tempered Glass Lens, Average PPFD 15% Increased;
3. 120 Degree Beam Structure.15% PPFD Increased by Lighting Second Use, PPFD 1Ft Up to 1958;
4. 1w>2.2 grams(Max)~561C/301B 3000k+6500k White+660nm Red+IR 730nm Truly Full Spectrum;
5. High Purity 6063 Aluminum~Great Heat Dissipation~40% E-Power Bill Saved;
6. No Noise Disturb! Full Waterproof Light(IP65 Cable+UL Driver(Inventronics and Meanwell);
7. Lighting Spread out evenly for all directions+Uniform Coverage+Biggest Footprint+High Yield;
8. Dimmable: 0-10v Auto/App/Wifi/Computer Remote Control Available;
9. Full Spectrum Combine Together with each fixture for Higher Taste Intensity (Optional);
10. All Chips in Parallel~Safe and Easy Repair~Broken Chip Never Affect other Chips Continue Working.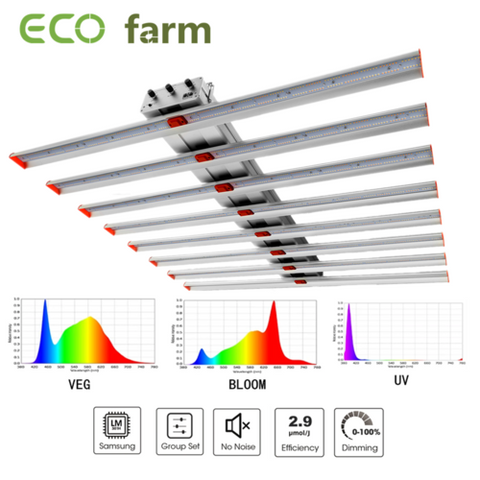 Description:
ECO Farm ECOZ Pro 700W/1000W series was the latest trend and most popular for its good design and ease of use.
Full spectrum: the light include IR and UV which is similar to the sunshine, ideal for all kinds of indoor plants veg and flower at all growth stages.
Three channels: veg, bloom, UV.
It is a perfect top-lighting solution for commercial horticulture cultivation, or a full-cycle top-lighting solution for home hobbyists cultivating.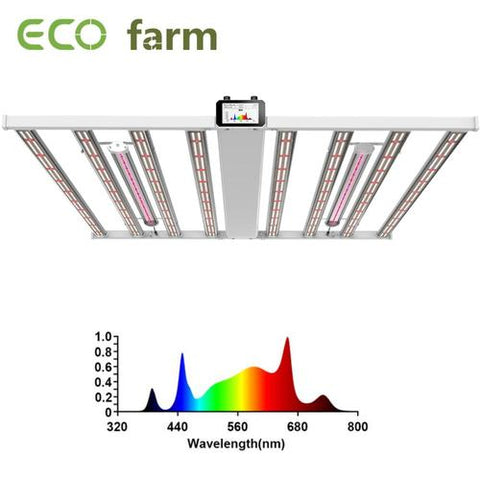 Description:
ECO Farm Master/Station version foldable LED fixture, with 8 bars, could evenly cover 4'X4' and 5X5' area.
Actual 880W light, provide powerful and quality light to the plant.
High-efficiency full spectrum light strips: 

The full-spectrum led grow light is optimized for rapid growth and complete plant development. Using Samsung white chips and Osram red chips, could up to 2.8 μmol/J, PPF up to 2184 μmol/s.

Master version light with built-in LCD color screen, showing the detailed status of the fixture and its group members. Such as dimming percentage, wattage, amps, PPF value, spectrum, timer status.
Highlight: Built-in a control system on Master, with a step-less dimmer and five-step timer. One Master can control up to 50pcs of Stations. In other words, any changes made in Master will sync across all the connected Stations.
Spectrum Tunable. There are four types of spectrum built-in this fixture, it provides a suitable spectrum for different stages of medicinal plant growth, such as V1 for VEG stage, F1 for the flowering stage, FS for the last two weeks of flowering.
UV/IR enhanced bars was easy to install/uninstall from the fixtures. Item was our most creative mechanism design that enables you the most time-saving and convenient way to install the fixture.
Note: Our lights contain UV IR by default
If you're just getting started growing indoors, you'll likely need a few more items in addition to your grow light. The growing environment is crucial to the quality of your crop. You can run through our official website here to make sure you have everything!
If you have any questions, please contact us and we will respond to you as soon as possible. 
Our emails address is: business@ecofarm.ca
Contact:
WhatsApp: +1 206 581 5521