Training medicinal plants enables growers to increase yields, reduce pathogen risk, and improve the vibrancy of their crop. SCROG—or screen of green—is a training technique that forms an even and horizontal canopy. There are myriad benefits to creating this botanical structure.
What is the SCROG Technique?
Left to their own devices, medicinal plants grow taller than they do wide. The ScrOG technique aims to bring the lower branches up and the upper branches down, stretching them across an evenly distributed plane. By placing a screen above the growing medium, cultivators can weave branches through the mesh as plants grow and mature. By redirecting individual branches and running them lengthwise across the screen, growers achieve a flat horizontal canopy.
Advantages of Growing Medicinal Plants In A SCROG
But why ScrOG in the first place? Well, the technique offers plenty of advantages, including:
Light exposure: A ScrOG canopy receives even light exposure. Untrained medicinal plants feature one main cola that rises above the rest of the plant, meaning the light rig must remain above this point. In contrast, the lighting rig can hang directly above every flower in a ScrOG setup.
Yield: Because each bud site receives adequate light, they maximise their photosynthetic potential, leading to an increase in size and resin production. This level of training also transforms the main stem and central cola into a multitude of both.
Aeration: The horizontal screen of green receives adequate airflow above and below the canopy. The addition of a fan will further enhance this benefit, reducing the risk of fungal pathogens.
Maximise space: Many growers manage to obtain a larger yield from a single scrogged plant in a small space than with numerous smaller, untrained plants. Covert home-growers can maximise their output with this method. Cultivators can even train several plants and merge them into a single ScrOG.
WhenTo SCROG
You'll start to guide your plants through the screen as soon as they start making contact with it. We recommended positioning the screen around 20cm above the base of your plants, so their rate of growth will determine when exactly you start to ScrOG.

Start the "tucking" process as the apex of each plant begins to grow through the screen. Wait for each tip to grow 5cm above the screen. Proceed to tuck each individual shoot under the screen and direct them through the next square away. Tucking will lay the foundation of the ScrOG process, so be mindful of the direction you want each branch to grow towards.

Continue this process throughout the vegetative phase. Switch to a 12/12 light cycle to induce flowering when the screen becomes mostly filled.

Continue to tuck and weave each branch over the next 2–3 weeks as your plants begin to stretch. This increase in growth will allow you to fill out the screen before your plants enter the true flowering stage and slow their growth.
How To SCROG: Major Conciderations
Although ScrOG setups can look complex, the technique requires little work. Even if you have limited experience growing medicinal plants, you can jump right into the technique and produce good results. Just make sure to follow the guidance below, and you'll be in for a happy harvest.
Select the Right Strains
With or without training, growers should always tailor strains to their preferences, spatial limitations, and climate. Some genetics are far more compatible with the ScrOG technique than others. Check out the best characteristics for the job below.
Stretchy sativas: Sativa-dominant cultivars are lanky, tall, and stretchy in nature. Growers can easily weave their branches and fill out a ScrOG. Of course, you can select smaller and bushier indicas too—just utilise more plants to maximise the potential of your space.
Strain matching: Growers can cultivate several different strains in the same ScrOG setup for a nice variety of flowers. Try to choose strains that reach a similar average height to minimise the work you have to do.

Choose the Right Pots
You'll need to select the correct pot size to optimise your grow. This variable will shift depending on how many plants you want to incorporate into your ScrOG. Consider the following factors:
Multiple plants: If you want to grow several plants in a smaller space, you need to consider spacing (more on that below). For this reason, each plant will require a smaller pot. An 11l pot will make the most of the space while optimising plant growth.
Single plants: You can increase the pot size when using a single plant in your ScrOG setup. A 25l pot will give your plant enough room to establish a substantial root system and large canopy.
Fabric pots: The ScrOG technique greatly improves aeration of the canopy—using a fabric pot greatly increases aeration of the growing medium. The RQS Fabric Pot features a proprietary Aqua Breathe layer, resulting in increased oxygen levels and enhanced moisture retention.
Space Plants Appropriately
Growing multiple plants in a ScrOG means you can harvest several of your favourite strains. You can grow high-THC and high-CBD varieties together, and even match plants based on their terpene profiles.

As one of the most important factors when growing several plants, the correct spacing will help minimise mould formation while encouraging the best yield possible. The goal: Fit in as many plants as possible for best results, while keeping them far enough apart to increase light exposure and aeration.

You'll get away with squeezing four small/medium-sized plants per m² in a maximum pot size of 11L.
Screen: Height, Size, And Materials
Size: This depends on how many plants you want to grow, and their size. Your canopy needs to be completely even, so an oversized screen will cause fewer problems than an undersized one. If you're not sure of the dimensions, overshoot a little. If you're really limited in space, build a screen as big as your area can handle.
Screen: String or hemp cord does the job perfectly. Medicinal plants branches almost stick to the coarse texture of string, and you can easily dispose of the material afterwards.
Frame: Make a square (or rectangular) frame using four pieces of timber which are slightly smaller than your growing space. Cut four evenly sized legs and attach them with screws from the top of the frame. You can also create the same design using PVC piping. Screw eye hooks into the top of the frame with 6cm in between. Attach the string.
Next I will recommend you three best LED grow lights: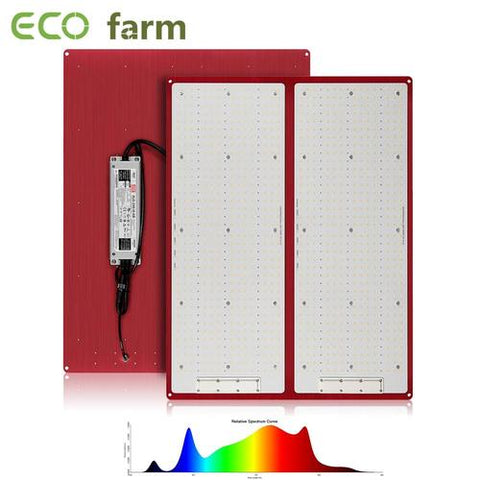 Upgrade quantum board-

 

Using the newest led technology 

samsung 301H 3500K + Red 660nm + UV+IR. That is suitable for the whole process of plant growth.
Professional Design- Superior full spectum for commercial medicinal plant cultivation with 2.6 umol/j high efficacy and 2.2g/wattt high yielding to get 50% higher yield harvest.
Working Reliably- Using high-quality samsung 301H LED chips and meanwell drivers, the light is also made of the led board is passively cooled by a large-area thick aluminum heat sink. Allowing your plants to get more energy without burning the plants for maximum space.
Water Resistant- This quantum board with waterproof design, can work normally in humid environment.
No Nosiy- A fanless design is used to provide you with a silent growth life.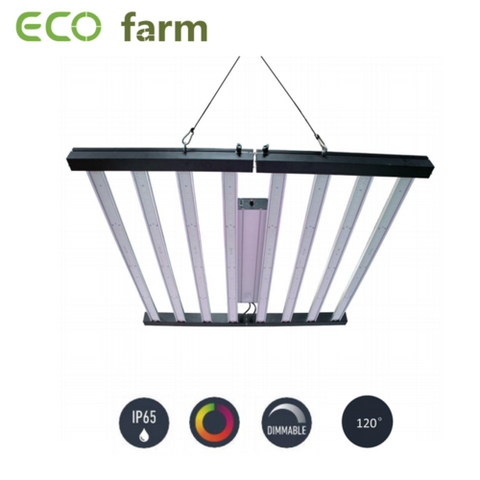 ECO Farm 640W/720W/960W Full Spectrum LED Grow Light, the very latest technology in LED plant lighting. Results have proven that LEDs are ideal for every stage of growth. They have a power output that is capable of producing a superior amount of light without having to draw too much power.
Prefect as commercial LED grow lights, maximizes grow space,flexible 180 degree design, with the intensity of light can be adjusted according to the needs of plants, enable the exact dynamic PPFD control over each of plant growing stages.
Bar light design and aluminium material on the back contribute to better airflow and great heat dissipation. ECO Farm plant growing light comes with a detachable driver and long power cord, thereby reducing ambient heat in your growing space for extended lifespan. With the waterproof circuit board, worry free of the moist environment. Easy installation.
ECO Farm 640W/720W/960W hydroponics full spectrum foldable LED grow light with samsung 301B chips +UV+IR high yielding dimmable LED strips is perfect for veg to bloom, grow lamp born for Density Buds,widely suit for full-cycle commercial, home, grow tent, grow room, hydroponic ,soil growth.
Maximum yields & high quality: Durable IP65 waterproof aluminum material used, Samsung LM301H/ LM301B/LM281B led chips and Osram power, high efficiency is 2.5 umol/J, delivers powerful light output and uniform canopy penetration to resulting maximum higher yields. PPF is 2000 umol/s, maximize yield with 50% higher Average PPFD, achieve 60% higher yield & quality compared with the traditional led lights. Consume power is 400W/650W/800W, make it a high-end&high-performance commercial grow light.
User-friendly dimmer suits full-cycle home horticulture. Wider 8-bar light for even & broad canopy coverage.
Reality full sectrum grow light: utilize the latest in high yielding LEDs technology today, max yield Spectrum with enhanced 660nm led chips and warm 3500K led chips, it speed up blooming & fruiting stages, perfect for Density Buds.The light could be used for commercial,home,grow tent,grow room, hydroponic,soil growth. this 800W led grow ight is best for 6x6 FT growth.
The light is great in heat dispersing & 50000 hours lifespan, drop 50% in electricity bill than HID lights!
Dimming design would also enable the exact dynamic PPFD control over each of plant growing stages, its growers' best choice LED grow light.
Looking for more options and information? Welcome to visit our official website. Follow us could get the biggest discount. 
If you have any questions, please contact us and we will respond to you as soon as possible. 
Our emails address is: business@ecofarm.ca
Contact:
WhatsApp: +1 206 581 5521