Description


High-quality materials: ECO Farm 2"x3" rosin press with high quality that all spare parts used in the hot press have passed CE or UL certification, which can maintain a stable working state and a lower failure rate.

Stable and sturdy structure: The heat press has a sturdy structure, locking lever mechanism, 1.2-inch thick solid aluminum made heating element, the double heating plate is made of solid aluminum plate, the area is 2x3 Inch, 0~250°C/482°F temperature Range, 2~8°C temperature difference.

Maximum pressure: The heat press can produce 1,000 pounds of force, and 770 pounds of force is recommended.

Accurate LCD controller: The LCD controller can be replaced more quickly, and the
LCD controller controls each heating element and reads separately, making the reading more accurate.

Easy to use: This heat press weighs only 10 pounds, is super portable, very suitable for personal desktop operation, and saves time and space.

Voltage: 110V




Power: 150W




Pressing weight: 770lbs (maximum not more than 1000lbs)




Heating plate size: 2*3 inches (5*7.5cm)




Maximum temperature: 482 °F / 250 °C

Time: 0-999S




Temperature difference: 2-8 degrees Celsius




Control: LCD touch type LCD




Surface coating: environmentally friendly powder coating




Heating plate material: die-cast aluminum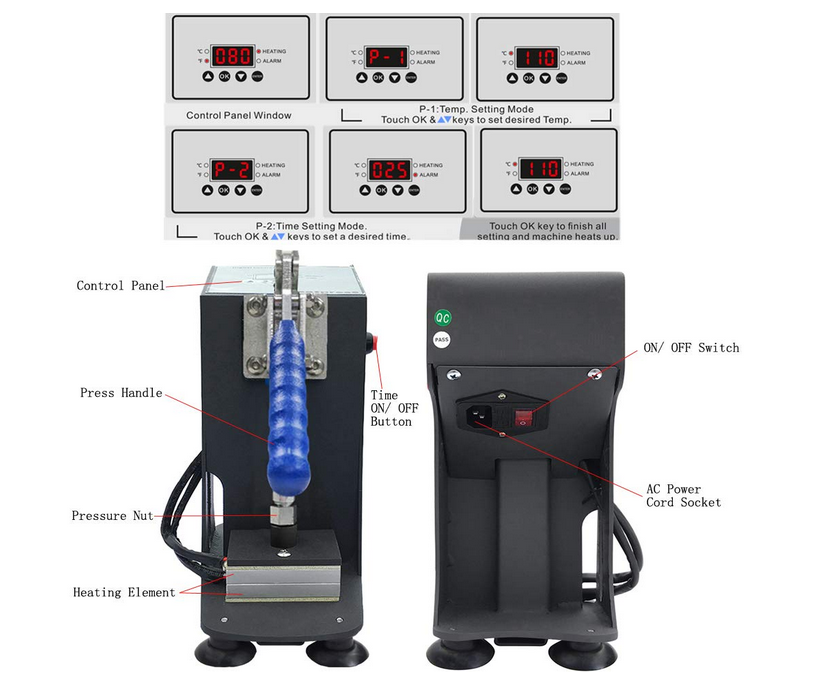 ✳ Do not set the temperature any higher than 300F.
✳ Check the voltage before using it. The correct voltage is 110V/50Hz.
✳ Before Using, you need to increase the pressure by using the pressure adjustment wrench to adjust the pressure nut.
✳ Please kindly noted that do not adjust the pressure very large, this may cause the machine problem like handle broken, and will influence the heat press machine service life
✳ Do not touch the heating platen or platen cover after pressing whilst in operation.