Description


Proper use of UV IR containing luminaires to ensure your plants grow better and get more trichome density and THC content.
The role of UV: Increasing the THC content of plants, only be used in the last two weeks of flowering stage, and if be used at other times in the plants, may have a negative effect on plants.
The role of IR: Increasing the number of flowers , only be used in the early flowering period and stopped once buds begin to appear. This requires the IR and UV must be individually controlled.
UV IR separately control:
IR and UV only need to be opened separately during flowering, so we design IR and UV separately. IR is beneficial to plant flowering and fruiting, and UV can promote the formation of plant THC and CBD.
Easier and more effective dimmer switch: can adjust brightness from 0% to 100%to adapt the needs of plants in different stages of seeding, veg and flower, which making you planting easier
Group Control The Lights: It is equipped with an external RJ 14 cable and allows you to install up to 200 fixtures per controller by simply daisy chain. Easy to dimming and control a lot of fixtures for you. Gospel for commercial
growers.
True IP65 protection against water and dust
Five-year warranty, 10000 hours on UV diodes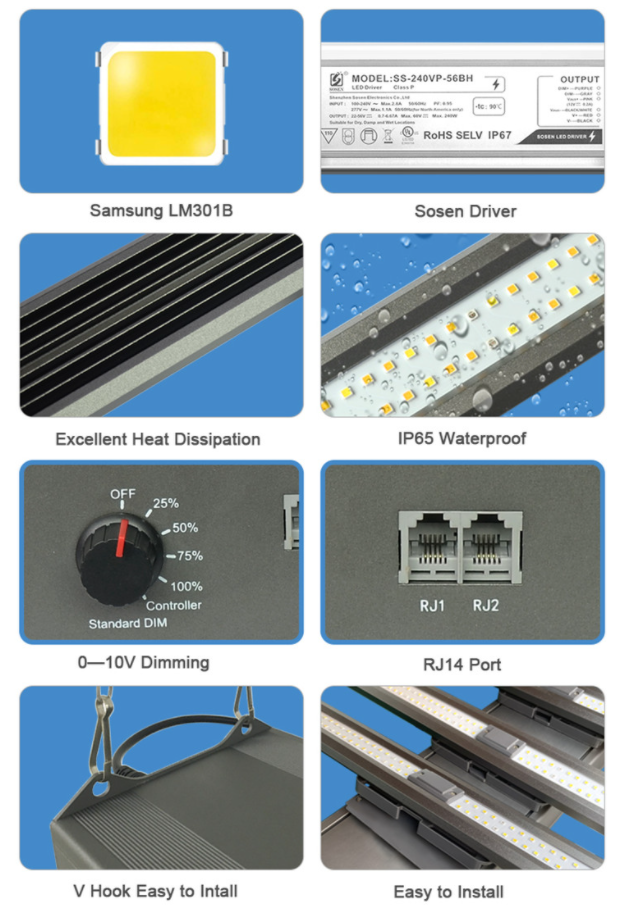 Product: LED grow light 8

strips,(6

 standard + 2 UV

10 strips),(8 standard + 2 UV),

12 strips,(10

 standard + 2 UV

 

dimming), RJ 14port
Power: 700W,860W,1060W
Voltage: AC100-250V 50-60Hz
LEDs: SAMSUNG LM301B White+660NM+ UV 395nm diodes+IR 730nm
Spectrum: 3000K+5000K add 660nm, UV bars 395nm + 730nm
LED lifespan: 50000 Hours
Dimension: 1065*1100*73mm

Plug: 10 Foot standard 120v (US appliance) or add 240
TIPS: