Description


ECO Farm high power 120W LED Grow Lights emit a higher amount of Lumen, PPFD and Par Value than other grow lights on the market. This delivers more power with deeper penetration than any other light is capable of.
With IP63 waterproof
Higher light density: many small diodes in a tight space makes for a much higher light density, meaning you need less space to produce more light
Deeper canopy penetration: since COBs function as one large LED chip (up to 120w) they are much more powerful than a single diode and penetrate far beneath the canopy
Full spectrum for plants: ECO Farm growing light features a perfect blend of both full-spectrum UV and far-red LED diodes. This results in the perfect spectrum for all phases of growth. The spread of red LEDs throughout the fixture ensures a uniformly mixed spectrum on your plants at short distances. The far-red LED's help encourage stem growth, blooming/flowering and bud production.
Better light spread: since COBs are usually placed fairly far apart on large fixtures, they cover the plants below more evenly than a smaller light fixture that has to spread out from a central point
Efficiency: COBs give you more power per input watt and also product less heat

Model
120W led grow light
PPFD
30cm-1257μmol/(m·s)
Effective irradiation range(100CM high)
0.7

㎡

Lamp beads
3030-1w-128pcs 660mm 3000k 4000k740n m 395nm
Single current
350mA
Power factor
>0.95
Efficacy
2.7 μmol/J
Leds Angle
120 Degree
Product Size
350*170* 56mm
Input voltage
AC 100-240V
Timer
Segmented loop timing
CCT
Monochromatic wavelength ratio full spectrum
Waterproof
IP63
Lamp body material
6063 aluminum
Working temperature
-25°C ~ 40°C
Lifetime
50000h
Warranty
15000h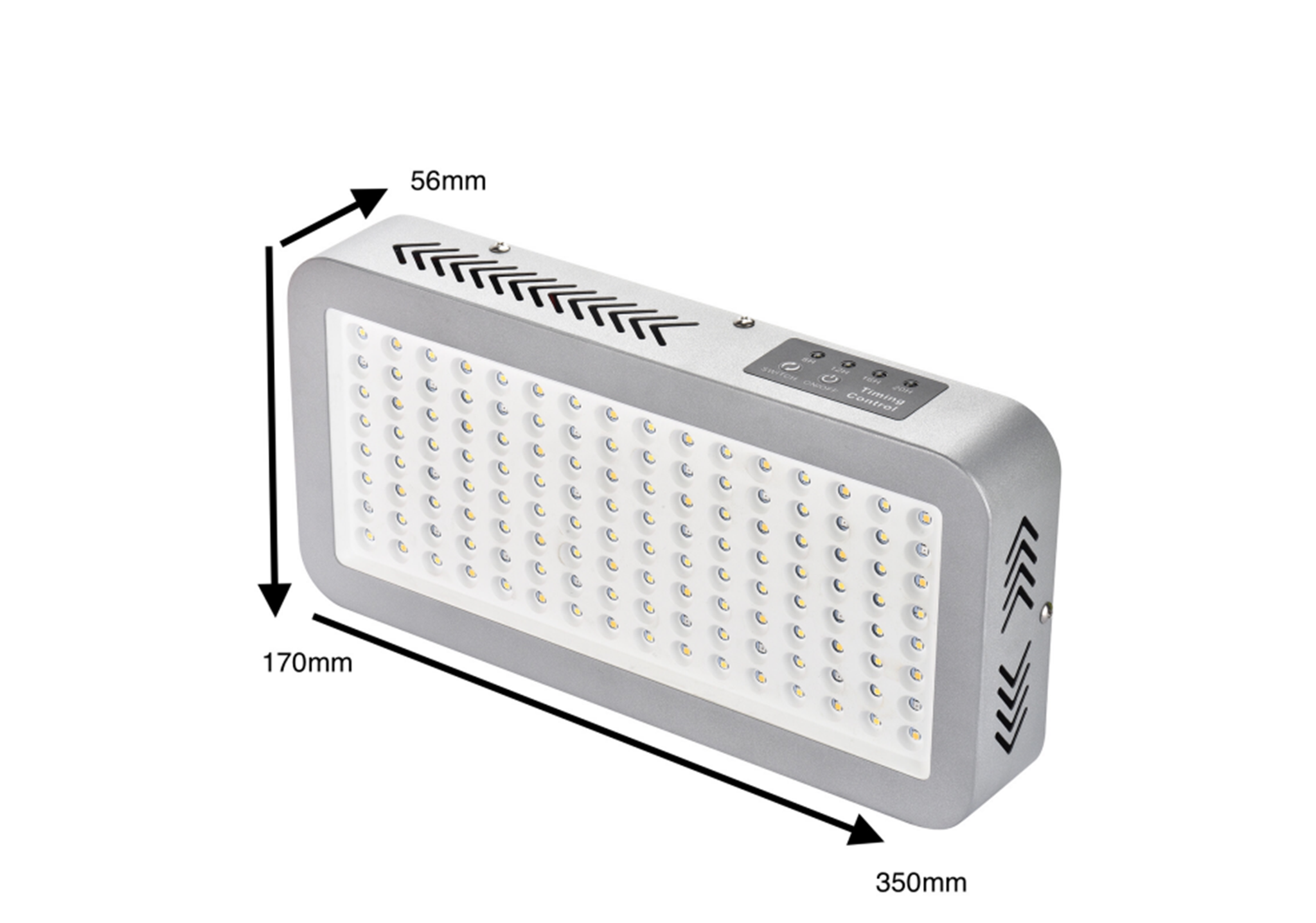 AT 30CM: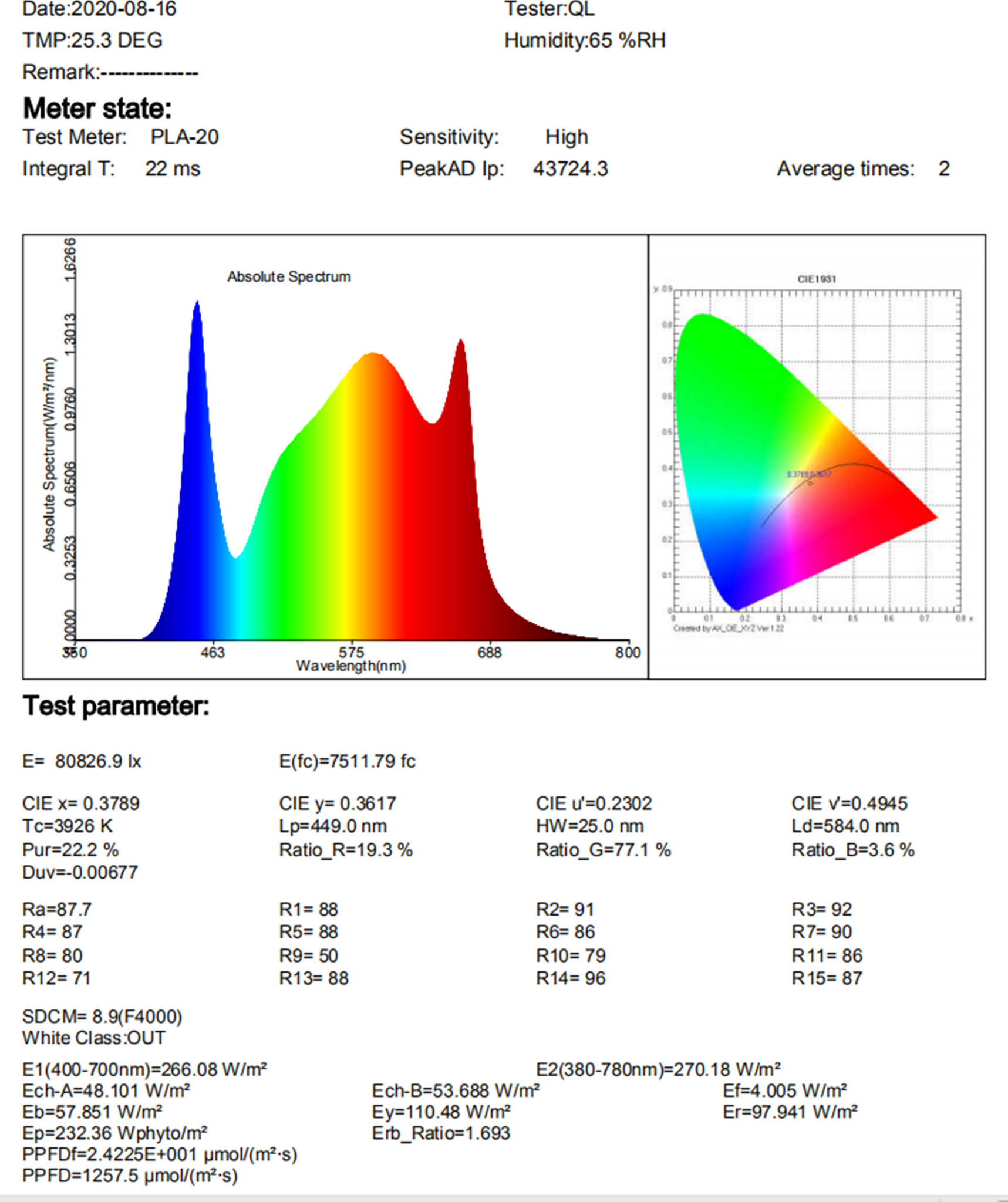 AT 60CM:

State 0: The power cord is connected to the power supply, the power switch is in the off state, the whole machine does not start, the timing function does not start, and all the timing indicators are off. At this time, the timing function cannot be activated even if the timing button is pressed, and all the timing indicators are also Can't light up.
State 1: The power switch is in the on state (that is, the power switch is turned on), the whole machine (lighting) starts and is in the state of constant light, the timing function is not activated, and all timing indicators are off
State 2: On the basis of State 1, press the timing button once, the timing function is turned on, the whole machine (lighting) starts and is in the 8-hour timing state, and the corresponding 8H timing indicator light is on (other timing indicators are off)
State 3: On the basis of State 2, press the timing button once, the timing function is turned on, the whole machine (lighting) starts and is in a 12-hour timing state, and the corresponding 12H timing indicator light is on (other timing indicators are off)
State 4: On the basis of State 3, press the timing button once, the timing function is turned on, the whole machine (lighting) starts and is in the 16-hour timing state, and the corresponding 16H timing indicator light is on (other timing indicators are off)
State 5: On the basis of State 4, press the timing button once, the timing function is turned on, the whole machine (lighting) starts and is in a 20-hour timing state, and the corresponding 20H timing indicator light is on (other timing indicators are off)
On the basis of state 5, press the timer button once to jump back to state 1. Form a loop
Note: The timing mode is a 24-hour cycle mode