Description


ECO Farm LED grow light adopts the latest high-quality LEDs technology-Samsung LM301B diodes, high energy efficiency LEDs increase yield of crops and save operation cost, generates more usable lighting per watt and provides better light canopy penetration.
Providing your plants with excellent full spectrum led grow lights. An added dimmer knob is featured to manipulate the light intensity at liberty, provides desired needs for plants in all stages from veg to bloom.
No fans zero noise. Lots of heat sinks and hollow body ensures maximum heat dissipation. Adopts high safety performance Meanwell series driver to achieve high PAR output, longer lifespan to speed up plant's grow processes and boost yields while saving you on your energy bill.

Power
200W
400W
600W
LED Quantity
60pcs /Bar

(55pcs Samsung 301B 3500K+5pcs Osram 660nm)

120pcs/Bar (55pcs 3500K+5pcs 660nm)
120pcs /Bar

(110pcs 3500K+10pcs 660nm)

PPF(380-780nm)
436μmol/S
872μmol/S
1308μmol/S
Lumen
28,000LM (140lm/w)
56,000LM (140lm/w)
89,294LM (140lm/w)
Irradiation Area
4ft×3ft
6ft×4ft
6ft×4ft
LED Driver
Meanwell Driver
Meanwell Driver
Meanwell Driver
Dimension
L:600mm x H:304mm x W:74mm
L:1200mm x H:304mm x W:74mm
L:1224mm x H:450mm x W:78mm
HPS Equivalent
600W
1000W
1500W
Net Weight
5.4KG/PC
10.35KG/PC
7.1KG/PC
Input voltage
100-277VAC 50/60Hz
LED chip Brand
Samsung LED chip White 3500K + 660nm
Color/Spectrum
Full spectrum white light +660nm Plant red light
Working Environment
-237~55℃,45%~95%RH
Storage Temperature
-40°C~+80°C,45%~95%RH
Materials/Data
Aluminum + PC (White Housing, 120°Beam Angle ,CRI>75,PF>0.9)
IP & Lifespan
IP54 & >50000Hours
Suggest Height
≥ 6" (15.2cm) Above canopy
Supplementation time
16-20 Hours per Day



1.Color: Samsung 301B full-spectrum white light + 660nm Plant red light, mainly for medical lighting.
2. Wide input voltage AC100-277V and can use for world market.
3.Best heat sink to get the best heat dissipation
4. Easy to install and operate
5. Energy-saving, Instant start, NO flickering, NO humming, long service life, increase plants output.



200W LED Light:

400W LED Light: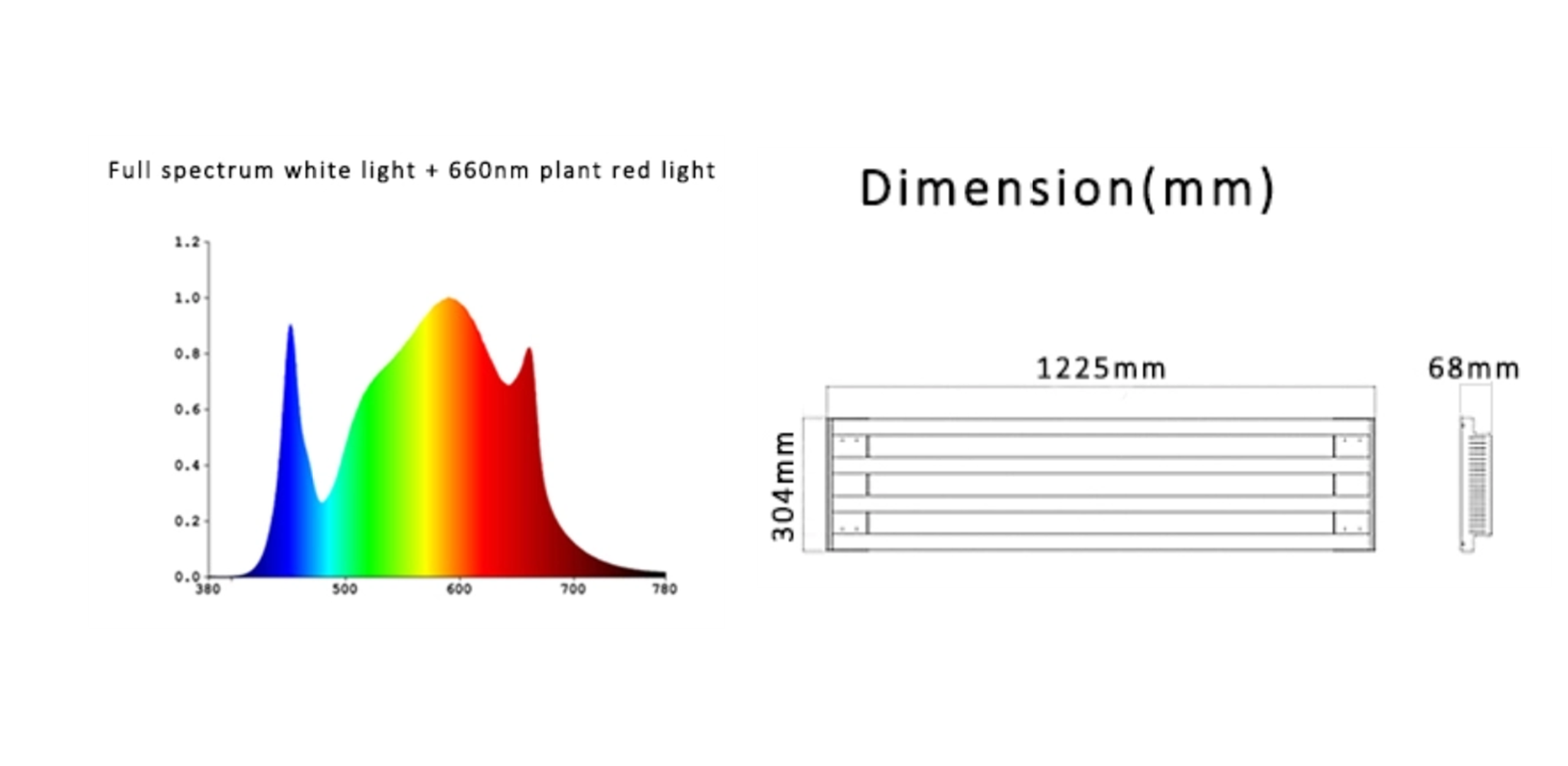 600W LED Light: