Description


Digital hygrometers
usually also have other uses, such as measuring temperature and other environmental factors in addition to the humidity level. There are some pros to using these kinds of tools, though. For instance, they are very, very
accurate
, and they are often more affordable than quality analog versions.
Temperature (°C/ °F), Relative Humidity % and Dew Point measurements.
Accurate hygrometer Digital thermometer displays high/low temperatures and humidity, ready to adapt to changes in the environment.
Humidity alarm features can be turned on or off.
Selectable °C/°F temperature units.
Can be wall-mount or desktop.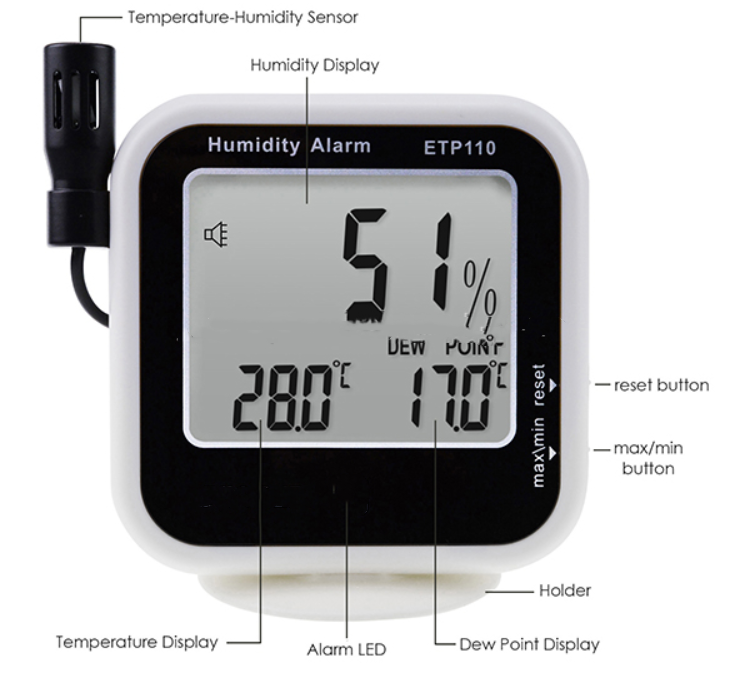 Temperature:

Range: -10°C~60°C (14°F~140°F)
Resolution : 0.1°C (0.2°F)
Accuracy: ±1.0°C (±1.8°F)

Humidity:

Range: 20%~95%
Resolution : 1%
Accuracy : ±5%RH within 25% to 85%RH and 0°C to 50°C

Dew Point :

Range : -29°C~59°C (-20.2°F ~ 138.2°F)
Resolution : 0.1°C (0.2°F)
Accuracy : ±2°C@20°C (±3.6°F@68°F

Sampling rate : about 1 time per 3 sec
Setting Range of Humidity Alarm Limit : 20% ~ 95%
Operating Temperature :

Mainbody : 0°C ~ +50°C
Sensor : -10°C ~ +60°C

Storage Temperature : -20°C ~ +50°C
Power : 2 x 1.5V AAA batteries 
Size : 115mm x 114mm x 25mm
Weight : about 145g
Without battery

1 x Thermo-Hygrometer
1 x Holder
1 x Instruction Manual